Big Brians Disney Podcast
Episode 2006-07 Show Notes
If you want to download the show manually (instead of using a podcast aggregater such as Itunes) then follow this... Link to the shows libsyn page OR right-click on this link and choose SAVE TARGET AS to save the file to your hard drive.
This episode has some very special audio in it, it was taken during our Honeymoon in 2002, it's posting coincides with the addition of a trip report on my web site, about twenty pages with something like 450 new pictures to the site , http://www.bigbrian-nc.com/trindex.htm#moon all these images were from our Honeymoon trip to WDW in 2002. There are several pieces of audio from that trip that will appear in future episodes of Big Brians Disney Podcast, including two of the absolute best pieces, that are in this episode, which were recorded AT the Halloween Party. Those pieces are; the Halloween Riverboat Cruise featuring a ghost story delivered by Auntie Bellum and music by the Lone Strangers (The Notorious Banjo and Brothers and Bobs Halloween costumes), and A Diamond Horseshoe Halloween performance with much of the old cast of the Horseshoe, Jingles, Dr. Bill, Professor Terrace, and special guests the Cadaver Dans (an undead barbershop quartet).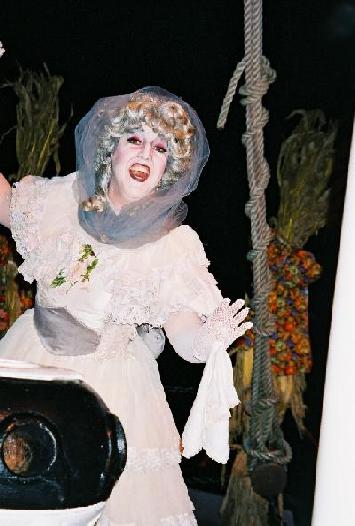 Above left: Libsyn blog image
Above right: I tunes image

links
my pictures from the Halloween party
Music
since most of the audio in this episode had lyrics you could tell what songs are from by those, still here are a few notes.
I was the one singing Theres a great big Beautiful Tomorrow just before...
... The Lone Strangers (or Notorious BBB if you prefer) opened with Foggy Mountain Break down
they Followed that with the old Johnny Cash tune Ghost Riders in the Sky
of course y'all know all about Grim Grinning Ghosts, at least this will be a new version for some of you
Although You've got a Friend in Me isn't particularly Halloween related it's not the Least Halloween related tune of the night that honor would be held by...
...I could have Danced all night from the Musical "My Fair Lady", which Tuba Boy played at the Notorious bł headed for back stage
Jingles (The DHR pianist) opened the show with a piece I don't know the name of.
Dr Bill Followed that with the old Johnny Cash tune Ghost Riders in the Sky
The Cadaver Dans Opened with Grim Grinning Ghosts (Yes two versions of that song this episode too!)
They Followed with Why do they call me a Tenderfoot
Dr Bill led the Dans in a rendition of the Headless Horseman's song from the Adventures of Ichabod and Mr Toad.
I have no idea what the band on Main Street was playing before the announcement that preceded the headless horseman
WDW postcards
I did mention that theres a new chapter up on the postcards side of the site, here are the new pages

Chapter 11 The Early 1990's Page 6 Disney Gallery images

One last thing I added a new ending tag line, it was literally something that had just occurred to me on the spot that I wanted to add. It's a phrase my wife came up with my wife uses it different way, for instance she tells me when she's done using me for things she need helps with "you go on and Mouse it up" she used it other ways too like, if I get off the phone with a friend who likes Disney she might say did you two have fun Mousein' it up? I really like the phrase, it really put's a name to what I've been doing for the past ten years since I re-discovered Disney, and more so since I started my web site, so, for me, the Mousin' it up since 1997 phrase on the main page really looks just right.



feedback? Questions? Please.... E-mail Me martsolf@mindspring.com





Back to Big Brians Disney Podcast main page (podcast index)





Back to bigBrians Disney page (main web site index)




Last modified by Brian K Martsolf at 31-Oct-2006 05:16 PM