Walt Disney World
A History in Postcards
New Resorts
On November 5, 1990 the first deluxe resort outside of the Magic Kingdom resort area opened ... and two weeks later on November 19, the second one opened. The Yacht and Beach Club resorts opened in that order (Yacht club first). These two beautiful Deluxe resorts have what is probably both the largest and best themed resort swimming recreation area on property, short of going to a water park, in fact their pool is so well done it may seem to many like it IS a water park. The water recreation area at these resorts is called Stormalong Bay, this 750,000 gallon water filled playground is made up of a series of pools, some large, some small, many with sand filled bottoms, there is an area with a current that will move you around if you just float (a bit like the Lazy river concept found at the water parks) ,and there is a replica of a shipwreck all the way out at the far end reaching almost into the nearby Crescent Lake that also houses the water slide for this pool! There are many other amenities at this resort (as you would expect from a deluxe resort), too many to go into here but, fear not, if you want to know more there are great pages on both of these resorts over at AllEarsNet.com.
Yacht Club Fact sheet: http://www.allearsnet.com/acc/faq_yc.htm
Beach Club Fact sheet: http://www.allearsnet.com/acc/faq_bcv.htm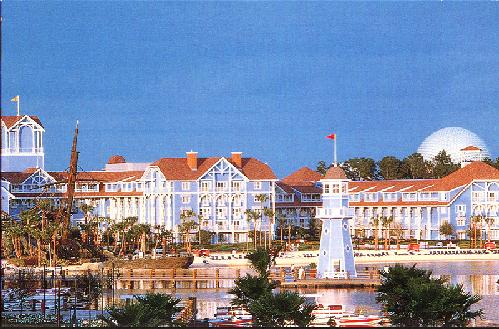 It looks to me as if there was no card released for the Beach Club in this series.
In the beginning of 1990, January 12, the International gateway had opened in the World Showcase section of Epcot beside the France pavilion, before that the main entrance at the front of Future World had been the only entrance to the park, of course, this made sense, since in 1982 there wasn't really anything back there of interest to the guests anyhow, the combination of the opening of the Disney MGM-Studios, in 1989 along with the hotels opening in this area that it started to make sense to have a way to get into Epcot from the World Showcase side of the park. By the end of 1990 there were four resort hotels in this area These two, the Beach and Yacht clubs, Disney run operations, and two ran by outside Hotel operators, the Swan and Dolphin.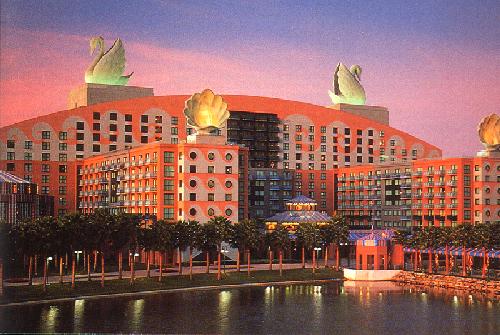 The image on the card above was also used on a "free with stay" or "room card" for the Swan Hotel, the card Below while it is an absolutely beautiful aerial view of the Dolphin seems to be a much less common card.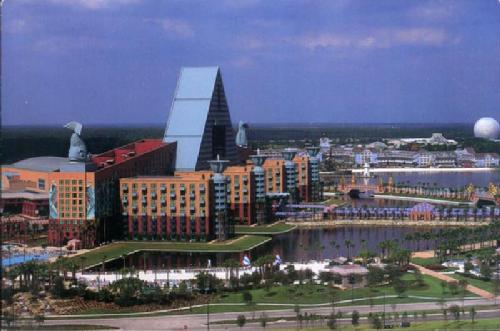 The Walt Disney World Swan which opened November 22, 1989, shortly after the gateway opened, and the Walt Disney World Dolphin hotel opened June 4, 1990,these two hotels are not run by Disney but seem to have a closer relationship to the resort than the other Non Disney hotels that are on property leased from Disney (the ones on Hotel Plaza Boulevard near Downtown Disney)if nothing else Disney had quite a bit of control in the design process of these two hotels. Still those other hotels, out there on Hotel Plaza Boulevard also got something they had not gotten before this series they had individual cards issued by Disney of their hotels. Though there are at least a few more that I haven't found yet.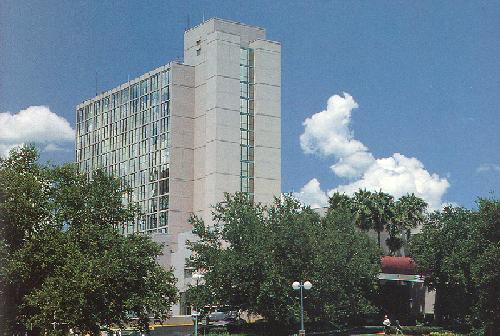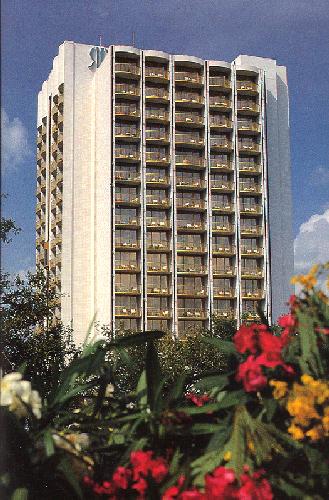 Port Orleans and Dixie Landings
May 17,1991 Port Orleans resort opened, as did it's sister resort Dixie Landings February 2, 1992. Although they both are set in the heart of Americas south and share the nearby Sassagoula river there are also quite a few differences between the two Port Orleans has 1008 rooms and a much more compact layout the rooms are clustered in close to the central building which is appropriate since the feeling that the resorts design evokes is very much that of the French Quarter of New Orleans with lots of wrought iron balconies, and colorful designs reminiscent of Mardi Gras in fact the resorts swimming pool ( named doubloon lagoon) features a colorful slide in the shape of a sea serpent that looks like it could be a fanciful creation of a Mardi Gras parade.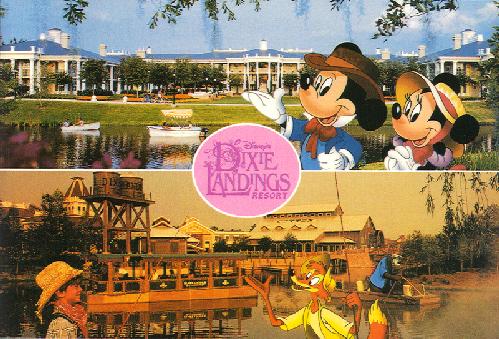 Dixie Landings is quite a bit larger and has 2048 rooms, Dixie Landings on it's own it would have almost doubled the number of "moderate" category hotel rooms available from Disney since the only other moderate hotel open at that point was the Caribbean Beach Resort with 2112 rooms. Both of these hotels share boat transportation to Downtown Disney along that aforementioned Sassagoula river. Like Port Orleans Dixie landings too has a pool, its main pool is located on Old Man island but there are smaller pools in this resort as well. Dixie Landings has two styles of buildings, in two differently named sections, the Magnolia Bend section has the Manors, these large buildings look like big southern mansions two and three stories tall, in the other section Alligator Bayou, the buildings are themed to a more backwoods rustic look, accordingly the interiors of the rooms are also themed with different furnishings. For good views of this resorts grounds and rooms, and for that matter of any WDW resort check out the accommodations section at Allearsnet.com http://www.allearsnet.com/acc/faq_hot.htm they have excellent pictures that let you see just about every room type available at the WDW resort.
Pictures of Port Orleans/ P.O. French Quarter:

http://www.allearsnet.com/acc/g_po.htm
Pictures of Dixie Landings/ P.O. Riverside:
http://www.allearsnet.com/acc/g_dxl.htm
Both resorts have their own facilities to rent bicycles, surrey bikes, several types of water craft, and they even offer fishing expeditions. Both resorts also have a food court, their own bars, and their own stores, both resorts, used to have their own table service restaurant as well but in 2001 the two resorts merged and Bonfamille's, the restaurant at what is now called Port Orleans French Quarter, closed. Boatwright's the restaurant at Port Orleans Riverside, which is the new name for Dixie Landings, is still in operation.
Disney's Vacation Club : A New Kind of Resort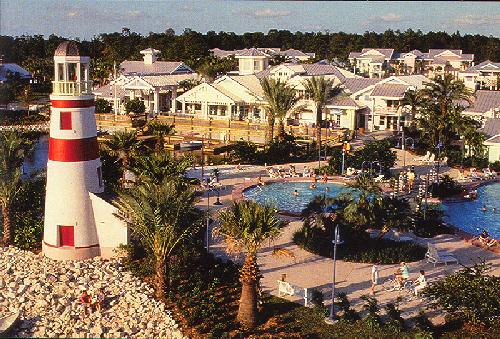 For some years folks had been purchasing time shares in Florida to visit Walt Disney World, but they weren't able to buy into any thing like time shares on Disney property until the Vacation Club resort opened October 1, 1991, it proved so popular that within a few years it was obvious that there would have to be another one built to meet the demand, since then several more have been built, but instead of Simply naming them all Disney Vacation club, all the ensuing ones were named according to their theme, and just to help make things clear that first one too was renamed to fit its theme, it's now known as Old Key West, and we'll delve into it more deeply in a later chapter.
E-mail Me martsolf@mindspring.com
Back to WDW in Post Cards Table of Contents
Onward to :
next page: Around the World
Back to bigBrians Disney page
Last modified by Brian K Martsolf at 23-Oct-2006 02:07 AM