.
MORE THAN JUST MICKEY... BUT WE'VE SURE GOT HIM TOO!
0100-11604 YOU'RE AS WELCOME AS CAN BE!
0100-11605 MAIN STREET FLOWER MARKET
0100-11606 A MAGICAL WONDERLAND
0100-11607 WHO'S AFRAID ?
IF YOU DON'T BELIEVE THAT'S A MAN IN WOLF'S CLOTHING
THEN DON'T READ THIS!
Just as in the last Magic Kingdom series (
see chapter six
), there were some card numbers on which the image changed over the life of this series. Some of these updated views reflected changes or improvements in the costumes. A good example of this is the "WHO'S AFRAID?" card below which shows off the 3 little pigs new duds complete with fully functional arms , as opposed to levers that moved the arms up and down previously, as well as new hats, and less obvious view slots. (in fact I don't know where the view is in the newer heads, though I suspect it may actually be through the eyes. We'll see further down on this page there were other reasons for new versions of views in this series too!.
0100-11607 WHO'S AFRAID?
0100-11608 A GOOFY ROUND OF GOLF
Here we see an entirely different reason for an updating of a card. Rather than show casing a new costume, If you'll look closely Mickey's snazzy golf get up is the same on both cards, this card features a new resort. Well... at least a resort with a new name. As I mentioned earlier (
way back in Chapter 3
) from 1973 to 1986 this resort operated as, the oh-so-appropriately named, "The Golf Resort". But in 1986 it changed to The Disney Inn, as shown here later it would change names once again, after being leased to the United States government, to shades of Green, which is in my opinion, a nice punny name relating to both the greens of military uniforms, and of the three golf courses located here. A brief word on those Golf courses; The Palm and Magnolia are the original championship level 18 hole Walt Disney World golf courses, open since 1971, Oak Trail opened in 1989 as a nine hole walking course (no golf carts). Thanks to Marc Schwartz for his information from Marc's Walt Disney World and golf site
http://wdwgolf.com/
.
One other note worthy thing about this card it's the first Continental example I've shown of a multi-view card, but it's far from the last we'll see! If you'll remember this was something not done much on the standard size post cards in fact only one comes to mind.
0100-11608 A GOOFY ROUND OF GOLF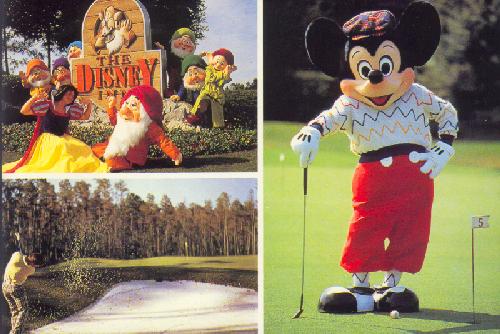 0100-11609 FAIRY-TALE FRIENDS



0100-11610 THE FAIREST OF THEM ALL




0100-11611 WATCH OUT, PINOCCHIO!


As noted on the first page of this chapter the above card was a bit of a throwback to the first group of character views that enhanced the first series of photo cards. Although the outfits do look somewhat improved in the latter view, I think the two biggest differences are that Pinocchio's hat is the correct color (which I suspect may have more to do with the way those earlier views of this trio were color processed), and in the latter view Pinocchio is a full head shorter than J. Worthington Foulfellow, At least they FINALLY let them break that pose!
0100-11611 WATCH OUT, PINOCCHIO!



Here we have an example of a card that, it seems for yet another reason, had different versions during this series. This view features a different attraction, but not a new attraction. If you'll remember we first found a card featuring Big Thunder Mountain Railroad back in the last standard size cards of the Magic Kingdom (in chapter six). Still you can see how it might make a certain kind of sense to feature these two in a area that was clearly a part of Frontierland. Yes, that first shot is taken from a dock along the Rivers of America but, if you were to ask what landmark is featured on the card I think most of us would say the castle. Although, in my opinion, that was the primary reason for this new issue I do also think Brer' Bear does look better in the second view and is probably sporting a "new outfit" so to speak.
E-mail Me martsolf@mindspring.com
Back to the Table of Contents
Onward to :Chapter 8 Everything Old is New Again, Page 4: No Lions, No tigers, but plenty of Bears
Back to bigBrians Disney page
Last modified by Brian K Martsolf at 09-Jan-2005 02:44 PM