Walt Disney World
A History in Postcards
Free with stay postcards page Page 12: Springing into the Southwest
Disney's Coronado Springs Resort
On August 1, 1997 The Coronado Springs Resort and Convention center opened this was the first moderate hotel to open AS a moderate (the others in that category MOVED there when the first All Stars Resorts opened). Although there were other facilities on site with Convention Space, both the Contemporary and Grand Floridian come to mind, but those other spaces are all at Deluxe resorts, well out of the price range of the vast majority of Conventions, this resort really caters to that neglected segment of the convention market just below that, not really a low end of the business still, but a much larger segment than was being served before, as such it has the largest ballroom in WDW at 60,214 square feet. Although the Southwest theme at this resort was a new one for Walt Disney World this resort still follows some patterns set by the moderates that had come before for instance there are several styles of buildings much the way Port Orleans: Riverside has different styles of buildings though mere instead of Magnolia Bend and Alligator Bayou, t he Divisions are between Casitas, Ranchos, and Cabanas, the pool comes complete with a Mayan Pyramid Waterslide, and there are more dining options available than at some of the other Moderates (in order to cater to the conventioneers), it does get some of the same criticism as the other similarly vast moderate, Caribbean Beach resort, that, due to it's size, distances within the resort can be quite a hike, but also similar to that resort, this one too has it's own internal shuttle bus system. A to Z 2nd ed. allears.net)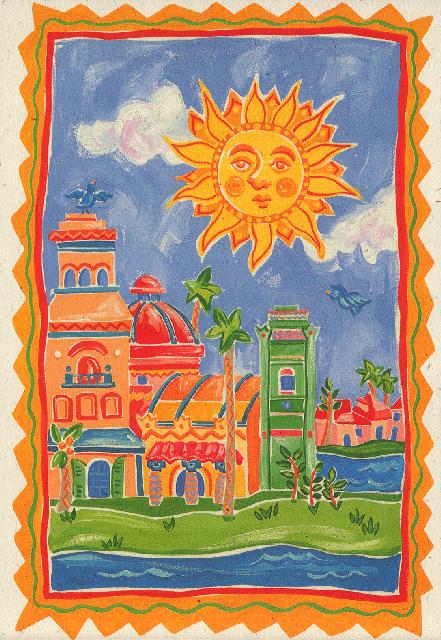 Above: This seems to be the only card design used at Coronado as a "Free with stay" card.
Below: Although there is only one piece of art used the back changed several times over the years, the top is the earliest version, you can tell because it's the only one without the web address on it, the bottom card is likely the newest since it is the only one with a stock number and printing date.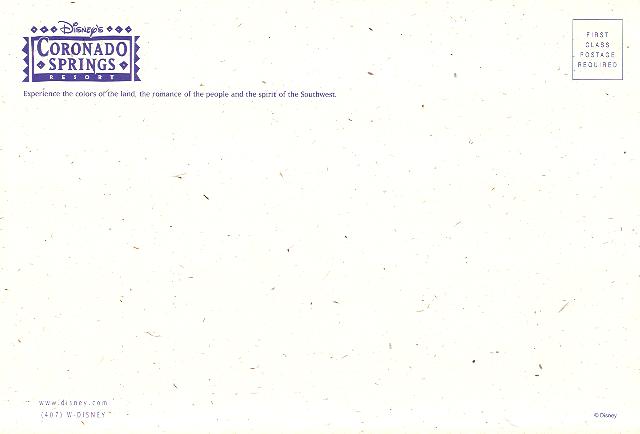 turn of the millenium End of the line?
After Coronado Springs opened there were other resorts to open in 2001 Animal Kingdom Lodge opened and in 2002 Pop Century opened, but I don't believe that either of these have ever had a "free with stay" card, in Pop Centurys case it's probably due to the fact that with modern cost cutting the Value resorts probably just don't rate the extra freebies, but in Animal Kingdom Lodges Case it may be couched in other terms, like those of "green" practices to save paper, that said it IS a deluxe resort and I think the guests who pay for those DO rate a little extra freebie now and then.
E-mail Me martsolf@mindspring.com
Back to WDW in Post Cards Table of Contents
Onward to :
That's all for now - keep on Mousin It Up!
Back to bigBrians Disney page
Last modified by Brian K Martsolf at 27-Jan-2008 10:54 AM