Walt Disney World
A History in Postcards
Chapter 6 The early 1980's Page 3: The Cartoon Cards



Although the cards shown so far in this chapter were the last of the standard size postcards, the Magic Kingdom would not have to wait until the introduction of the continental size post cards to have it's first cards larger than standard size for sale. That's because of the cards shown on this page. These cards are aproximatly 5 x 7 with rounded corners, and they feature art of many of the classic Disney characters in locations around the Magic Kingdom. These cards were also sold at Disneyland, though the art on at least one of the cards seems to give away the fact that the inspiration for these cards came from the Florida Park (more on that at the end of this page).
THE UNKNOWN BECKONS


TEMPEST IN A TEACUP


PLAYFUL PACHYDERMS


YOU CAN FLY!


EXTRAORDINARY CONFECTIONARY


SNOW WHITE'S FANTASY BOUQUET


A POOH-FECTLY WONDERFUL TIME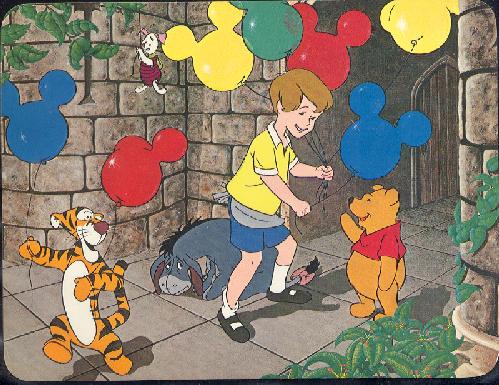 B'AR-REL BRIDGE BOUNCIN'


MOTOR MANIA


EVERYONE LOVES A PARADE!

And for those of you who are wondering which card was the one that shows that the inspiration for these cards came from the Florida Park it is card 0100-11908 MOTOR MANIA. You may think that this is because the Space Mountain on it was drawn with the Florida mountain in mind, since, in California the lower portion of the building does not show as much, both because so many other structures are packed in around it and because its foundation was dug down into the ground to keep its' profile low (so as not to dominate Main Street). But there's something in the foreground even more obvious. The Autopia Car pictured has a racing stripe and car number, the Disneyland cards of this period were solid color to the Disney Worlds Magic Kingdoms striped cars.
Later I got a nice cofirmation of this in this very nice email I recieved from Dylan Gladstone:



 
 Thank you for creating the page of WDW Cartoon Postcards!

I was getting nostalgic about my father, Harry Gladstone, who recently passed away. 

 I was telling my wife about the postcards he painted while he worked for 
 
 Disney in Florida and went on a search of the internet to see if anyone had scans of them online.

My father did the artwork for Injun Joe's Cave, The Jungle Cruise, Peter Pan's Flight, 

and the candy store on Main Street USA.  I still have vague memories of seeing a 

few of the original paintings in his cubicle in the art department.  They were 

quite large, probably around 16 x 20".  The art department was located below The 

Magic Kingdom!  I have fond memories of going into work with him when I was off 

from school.  He'd give my friends and I some complementary tickets, (the cool 

green tickets that were good for every ride!), and let us loose in the park 

for the day.  A few times he took me on a tour of the underground complex.

Thanks again for putting this page up.  I'd scoured eBay and everywhere else 

looking for these cards.  I was just a kid at the time, but now I wish I'd saved some of his artwork.

-Dylan Gladstone

MORE TOONS
The previous cards on this page were all issued within a short period of time of each other. Later, it was decided to add more of the cartoon cards. Some were added for Epcot and more for the studios. Around the time the cards for the studios came out, more cards set in the Magic Kingdom came out. These cards covered new attractions (Big Thunder), special events (Mickeys 60th birthday, Christmas), characters who first became known in the parks (The Country Bears), and a special commemoation of Walt. They even issued Christmas themed cards in 1988 and 1989 withart from classic Christmas cards that had been used at the studios. I imagine that the special events cards and the card comemorating Walt may have appeared in the other parks as well as the Magic Kingdom since they were not "park specific" the way the other cards on this page were. With all these additional cards it may seem that there were really quite a few of these 5 x 7 rouded corner art cards out by the late 1980's, but in the years to come there would be even greater numbers of art cards in this format and others.
SWING YOUR PARTNER


RUNAWAY THRILLS


Walt Disney


MICKEY'S 60TH ANNIVERSARY


Thanks to William Sylvester for the scan of this card.


The caption on the back of this card reads "THIS ARTWORK WAS INSPIRED BY WALT DISNEY'S CHRISTMAS GREETING FOR 1939"



E-mail Me martsolf@mindspring.com


Back to the Table of Contents


Onward to:Side bar article: Hotel Leasees part 2: More Lake Buena Vista Hotels


Back to bigBrians Disney page


Last modified by Brian K Martsolf at 9:53 AM on 7/19/2004