Walt Disney World
A History in Postcards
Chapter 7 We've Just Begun... to Dream, Page 2: A Celebration... A Celebration

The opening of Epcot was a huge celebration according to Since the World Began by Jeff Kurti "The 11:00 A.M. event started with a fanfare of trumpets, a dedication hymn by the West Point Glee Club, performances by the All-American College Marching Band, the International Ceremony of the waters ( a symbolic blending of water from across the globe, in the fountain behind Spaceship Earth), and a precision flyover by the Florida Air National Guard. " of course there were also speeches by Disney executives including the reading of the dedication plaque by Card Walker. About that fanfare of trumpets mentioned at the beginning of those events I wonder if any of those trumpeters were members of the Future Corps, in any case I'm betting the piece known as "Epcot Fanfare" which is also the melody of "We've Just Begun To Dream" is what they played. I seem to remember seeing a snippet of some of the opening of Epcot Celebrations being played as a part of some other program (not directly related to the Epcot opening) with dancers doing some kind of dance number on a stage in front of Spaceship Earth. For those of you who are not sure what music I am talking about part of the music was played in the morning a opening for many years and it went like this: (pulsating electronic music slowly rises then volume drops down as announcer begins to speak) Announcer (sounds like Jack Wagner): Good morning ladies and gentlemen boys and girls. All of us at Epcot center are glad to have you as our guests today, we welcome you and hope you find your day with us to be a most enjoyable one. Walt Disney was a dreamer and a doer, a man who cared about the world and its problems, he believed that people could develop solutions to problems if equipped with information, technology, and opportunity. Epcot center has been created to showcase prototype concepts and technologies that may someday serve people everywhere. This is the essence of Epcot Center a collective endeavor by people, for people in the hope for a better world. From all of us in the Disney family we hope you enjoy your stay in Epcot center. and now we ask for your safety and those around you that you walk slowly and carefully to your first destination. Have a great day and welcome to the 21st century


(music volume comes back up at 2:05 the melody is the Epcot fanfare)

2:52 Chorus of women: A new creation
Chorus of men: Itís all around you

Chorus of women: A celebration
Chorus of men: A celebration

Chorus of women: A new sensation
Chorus of men: It will astound you

Chorus of women: A celebration
Chorus of men: A celebration

Chorus of women: An inspiration
Chorus of men: A fascination

Chorus of women: A celebration
Chorus of men: A celebration

Chorus of women: A celebration
Chorus of men: A better nation

full chorus together: Im-ag-ina-tiouuuuuuun!
Cel-e-brate! as we cre-ate A new tom-or-row

Celebrate! a dream is made
A new tomorrow

The world awaits! celebrates !
A new creation

Celebrate!
celebrate!
Im-ag-ina-tiouuuuuuun!
chorus 1 of men and women: We've just beg------un,
chorus 1 holds note as chorus 2 of men and women sings: we've just begun
Both choruses together again:
To dre-------------am.


For anyone who was wondering this song is also the source of the titles of the pages in this chapter.
Universe of Energy

I wrote earlier of how Epcot seems to be the most complete Disney theme park at it's opening, this completeness comes in almost all facets of the park the landscaping the grand pavilions and attractions they contained along with restaurants and shops, even the music that went into all the attractions. This is especially true of the Future World attractions. All of the opening day Future World pavilions had at least one music track that made it onto the official album of Disneyland and Walt Disney World within a few years most had more than one!
Tomorrow's Child from Spaceship Earth
Energy (You Make the World Go Round), and Universe of Energy from the Universe of Energy
It's Fun To Be Free from the World of Motion
Magic Journeys, One Little Spark, and Makin' Memories from Imagination
Listen to the Land, and the Kitchen Kaberet Medley from the Land
World of Motion

The World of Motion sponsored by General Motors had some other special postcards early in its history. learn more about them in the side bar article for this chapter A World In Motion.

It's Fun To Be ... A Pirate?


Sadly, the World of Motion closed in January 2, 1996. But a few bits of pieces of it still live on. Firstly, some of the vehicles from the ride made it to the bone yard at Disney-MGM studios. More significantly,some of the former Audio animatronic figures from the World Of Motion were taken to California and added to Disneyland's Pirates of the Caribbean attraction. While some had feared this re-hab was being made to make the attraction more Politically correct, many were pleased to find these additional figures had been added. Some of the figures were used to help "round out" the Seven Deadly Sins ( pride, sloth, gluttony, wrath, envy, lust, greed ). Also, some said, that the message was made more clear that all this was leading to the Pirates eventual doom. So there's a moral to the story. I think that moral really was there the whole time , it's just possibly a bit clearer now for anyone who wasn't paying attention to all those pirate skeletons in the first part of the ride.
Imagination
The Land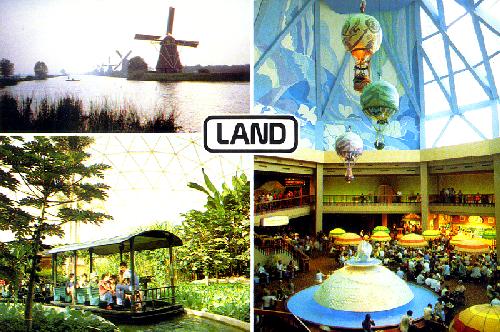 E-mail Me martsolf@mindspring.com


Back to the Table of Contents


Onward to : Chapter 7 We've Just Begun... to Dream, Page 3: A New Sensation


Back to bigBrians Disney page



Last modified by Brian K Martsolf at 23-Jan-2007 02:37 PM