Walt Disney World
A History in Postcards
Chapter 5 EPCOT Center Page 2: ...Then We Can Do it.

The only constant is change
As I mentioned on the previous page, the original plan for EPCOT was a "City of the Future", which would be constantly changing to showcase new technologies that would change our lives. Even as a theme park there has been an effort made to keep the changes coming. I remember reading that the agreements with the sponsors of the Future World pavilions called for the pavilions to be changed every ten years. Some of the changes have been minor. I'm thinking Spaceship Earth has probably seen the smallest changes of any opening day pavilion (Although Horizons and The Living Seas, were pictured in pre-opening art their pavilions did not open in 1982). Many of the first attractions of Future World have been replaced . These changes to EPCOT started before the park even opened in fact. Many of you probably have seen concept art for the various ideas for EPCOT, from the glowing city of Tomorrow pictured in "The story of WDW" , to the various versions of it shown in the book " Walt Disney Imagineering: A Behind the Dreams Look at Making the Magic Real ". But , you might not realize that these changes continued enough even after the first pre-opening merchandise had been issued, so that there are two versions of the (numerically) first pre-opening card.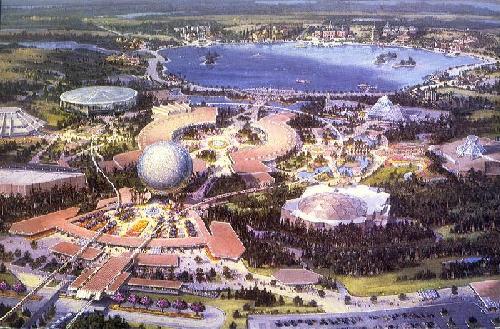 The biggest most obvious difference between the two cards is probably the lack of a dome over the Living Seas pavilion in the presumably later version, but the changes are many besides that from details like the trees in front of the tram drop off area, some changes to the fountain in the communicore courtyard, all the way back to the horizon. At the same time though these visions of EPCOT Center are so similar and seem to be painted from the exact same angle so at first looking through your cards this might not jump out at you. The probable reason for that exactitude in some of the details can be found in the aforementioned Imagineering book, both artists conceptions of the park were made from the model of the park.

Also these cards continued a tradition starteed with the WDW pre opening art cards in that the back sides of the cards changed over time. All three types of card backs have the same Walt Disney World® EPCOT CENTER logo, on the first two series of printings it is quite large. On the first series it has "The Future Begins OCT 1, 1982" written on the backs of the Future World cards , and "The Newest Wonder of the World Opens October 1, 1982" written on the backs of the World Showcaswe cards, beneath this logo. The second series has the same large Walt Disney World® EPCOT CENTER logo with no slogan. The third series has the smaller logo has the phrase "Discover the Newest Wonder of the World" written beneath it and instead of the ©1981 WALT DISNEY PRODUCTIONS of the first two series it has ©WALT DISNEY PRODUCTIONS without the year, some of the captions on the backs of the cards changed a bit along the way as well, a few of them in the titles , more of them in small details like dates for opening and such. Perhaps the biggest change was on the China pavilion card, in the earliest edition it was referred to as the Peoples Republic of China. I'm thinking that every other Epcot reference to this pavilion I have seen has referred to it simply as China, Which I would think is probably the way the Chinese government prefers it to be written.

E-mail Me martsolf@mindspring.com


Back to the Table of Contents


Onward to:Future World Pre-Opening cards


Back to bigBrians Disney page



Last modified by Brian K Martsolf at 7:38 PM on 1/11/2004