These cards were available at preview center that Disney built located, according to D.M. Miller, 1on Buena Vista Boulevard, just off state road 535, The boulevard has been renamed Hotel Plaza and is now lined with big Hotels. He also noted that "The preview center included a small post office for the residents and businesses of Lake Buena Vista and Bay Lake." On our honeymoon trip in October of 2002 I hoped to find it , if it still existed, and take a photo. In addition to Mr Millers description I had an aerial photo of the center that was in the "preview edition" of the Walt Disney World soft cover souvenir guide.

the preview center as it appeared in the preview edition of the Walt Disney World souvenir soft cover

With this in mind we got off the interstate at State Route 535 and turned left onto the wide divided road that runs through the Lake Buena Vista hotels I figured it would not be all that far in, and also that even if it did not still exist the lake behind it would help me find the site. I started looking for somewhere to turn in as I was afraid I would pass the area, as I found a spot and turned in I suddenly realized...I was there!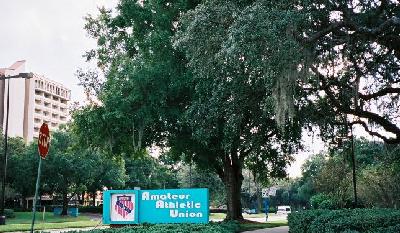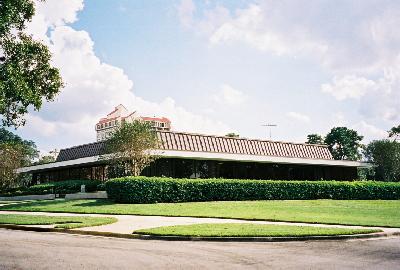 The lot I chose to pull into was the one next to the Amateur Athletic Union headquarters and it was immediately obvious that it was indeed the building pictured I took a few pictures .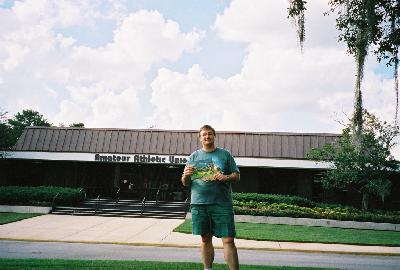 Me, holding the pre-opening book

Carlene said to me that she thought she could reproduce the aerial shot in the book. How? I asked. she pointed out to me that the high rise hotel across the street had the same view onto the site as that in the book. We were wanting to get checked in so we resolved to come back later on in the trip and try this. I have to admit I had my doubts as I figured we would have to get permission to go into one of the rooms on the upper floors and take the picture from their balcony. When we did come back I found out what Carlene had already noticed, that the elevator to the upper floors was one of those glass sided models that let you look out across the property. What a view!
there is a great picture of the preview center as it appeared in it's heyday on the Widen Your World web site. at:
http://home.cfl.rr.com/omniluxe/prvwctr.htm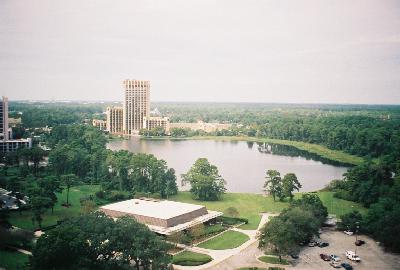 Dave Ensign sent me the following front and back scans of what was probably the first WDW related postcard of all. The promotional postcard promoting the preview center!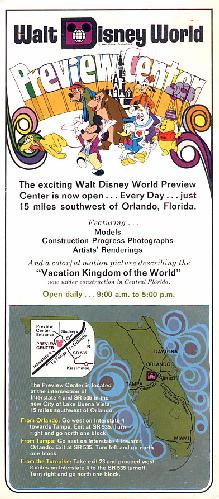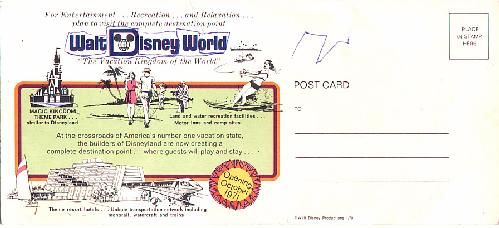 If you check out the large scan of the postal (Addressee) side of the card , (by clicking on the image shown , just as with most other images on this site you will get the larger image) you will see copyright Walt Disney Productions 1/70, this ties in nicely with the information in Disney A to Z 3 , which notes that the Preview center was "open from January 10,1970 to September 30, 1971." and that it had "displays of models and drawings, there was a short filmed presentation, along with a snack bar and merchandise shop. " David Hooper,2 sent me a list of some of the things he knows were sold there:
Postcards of course
Pre-opening Guide book
Bumper sticker that says "Opening October 1"
License plate frame similar to above
License plate

another contributor listed these other items:

a decal sheet
a set of slides.yup!! pre-opening slides..... I have one sealed pack listed as set 4 and they consist of models and renderings...sadly faded. Walt Disney World set four F1-004 Five slides $1.00

D-1 cruising by excursion steamer (same as postcard image)
D-2 Exotic Adventureland (exterior concept of Tiki Long House)
D-3 Western River Expedition (model of plains thunder clouds and mesas, buffalo, and calfs)
D-4 Main Street Victorian restaurant (Concept Crystal Palace and band stand)
D-5 Golf on Championship Courses ( man swinging .early "pyramid" Polynesian hotel in background.
This set of slides listed as set four with a merchandise number of FL-004 solves another question about the pre-opening postcards of Walt Disney World mainly why they started with number FL-024 , obviously the lower numbers were taken up by other types of merchandise like these slides.
Since these are labeled as set four I would assume that FL-001 through FL-003 are the first three sets of slides. The postcards are labeled FL-024 through FL-032 , which leaves both the numbers from FL-005 to FL-023 as currently still being a mystery to me and also numbers from FL-033 up open to possibly being merchandise numbers.
Rhett Wickham listed the following items:
a preview book which is white with a dye-cut center revealing the rendering of Epcot on the inside front page. It includes a map It's a fold-out stapled to the center It measures about 18 x 22 and has no copy write date. With a schematic or pseudo topographic layout and includes the footprint of the Magic Kingdom and EPCOT as it was conceived originally, the lakes, and hotels - including The Venetian and the Persian which were never built. Each "footprint" i s in a color, the surrounding areas are bright green, the monorail path is white, each hotel is a color, the Lake is blue, Epcot is various pale blue, green, yellow and white and black and areas like the hub, the hotel, the industrial park, etc. are identified in type.
a pen
a ring
a Mickey posable figure
and a key ring

Gary A. Kecskes sent me the following information about the preview center building " After Disney used it as the Preview Center it became the WDW Reservation Center and was used for about two decades for that purpose. This is where Disney accepted hotel reservations for all of the on-property hotels (that they owned and operated). It was what is now known as a "call center". It served that purpose for 20+ years, until call center operations were moved (I believe to Tampa).The call center moved just a few years back, and that's when the AAU moved in. You may also have noted that the alignment of Hotel Plaza Drive has changed as it moves toward Downtown Disney. I'm sure that was done to provide a more intuitive exit for Disney drivers wanting to leave the property via Hotel Plaza Drive. It also helps to keep the number of people who mistakenly drive east into the back-lot area of WDW where operations and warehouses are located east of the old Disney Institute. "