Big Brians Disney Podcast
28 The citizens of Main Street USA
If you want to download the show manually (instead of using a podcast aggregater such as Itunes) then follow this... Link to the shows libsyn page OR right-click on this link: http://media.libsyn.com/media/bbdp/bbdp28.mp3 and choose SAVE TARGET AS to save the file to your hard drive.
In this episode we start with some audio recorded on the Mousefest 2007 trip with the ToonTown Tuners before hopping back in time to 2002 for a Rootin' Tootin' good time in the old west, then return to Main Street for a very fun ensemble performance of the Citizens of Main Street USA backed up by the Toontown Tuners.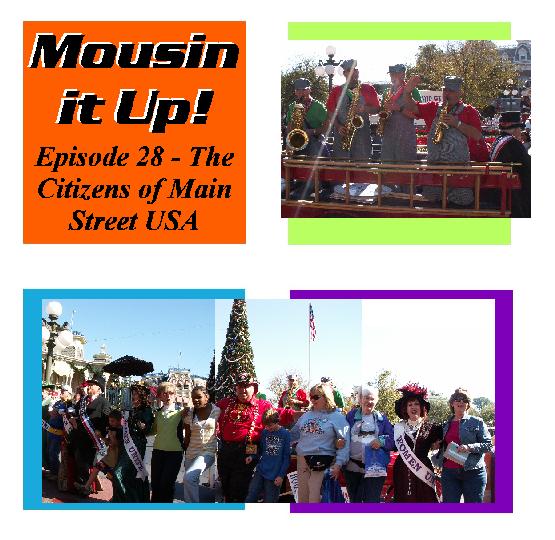 Above Libsyn image: A collage of shots from the Citizens of Main Street Set.
Below itunes image
Notes and Links
The Ballad of tourist Ted
Come and listen to my story bout a tourist named Ted
Made his kids a promise when tucked them into to bed
"said you've been mighty good my little boy and girl"
so he loaded up the mini-van to drive to Dis-ney Worrld
(as an aside, while jingles vamps) straight through, no stops, you shoulda gone before we left the house, mom she's touching me, and everybodys' favorite, say it with me, (full crowd joins in) "Are we there yet?"
Well First thing you know there drivin into town
all you see are smiles, no one has a frown
there gonna have a real good time, except for dear old mom
They've only been here one day and the moneys almost gone
now that they've been here a while they know just where to go
Magic Kingdom, Ep-cot Center and the stu-di-os
They'll extend their stay one more week they have such fun so far
they might just stay forever cause they still can't find their car
(as an aside) Honey Where'd we park I told you to write it down
Well folks we're mighty glad you've come to see our little show
and while you're here we think theres something that you oughta know
we know that you're not really here to watch us play and sing
we know you're really here for the air con-di-tion-ing!
links
The photos I mentioned seeing of Rusty Cutlass were over on the Mouse Guest Weekly Forums posted by user Kathy Jo on this page:
http://www.mouseguest.com/phpBB2/viewtopic.php?t=2622&postdays=0&postorder=asc&start=60
The Folks I talked too as the Tuners started to play leading into the Citizens of Main Street Set are Ray and Cindy of the Bare Necessities segment of the Lets Talk about Disney podcast.
http://www.letstalkaboutdisney.com/LTADForum/forumdisplay.php?f=21
The link to Earls episode of Trapped on Vacation that has some audio of "Rusty Cutlass' Christmas set" is at:
http://www.tov.libsyn.com/index.php?post_id=288431
The other episode that has Diamond Horshoe Audio was Episode 7 of the podcast, it was a special Not So Scary Halloween Party edition of the Revue, with the Cadaver Dans being one of the acts. That Episode is still available at this link:
www.bigbrian-nc.com/sn2006-07.htm
Auntie?
Below, are a few photos of the Cast Member I suspect my be the same CM who played Auntie Bellum, followed by a photo of the Cast member in that role. For more photos of that 2002 Riverboat Cruise (recorded the same day as the Diamond horseshoe material in this episode click on this link.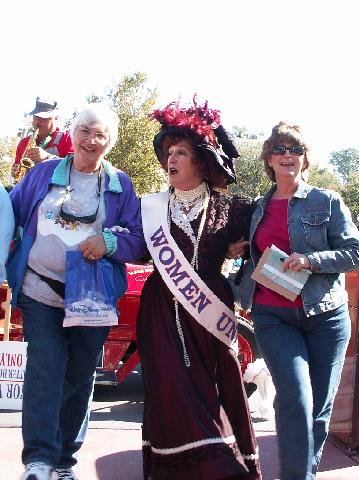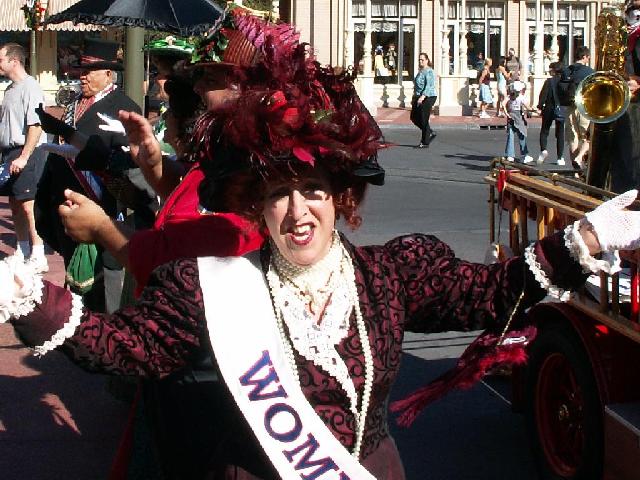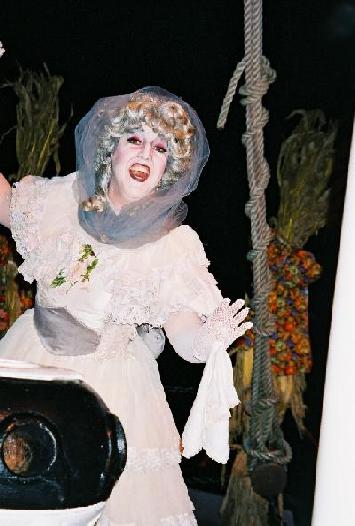 Music
The Dapper Dans
The Toontown Tuners
I heard them play a ragtime number I didn't know the name of (it had a silent movie sound track feel too it, and yes I know that's got a built in contradiction to it ) and Moonlight Serenade.
The Diamond Horseshoe
Maple Leaf Rag (very Fast!)- Piano man Jingles
At the Diamond Horseshoe Show (DHR theme song)- Dr. Bill
She'll Be Comin' round the Mountain - Marshall Dean Daniels
I've Been Workin On the Railroad - Marshall Dean Daniels
It Wasn't Me it Was Him - Marshall Dean Daniels
A Ballad dedicated to the parents of Small Children (to the tune of the theme from the Beverly Hillbillies)Jingles and Dr bill
The Citizens of Main Street USA
For the first two songs the Toontown Tuners were playing solo over on the hospitality House side of Town Square. At he end of their second song the Fire Engine pulls up with Mayor and Chief Miller, the Tuners board the Engine and they all ride over to City Hall (as the tuners are playing Hot Time in the old Town Tonight). Upon arrival Chief Miller introduces the whole group which now includes the suffragettes as "the Citizens of Main Street", as the full cast launches into "Down on old Main Street". After the song when \ Mayor Weaver tries to announce for re election the "Main Street Womens Auxiliary" steps up, after their rendition of Sister Suffragette, the Mayor is fine with them getting the vote as long as they vote for him, but when he once again launches into "campaign mode" questions arise about accusations against the mayor of corruption, which he handles humorously with the song "little tin box". When the song ends, he returns to making more typical (but still humorous) campaign promises. Then stumbles on the word Supercalifragilisticexpialidocious, so the whole cast helps him with it (in song of course). Following that they close with a short and fitting reprise of "Down on old Main street". The singing citizens then talk with the guests a bit while the tuners march off (I chose to follow the tuners).
The Entertainer - tuners
Maple Leaf Rag - tuners
Hot time in the old Town - tuners
Down on old Main Street - full cast
Sister Suffragette - full cast
Little Tin Box - full cast
Supercalifragilistic - full cast
Minnies yoo hoo
Mickey Mouse March
As the tuners march off stage you can hear a Trolley show starting up the street, isn't Main Street great?
Photos
Pictures of the Diamond Horseshoe set from 2002 are in the trip report from our Honeymoon:
http://www.bigbrian-nc.com/moon/b7.htm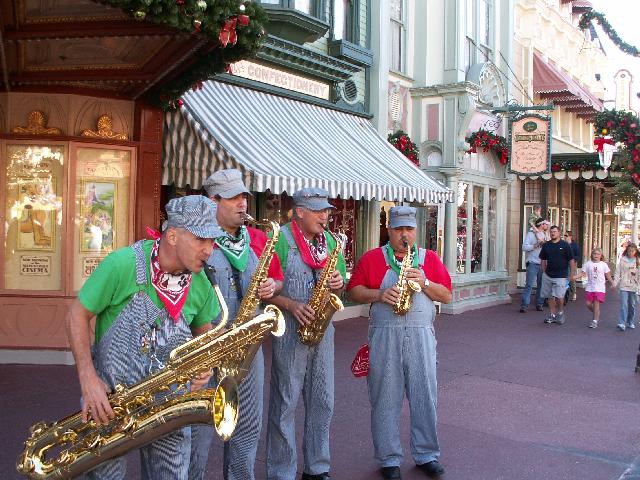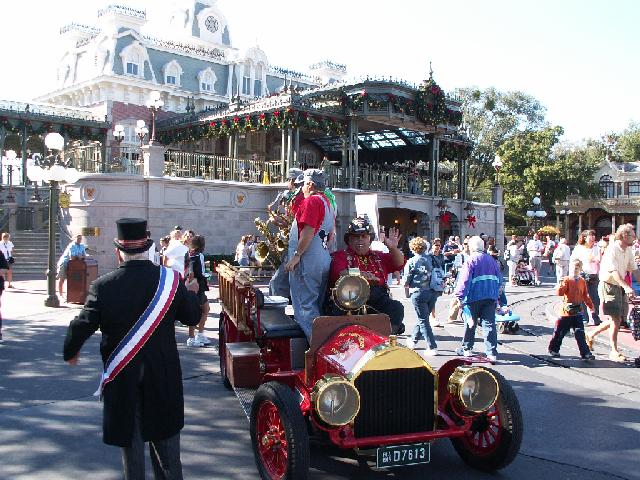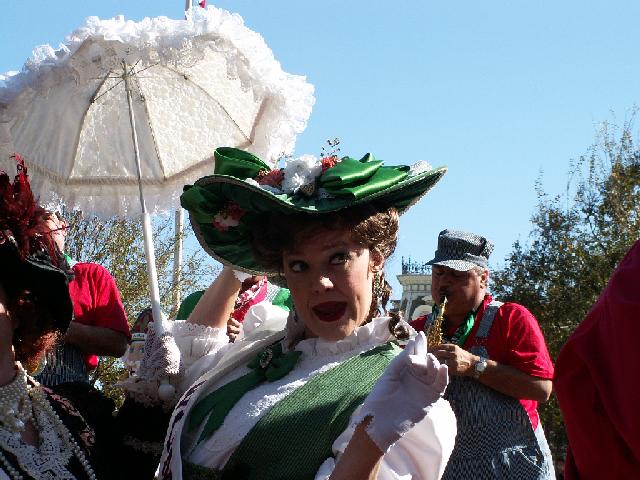 feedback? Questions? Please.... E-mail Me martsolf@mindspring.com
Back to Big Brians Disney Podcast main page (podcast index)
Back to bigBrians Disney page (main web site index)
Last modified by Brian K Martsolf at 01-Jan-2008 11:46 AM