Big Brians Disney Podcast
Episode 2007-27 Show Notes
If you want to download the show manually (instead of using a podcast aggregater such as Itunes) then follow this... Link to the shows libsyn page OR right-click on this link and choose SAVE TARGET AS to save the file to your hard drive.
This episode has audio in it taken during our Mousefest trip of 2007. First there's a two number portion of a set from Piano Man Jim, A Set of the West Coast Holiday Radio Broadcast from the Adventurers Club, The Harlem gospel Chior, The Notorious Banjo Brothers and Bob, Piano Man Mark, the Dapper Dans, and the Main Street Philharmonic. Additionally there are lots of little "cameo appearances" by Mousefest attendees I got to talk with.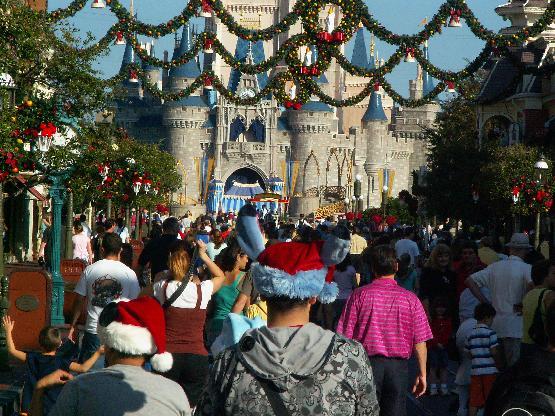 Above left: Libsyn blog image
Above right: I tunes episode image
links
notes
Piano Man Jim
(from Wikipedia)Have Yourself a Merry Little Christmas" is a Christmas song introduced by Judy Garland in the 1944 MGM musical Meet Me In St. Louis. Frank Sinatra later recorded a modified version, which has become more common than the original. The song was credited to Hugh Martin and Ralph Blane, although during a December 21, 2006 NPR interview with Martin, he said Blane encouraged him to write the song, but did not have anything more to do with writing it.
Notorious Banjo Brothers and Bob
Although the Notorious Banjo Brothers and Bob play thier sets in Frontierland they often come out from just beside the Diamond Horseshoe, the Horseshoe though seemingly a Frontier saloon is actually in a building with a bit of a less rough-hewn finish and the Liberty Square Background music plays there. When the Notorious Banjo Brothers and Bob come out you can actually hear the banjo being stummed to the tune of the Liberty Square song just ending right before the piping of Yankee Doodle begin
Lyrics to Little Cabin Home
Music
Main Street Pianist Jim
Here Comes Santa Claus
Have Yourself A Merry Little Christmas
Adventurers Club - West Coast Holiday Radio Show
Fingers Zambezi's Holiday medley (while guest are being seated)

Here Comes Santa Claus
White Christmas
The Little Drummer Boy (I really like this bit)
Linus and Lucy

Happy Holidays -Pamelia & Emil
Home for The Holidays - Hathaway
Santa Baby - Gabb
y
Pretty Little Dolly - Pamelia
Dominick the Donkey - Emil
Have yourself A Merry Little Christmas - full cast
Harlem Gospel Chior
Are You Ready for a miracle?
Silent Night
Joy To The World
Go Tell It On The Mountain
Oh Happy Day
Let there Be Peace On Earth
Praise The Lord In Me
The Notorious Banjo brothers and Bob
Notorious Shuffle (marching out)
Foggy Mountain Breakdown
The Christmas Song
Carol of the bells Cowbells
Little Cabin Home on the Hill
We Three Kings
White Christmas
Notorious Shuffle (marching in)
Piano Man Mark
The Most Wonderful Time Of The Year
Blue Christmas
Yes Sir! That's My Baby (partial)
Sleigh Ride
MEDLEY

Yes Sir! That's My Baby
Toot Toot Tootsie
unknown

It's A Small World
MEDLEY

Hark How the Bells
What Child is This
The Dapper Dans
Dan, Ken, Chad, and Kevin
Mobile
Lida Rose (with Dan helping a guest through the lyrics)
The bells on Christmas Day
Rudolph the Red Nosed Reindeer
Jingle Bells
Main Street Philharmonic
marching cadence
I'll Be Home For Christmas
It's the Most Wonderful Time of the Year
The Christmas Song
Santa Claus is Coming To Town
Deck The Halls
Jingle Bells
feedback? Questions? Please.... E-mail Me martsolf@mindspring.com
Back to Big Brians Disney Podcast main page (podcast index)
Back to bigBrians Disney page (main web site index)
Last modified by Brian K Martsolf at 30-Dec-2007 09:45 PM