Big Brians Disney Podcast
Episode 2006-11 Show Notes
If you want to download the show manually (instead of using a podcast aggregater such as Itunes) then follow this... Link to the shows libsyn page OR right-click on this link and choose SAVE TARGET AS to save the file to your hard drive.
This episode has audio in it taken during our Mousefest rips of 2005 and 2006. First from 2005 there's a set from the Voices of Liberty and The Spirit of America Fife and Drum Corp, then we head over to the Magic Kingdom and up to 2006 for Main Street piano man Mark, Main street piano man Jim, The Notorious Banjo Brothers and Bob, Cinderella Royal Saxaphonists (AKA Toontown tuners or the Fantasyland Woodwind Society), we then return to Epcot for the Holiday portion of a performance by the Cyber Groove, then roll back the clock once again to 1998 for American Vybe provided by a guy I knew as WDW Friend from his old site on Tripod.com where he used to share audio. now since this episode has come out I found out he has his own podcast it's Lou of the Walt Disney World Memories Podcast http://www.wdw-memories.net/. We then fast forward to 2005 for one more set by the Voices of Liberty, before ending the show with a little Mousefest inspired Karaoke using one of the 2006 piano tracks I played from piano Main Street Mark earlier in the episode.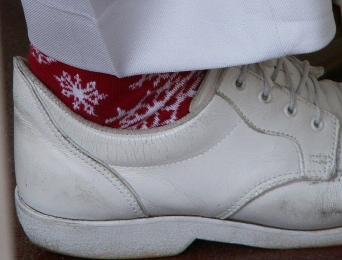 Above right: I tunes episode image (piano man Marks' socks) Above left: Libsyn blog image (photo colage of all the musical groups in this episode!)

links
WDW Friends podcast! http://www.wdw-memories.net/ the guy who recorded the American Vybe tracks I used in this episode.


Steves Soares Live entertainment schedules were a huge assistance especially in the Magic Kingdom.
http://pages.prodigy.net/stevesoares/
Music
Voices of Liberty set 01 (from Dec. 2005)
Hark the Herald, Angels Sing (partial)
Chanukah Medley
Jingle Bells
What a Happy Christmas Party, What a Merry Christmas Tree
Oh Come Let us Adore Him
We Wish You A Merry Christmas (show closer version)
Spirit of America Fife And Drum Corps(Dec. 2005)
Oh Christmas Tree
Joy To The World
It Came Upon a Midnight Clear
Hark The Herald, Angels Sing
Deck The Halls

The marched out to Yankee Doodle but I talked over that.
Main Street Pianist Mark
Frosty the Snowman (but note that the introduction is for Rudolph the Red nosed Reindeer)
All I want For Christmas is my Two Front Teeth
Have Yourself A Merry Little Christmas (awesome!)
Main Street Pianist Jim
The Notorious Banjo brothers and Bob
We Three Kings
Jingle Bell Rock
Cinderellas Royal Saxaphonists
AKA Toontown Tuners AKA Fantasyland Woodwind Society
Holly Jolly Christmas
Jolly Holiday
Linus and Lucy (the Charlie Brown song)
Cyber Groove
Hark how the Bells
American Vybe (1998 0r 99?)
Santa, Baby
Santa Claus is Back in Town
Voices of Liberty (Dec. 2005)
The one song I mentioned editing out of this set was the Chanuka Medley that was the only song in this set that was repeated from the previous set, one other note about this set it was actually performed on the "front porch" of the American Adventure Pavilion, that's why when they are not singing between songs you can make out just a bit of the Background Music.
Christmas in the Air
Walking in a Winter Wonderland
Fume, Fume, Fume
The First Noel
Main Street Mark and Me
This last bit was put together using Marks piano track of Have Yourself A Merry Little Christmas with my "at home Karaoke" vocals recorded right here by my desk (I did at least stand up to sing though!)



feedback? Questions? Please.... E-mail Me martsolf@mindspring.com





Back to Big Brians Disney Podcast main page (podcast index)





Back to bigBrians Disney page (main web site index)




Last modified by Brian K Martsolf at 23-Jan-2007 11:33 AM