Big Brians Disney Podcast
Episode 2006-09 Show Notes
If you want to download the show manually (instead of using a podcast aggregater such as Itunes) then follow this... Link to the shows libsyn page OR right-click on this link and choose SAVE TARGET AS to save the file to your hard drive.
This episode has audio in it taken during my 2005 trip to Disneyland two of the clips, Dwight Kennedy's Dixie Kings, and Push the talking Trash can were both recorded on July 15th, 2005, theres also a performance of the Disneyland Band from July 18th, additionally I read a little bit of listener feedback and a question from a previous show is answered.
Above right: I tunes episode image Above left: Libsyn blog image
links
Kirsten Wahlquist's Disney Music Loops web site
Wikipedia entry for Allegheny_Moon
Wikipedia entry for Patti Page
My Pictures of the Dixie Kings at Disneyland on July 15th
Dwight Kennedy's background info from his web site http://www.dwightkennedy.com/about.html
Dixie Kings Cute Story number 0ne 13:40 into show
Dixie Kings Cute Story number two: How Happy? 26:40 into show
Dixie Kings Cute Story number three: 46:00 into show
Video of the Space Mountain opening ceremonies on Laughing place.com http://laughingplace.com/Lotion-View-101.asp
Video of Push the talking Trash can is embedded into my trip report, Here
or you can look at it on my youtube page http://www.youtube.com/profile?user=bigbrianDASHncDOTcom
The reason push had to look for the wheelchair ramp is that special cable covers were laid across the walkway to keep folks from tripping over all the wiring that had been laid out for the events going on, the press booths were near this area (by the old people mover loading building) and, of course, there was that big jumbo tron TV screen there as well.
Between 1:01:00 and 1:02:00 there is a very cute moment with a little boy who was definitely going to Fantasyland!
Music
Dwight Kennedy's Dixie Kings
Sweet Georgia Brown
Avalon (I met my love in Avalon)
unknown title starts 14:55 into show
unknown title starts 18:00 into show
I'm always Thinking of You Margie (name added 19-Feb-2007 Identified by Piano man Jim at the Magic Kingdom) starts 22:15 into show
The Entertainer starts 27:20 into show
Bill Bailey Won't You Please Come Home starts 29:15 into show
When the Saints Go Marchin' In starts 34:30 into show
Southstarts 41:45 into show
Wipe Out starts 43:25 into show
unknown title starts 46:00 into show
Mickey Mouse March starts 49:30 into show
The Disneyland Band
unknown title (march) starts 59:15 into show
Twelfth Street Rag starts 1:02:00 into show
Clang, Clang, Clang went the Trolley starts 1:05:30 into show
WDW postcards
I added many cards this week to the pages on the Hotels of Hotel Plaza Boulevard these hotels are on land leased from Disney, and, the guests of these hotels get many of the same perks as guests of Disney's hotels due to the special relationship they have with Disney.
The first Four Hotels were the Travelodge, Royal Inn (Later Hotel Royal Plaza), Dutch Inn (later Ameicana's Dutch Inn, now Grosvenor), and Howard Johnsons (now Holiday Inn), all opened in the first few years of WDW operation, after that there was a lull in the construction of new hotels on WDW property until the opening of Epcot, after which three more hotels joined in, the Buena Vista Palace (later Wyndham palace now BVP once more), Hilton, and the Pickett Suite Hotel (later Guest Quarters Suite Hotel now Doubletree Guest Suite Resort).
2005 : The Dawn of Podcast history
once upon a time, not so long ago, I had never heard of podcasts, when I wanted to share my sounds with my friends on return form a trip I had to make CD's, most of these were simply data CD's that included my web pages of the trip report along with a special page on the audio files of the trip that had links to the sounds included on the disk, If I really liked a group I listened to a lot, and had enough material, I might also try my hand at making an audio CD, if I REALLY liked the group I'd go all out, make a CD case and booklet to go with it, to give you some idea of how much I like the Dixie Kings heres a few images for you:
inlay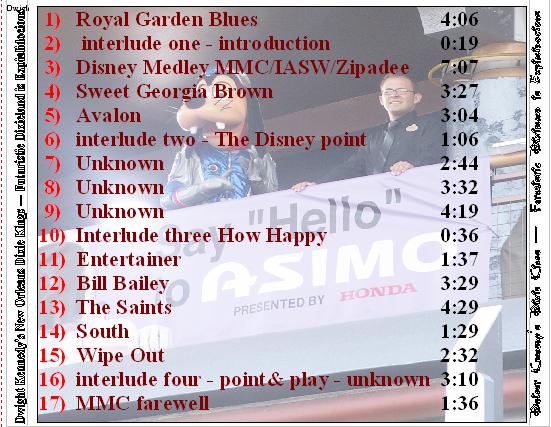 disc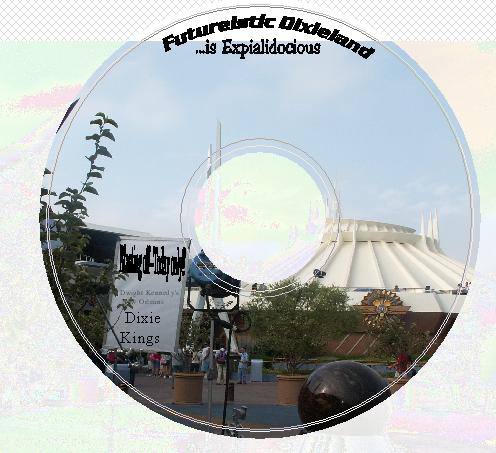 booklet covers (or pages 1,8)
interior cover (pages 2,7)
outer interior pages 3,6
center pages 4,5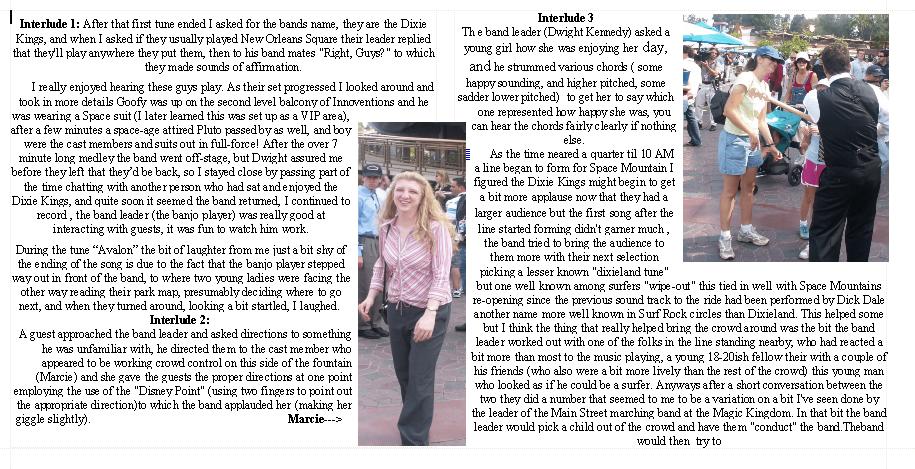 feedback? Questions? Please.... E-mail Me martsolf@mindspring.com
Back to Big Brians Disney Podcast main page (podcast index)
Back to bigBrians Disney page (main web site index)
Last modified by Brian K Martsolf at 22-Nov-2006 10:19 PM