Return to Disneyland
Thursday, July 14th
A Very California Adventure
Sound from this page is in an episode of BBDP's podcast
Episode 2006-02 right click and save---> this link http://media.libsyn.com/media/bbdp/bbdp2006-02.mp3

SHOW NOTES Episode 02- Disneyland Band, River Rascals, Piano man Johnny, 50 years of DL postcards, and the IDPCC.
We awoke bright and early, and took surface streets back to Anaheim. We went that way because I wanted to go past a few places where I had went to school and places I'd lived growing up, and we did and I stopped and took a few pictures. We then headed on to the park, we were supposed to meet my dad and his friend Nina, they both wanted to visit the new park, Disney's California Adventure, since they had not visited it yet. On the way to the park we gave them a call and it turned out my father had had some car trouble and they were running late, so Carlene and I started to head on into Disneyland for a bit, once passing through the bag check area though, Carlene realized she had left her ticket in the car. We took a few minutes to go over the options and she decided that as long as she was going back to the car she'd go ahead and drive around a little checking out some of the shopping in the area and the like (just exploring a bit basically). She had the cell phone and we set a time to meet back up. I continued on into the park...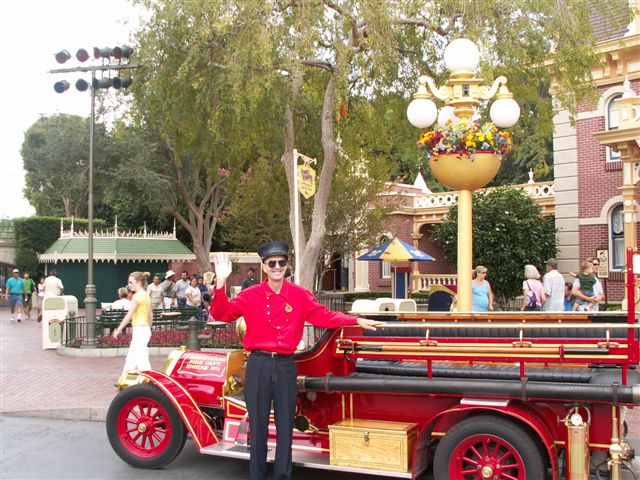 ... on my way up Main Street I decided to take a closer look at the Penny Arcade, when we had come back to Main street the day before I had passed through it and I wanted to take a closer look at a machine in the back of the shop it's called the orchestron, not only did I take a look at it I recorded a few of the tunes available from it, I also took a short video of it, my first use of the video function on my camera, I neglected however to take any still photos, I did notice that the orchestron is not actually playing from the " piano roll " though it does seem the music actually emanates from the orchestrons instruments, and not (I think) through any kind of recording. I later realized that I must have recorded over the MD audio, which had several complete songs, but I still have the video, here it is.
Click twice on the arrow in the window below to view the video, once to activate the control, once to make it play
I looked at my entertainment guide and decided that I also wanted to catch the 9am performance of the Disneyland Band, but I did not know where there 9AM set was played. I asked a cast member who was working the end of Main I was at (the hub) where the band usually came out for their 9 am set and was directed to the gate between the photo shop and the Plaza Inn, I later learned the 9am set is played at Town Square, I'm surprised I could not see or hear them from the other end of Main, and wonder if they did play that set that day after all or not.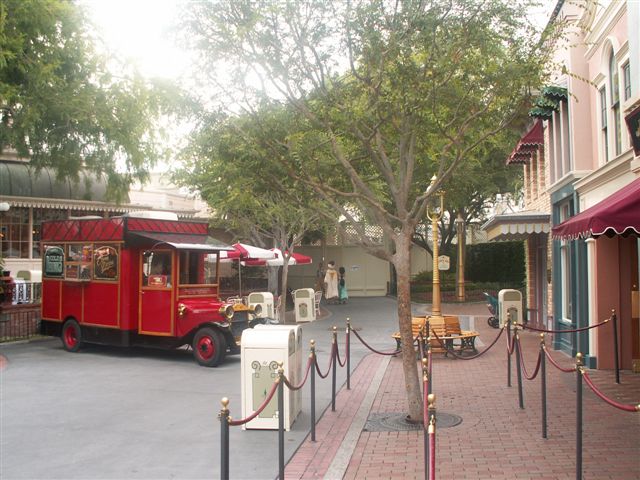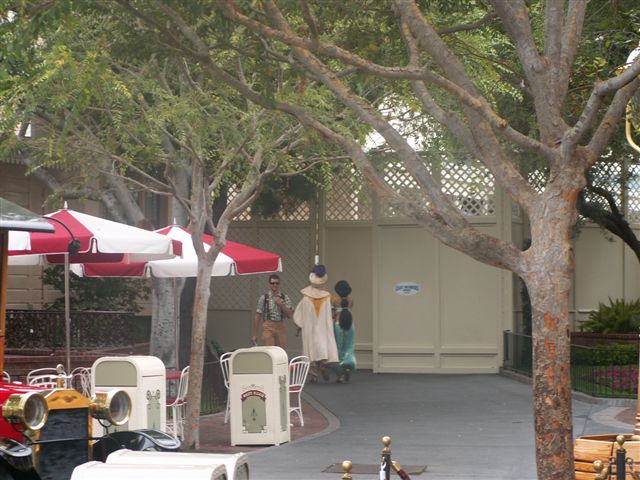 Still, while I was waiting near that gate I didn't feel time was wasted I looked around at other things in the area, the gas lamps on Main Street, the characters at the breakfast over at the Plaza Inn, and just generally relaxed and enjoyed myself.
Click twice on the arrow in the window below to view the video, once to activate the control, once to make it play
I wandered over to New Orleans Square, and ended up taking a few pictures at the train station before it was time to meet Carlene at the Frontierland smoking area.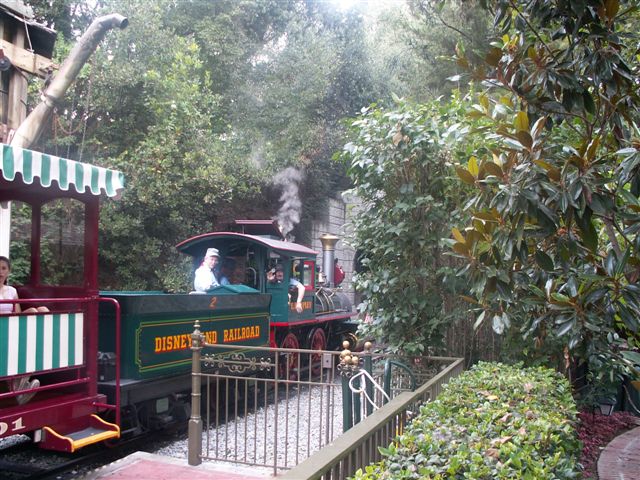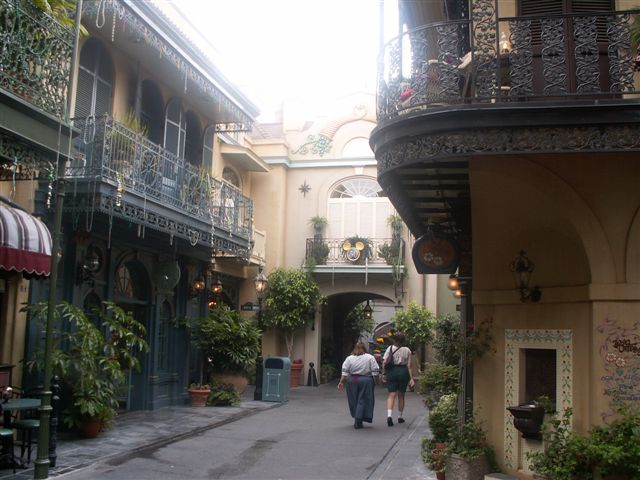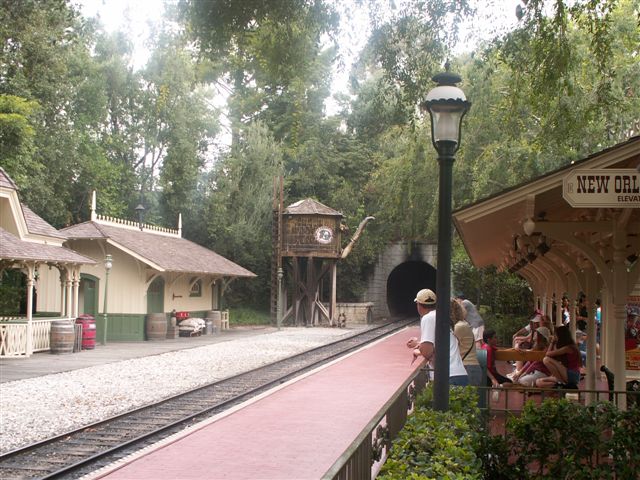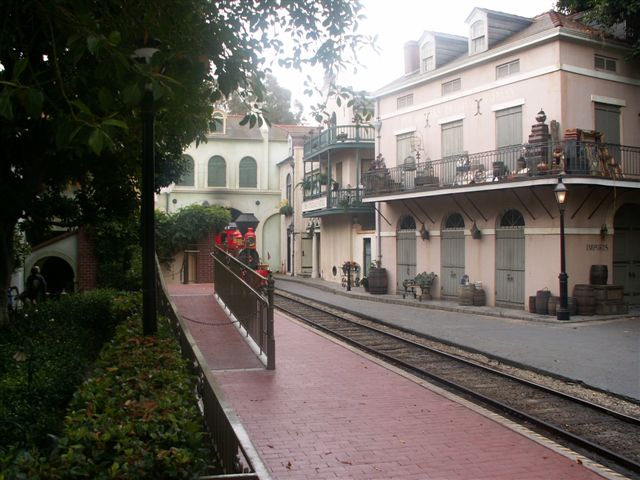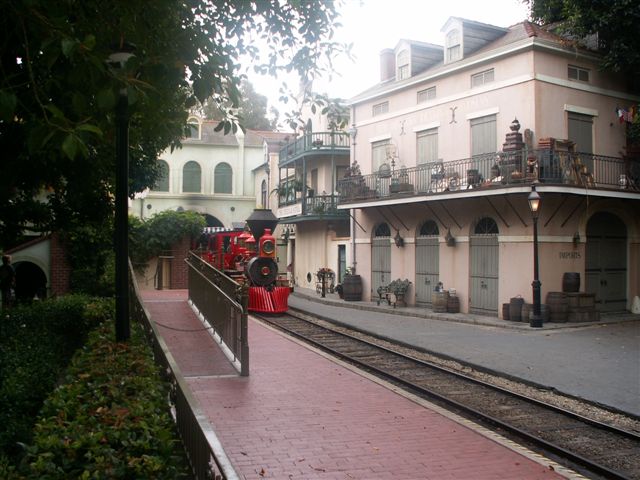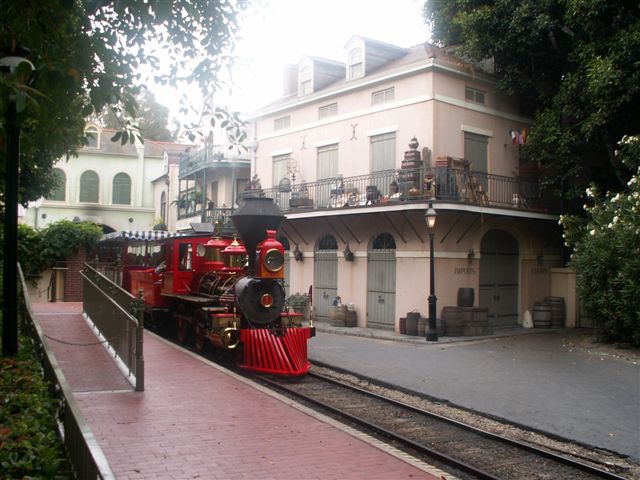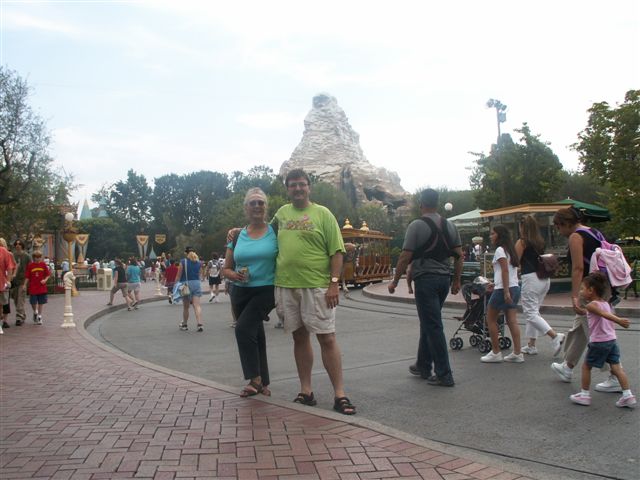 We met back up and headed back towards It's A Small World, now that I had a few practice movie shots I wanted to film one of the few things I had decided early that I wanted to take a short movie of while I was visiting here, the It's A Small World clock, which " goes off " every 15 minutes. For those of you who have not seen this I'll describe it for you here, the side doors on the clock open exposing toy soldier trumpeters that announce (via musical fanfare) that the time ceremony has begun, then the bottom doors on the front of the clock open and " the march of the dolls" begins, dolls dressed up as children in garb from all around the world make their circuit in the front of the clock, then the upper doors on the clock open exposing the time. While I did that, Carlene took a smoking break, by the Matterhorn (near the monorail track at the former Fantasyland Autopia entry there is a smoking area), while I went and watched the clock It was near the time for it to " chime " when I got there. Only when the time came it didn't chime, so I asked a cast member working the It's A Small World queue how often the clock chimed, figuring that if if was not going to be chiming they might know and inform me, they just said " every 15 minutes " so I waited another fifteen minutes just to be sure and it again did not chime, so I figured it was turned off for some reason, I later figured it might be for the upcoming ceremonies on the 17th since this was one of the locations where jumbotrons were set up for the crowds to view the ceremonies. I went back to Carlene and we decided to ride the train around to Main Street since it would be getting close to time for my Dad and Nina to arrive by the time we got there, but when we got to the Toontown train station the cell rang and they were already at the parking deck so we decided to walk to the front of the park as that would be quicker. I went to the tram unload zone and Carlene scoped out the ticket booths for a short line. I left the camera bag with Carlene at this point, so as not to have to bag check it again. I didn't take many pictures once they arrived, probably because I felt like I was the " tour guide ", and was more focused on figuring out where we were going next. Once their tram arrived we had a very short line at the bag check, and no line for tickets, Dad and Nina got one day park hoppers, since I had upgraded to premium annual pass using the four day ticket I had for it's trade-in value. To clarify here you could only trade-in one ticket towards one others purchase, so I could have traded in the one day ticket I had or the 4-day park hopper for their dollar value toward my pass but not both, I chose the park hopper which had the higher value. I had dad use the one day/one park ticket he had bought for me towards trade-in value. We headed into Disney's California Adventure for the first time of the trip, and proceeded to Soarin' where we picked up a fastpass and then on to Grizzly River Run. I actually enjoyed having about a 20 minute wait before the ride here as this gave us a better chance to converse and take in the setting of the ride (an abandoned mine and lumber mill that has been taken over by white water kayaking enthusiasts). I enjoyed the attraction as well, we did all get wet, but no one seemed to mind too much, we check out the redwood Creek trail area pretty thoroughly, before stopping to view the Golden Dreams movie. We walked through the paradise pier area but didn't ride anything there, by that time our fastpasses were valid for Soarin' so we headed back there, I had noticed from the things Nina had said (about things she liked at Disneyland in the past as well as the things we'd experienced today) that she seemed to prefer more action-oriented things and was not much into movies or shows, and Dad seemed pretty much up for anything that everyone else wanted to do, Soarin' was a blast for everyone, except Carlene, when trying to track down what upset her about it later it seemed that she forgot she had a seat belt on and could not shake the feeling that she was going to fall out she was practically terrified, it was definitely a " won't do that again " kind of thing for her, at least not in the front row, which ends up being the highest row and feels probably even more so since the folks in the other rows have the feet of the people in front of them within their vision if they look up. After enjoying Soarin' Nina decided she'd like to visit Disneyland. We headed across the esplanade and went straight to the Indiana Jones Adventure by this time I had a pretty good feel for her taste in attractions and was pretty sure this was right up her alley, this time everyone had a good time, after that I think we went to lunch at the French Market, well I know we ate at the French Market, I'm just not sure if we rode Pirates of the Caribbean first or later. The River Rascals (link is to the River Rascals Web site) were on the stage and Carlene had staked us out a good table near the stage, lunch here was very good, I'd defiantly dine here again, the band was good too, and not only did I pull out my mini disc and record them I also pulled out the camera and snapped a picture as well (though I never took a picture of the four of us this day... go figure).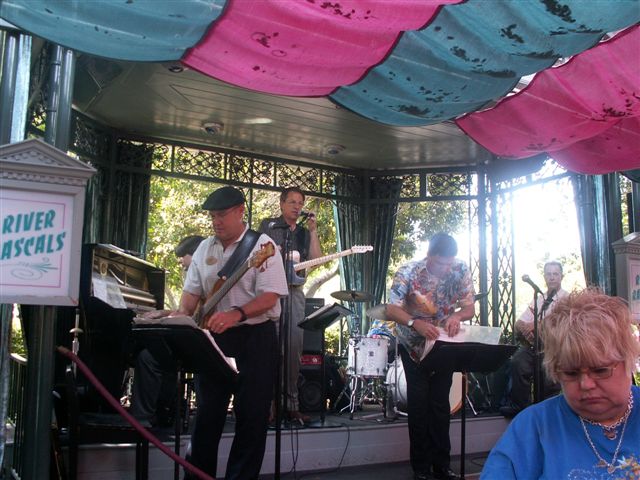 After lunch we enjoyed the Haunted Mansion, and went too see if there were still fastpasses available for Splash (standby was somewhere around 80-120 minutes well out of the range I'd wait for under most circumstances ), they were not available (all used up for the day presumably). Since we were back at this corner of the park and Pooh was only a 10 minute wait we rode it, I'll be honest I'd rather have the Country Bear Jamboree here still, but I don't see anything wrong with Pooh, I'm sure there are a lot of folks who enjoy it, I didn't see much of difference between this version and the Florida one. There were a few details in the outdoor queue that I liked the yellow and black bumblebee design tiles, used as a safety stripe, at the loading curb being one that stands out in my mind, and there was a sound as you approach unload (I think it was a hive of buzzing bees). This attraction was not so much one I would have chosen for our group as much as just the only one available nearby with time running short still, I'm glad I got to ride it. Dad and Nina wanted to get going before 6PM and it was getting on towards that point so we headed back down towards Main Street, parting company at Coke corner. As Dad and Nina headed on their way Carlene and I stopped and enjoyed the playing of Johnny, and I got a little bit more music on my mini disk player.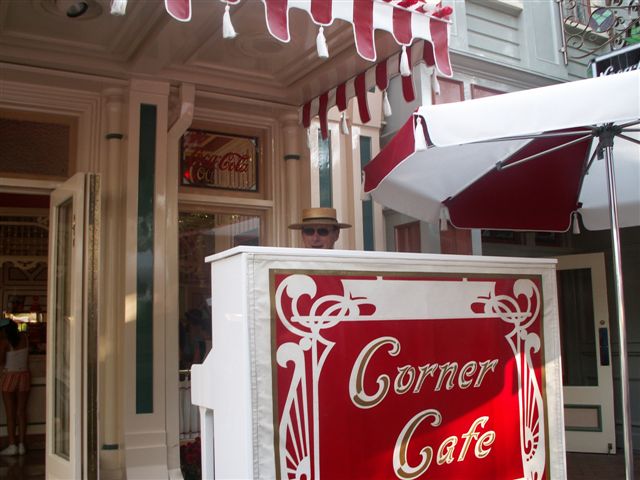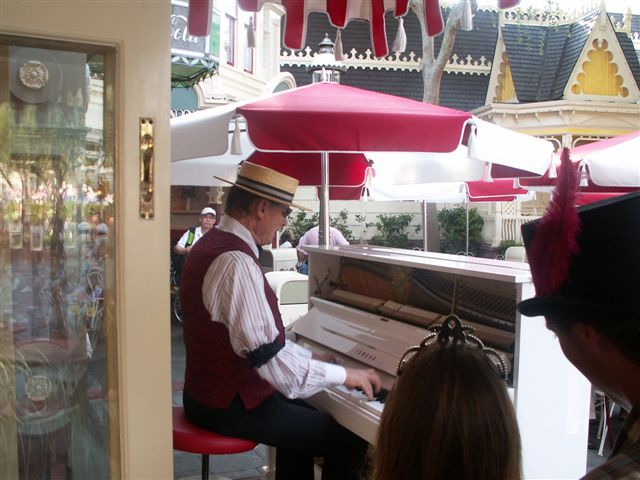 After his set was over Carlene started to mention something about her going to check into our room, and since this day was an atypical one as far as schedule I decided I'd go with her (even though she made it clear I could stay as long as I liked). I figured I'd save my energy for the days to come, when we first got to CA and I went over my schedule with dad he said he thought I was planning on visiting with him another day at the front end of the trip, he didn't have a problem with it, he just remembered it differently than I, well one thing I don't have to worry about with my dad apparently is his memory going...it turns out I had not booked this night at our hotel, but by the time I found out Carlene had already straightened it out booking us an extra night (at the same AAA club rate too), they did have to put us in a different room than the one where we would be the rest of our stay but I would say the one we had this night was an upgrade and so an even better bargain for that aforementioned AAA club rate. Upon reflection, I probably did have enough energy to have went back to the park, but heading in a little early for the night probably just re-charged my batteries that much better for the next few days. Still after two days at the parks it's odd to think that I had only ridden 6 attractions at Disneyland (though two had been experienced twice, Pirates, and Indiana Jones) and three at DCA, it wasn't that I had spent a lot of times in lines, and there was no lack of enjoyment, I just knew how much time we had left and was able to take a more leisurely pace and savor the little things.
E-mail Me martsolf@mindspring.com
next page
trip reports index page
Back to bigBrians Disney page