The Prequel
Ok so the movie cars dosen't have a prequel, but since this portion is about those events leading up to the premeire , it seems fitting to me to use that term here. I first read that the Cars movie premiere was coming to Charlotte from an article on Jim Hill Media.com, within a few days of that first report he gave an update that included a link to Ticketmaster, after a few quick questions to my wife I figured I'd go by myself, so I could go early and stay late without boring her. Within a few week or two of placing my order I received my ticket, and this letter.
At first I hoped to help sort of cover the event for some of the Disney internet sites, but the one that I have written a few articles for All Ears Net.com. is really focused on WDW, so I didn't figure it would be something they could use, and, in the end I never even approached any site about being a reporter for them, partly also because I was afraid that being a reporter could interfere with my time spent actually enjoying the event, I think now, seeing how this event went it would not have interfered, but that was kind of hard to know in advance. Still, I knew I would at least doing a page on this for my site, and also towards the day of the event started to make a connection with another idea I have been considering, that of starting my own Disney podcast, so the planning for this kept that in mind.
The day before the event I was sitting at my computer, listening to Disney podcasts, and looking at Disney related web sites, when I suddenly realized that there was a propeller driven airplane sound, that was taking a lot longer to go by than propeller driven airplanes usually do...I leapt to my feet and dashed upstirs to get my camera and then back down and outside to take these two shots.
You I had heard that the Goodyear blimp was coming to this event and had even gotten a special paint job for the occasion it was modified to rear LIGHTYEAR instead of GOODYEAR on the side, but apparently it was only on one side as you can see here in the larger version of this image,
that it does say Goodyear. Sadly, because of the inclement weather (at least I'm assuming that's why) I never saw the blimp at the event, perhaps someone who got a photo of the LIGHTYEAR side of the blimp can send me one to share with my readers.
Overture
Knowing from the aforementioned letter that camera and camera phones would not be allowed inside the speedway I wanted to go early to make sure I had plenty of time before the event actually started to take pictures. So early Friday afternoon I arrived and began to look around, I wasn't sure if parking was free for this event or would be charged for as it is for races, so I parked way out in one of the farthest lots that is free parking even on race days. It didn't seem like to bad of a walk to me , but then again, I don't generally get tired feet even at Epcot.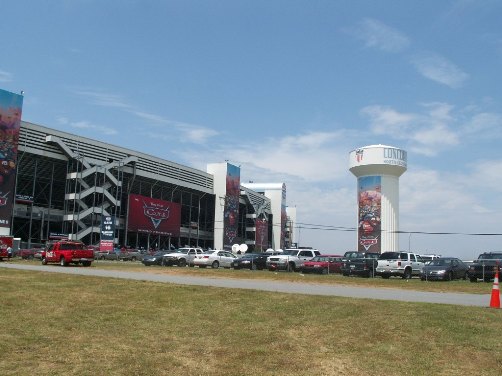 The reason the lot in the shot above is empty is that the parking here was reserved for a charity event for the Speedway Childrens Charities. I imagine that many of the celebrities may have attended this. Below are a couple of shots of the entry area to the charity event.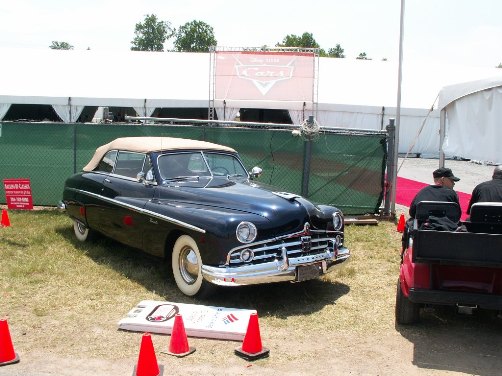 For those of you who don't follow Nascar in any way shape or form let me explain that part of the reason that the movie premiere was held here in Charlotte is that one of our Nascar races is in May every year and so having the movie premiere not only at a Nascar track, but actually on Race Week guaranteed a certain amount of extra energy and coverage. As I continued to draw closer I saw a car being pulled out of a trailer, as is appropriate for the Coca-Cola 600 it was the Coca-Cola car.
Those chrome poles on the cart are stanchion that would be used later along the red carpet.
Plenty of Media Present...
...including Radio Disney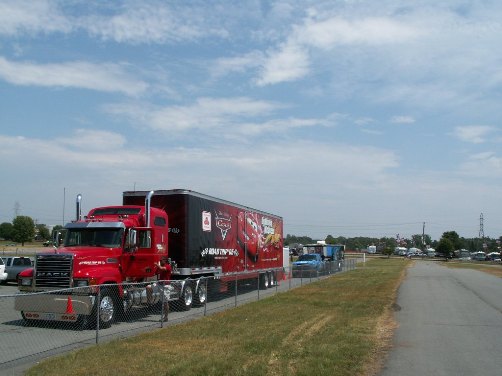 And look what we have Here! Lightning Mcqueens transport truck Mack
And giving this movie that special Disney touch that shows through in the details the sponsorship decals...
There's real world sponsors too, like Goodyear, and State Farm lot's of Goodyear tires including these on Mack.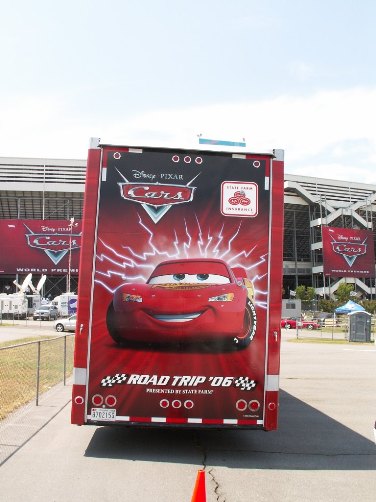 This is page 1 of 4 keep going
E-mail Me martsolf@mindspring.com
Podcast Show notes page
Cars Home Index - Special Reports and meets
Back to bigBrians Disney page
Last modified by Brian K Martsolf at 01-Jun-2006 10:48 AM