Walt Disney World
A History in Postcards
Free with stay postcards page Page 8: The Wildest RESORT in the Wilderness
Disney's Wilderness Lodge Resort
Just a few days after that first new All Stars Resort began to open a new Deluxe resort opened on yet another Lake, Disney's Wilderness Lodge Resort opened on Bay Lake between and adjacent to the Fort Wilderness and within sight of Discovery Island. While the setting is more rustic than the other deluxe resorts the scale a grandeur is no less albeit in woodsy sort of way, the Old Faithful inn is often listed as an influence on the Wilderness Lodge but upon looking at the image of the Old Faithful Inn's lobby I found on an old postcard of it I'm thinking the Imagineers took a look at the Old Faithful Inns lobby and said "Ok, let's call that about a six, now what if we take that design knob and turn it up to eleven?"
(sources Disney A to Z, my conjecture and a vintage 1960's curtteichcolor postcard of the OFI)
Above: lobby of the Old Faithful Inn
Below: The Wilderness Lodges "free with stay" card.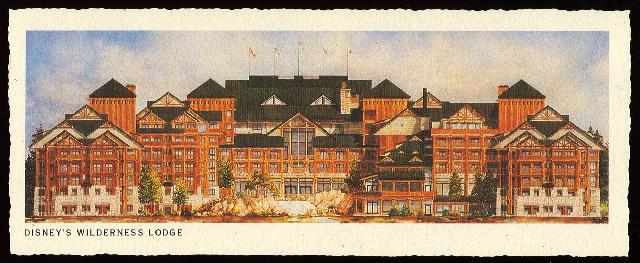 The only "free with stay" card I know of for the Wilderness lodge is the one above appropriately enough it is printed on a sort of arts and crafts paper with a slightly uneven edge, as if it was paper you made as an arts and crafts project at summer camp, which is probably where some folks get their ideas about the Wilderness from. A look at the large version of the image will give you an idea of just what scale the imagineers took this lodge to.
E-mail Me martsolf@mindspring.com
Back to WDW in Post Cards Table of Contents
Onward to :
Taking an Edu-tain-cation?
Back to bigBrians Disney page
Last modified by Brian K Martsolf at 26-Jan-2008 07:56 AM