Walt Disney World
A History in Postcards
Chapter 3 The Vacation Kingdom of the World, Page 7: A Wider, Wilder, Wetter, World

Wider
As the previous page shows growth was coming to Walt Disney World not just at the Magic Kingdom theme park but also in other locations around the property. A few more examples of this are on this page.
Wilder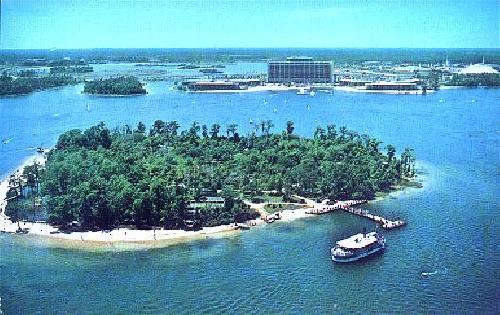 IN A SPAN OF JUST A FEW YEARS THIS CARD APPEARED BOTH AS 0111-0372 TREASURE ISLAND AND LATER 0111-2500 DISCOVERY ISLAND BECKONS EXPLORERS
I have heard the story that when Walt Disney first flew over the Florida marshes that would one day become Walt Disney World one of the first things that attracted him to it was Bay Lake.When Walt Disney surveyed central Florida seeking a location for his "new world," he flew over Bay Lake and spotted the 14 acre island near its center. Those who accompanied him that day say that Walt decided then and there that this -- among all locations studied -- was the ideal choice. (The Story of Walt Disney World 1971 edition p18.) That island, in Bay Lake, at that time was named Riles Island, before that it had two other names (Raz Isle and Idle Bay Isle). Of course when Disney bought the land it gained a new name again. On the early map in the "story of WDW" book this isle is referred to as Blackbeards Island, by the time they got around to developing the Island, April 8, 1974, the name had morphed once again to Treasure Island, but the Pirate theme never really stuck as the real focus of the Island became wildlife (primarily bird) conservation. So in 1977 the name changed once again to Discovery Island. There is a wonderful more detailed article on it on the Widen Your World web site at http://home.cfl.rr.com/omniluxe/trislnd.htm which notes that the Blackbeard Island name was re-assigned to one of the three man made islands of the Seven Seas Lagoon. There is also a nice page on the subject at Walt Dated World website where I learned the names the Island had before Disney bought it (Raz Isle and Idle Bay Isle) http://waltdatedworld.com/id21.htm As many of you are probably aware the name Discovery Island now belongs to the central area in Animal Kingdom that contains the tree of life and has bridges reaching out from it to the other "lands" of Animal Kingdom. The birds that were on the Island are at Animal Kingdom as well of course. I guess the original Discovery Island is still called that too... though, since it is un-used perhaps there is little reason to refer to it at all these days. Still if there comes a time when the isle comes back into use I think it would make sense to give it it's own name perhaps one of the names it had pre-Disney or the Treasure Island name could be used again.


cards 0111-0372 and 0111-0371 both bear the same title to their caption TREASURE ISLAND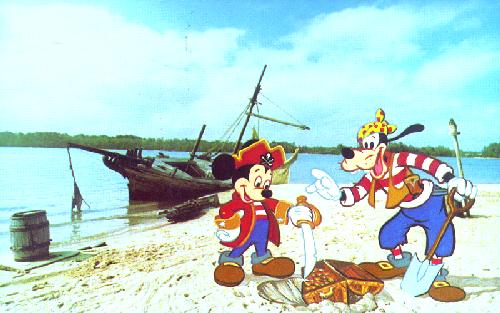 This image appears both as 0111-0375 MICKEY MOUSE AND GOOFY ON TREASURE ISLAND and 0111-0375 MICKEY MOUSE AND GOOFY ON DISCOVERY ISLAND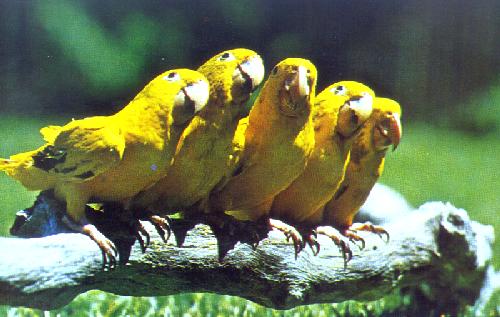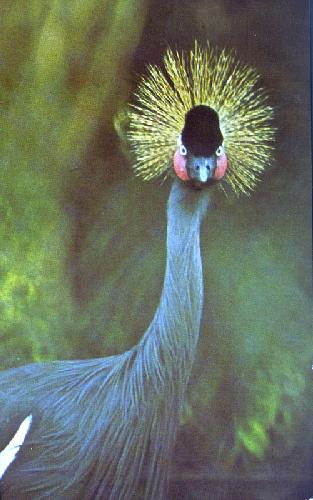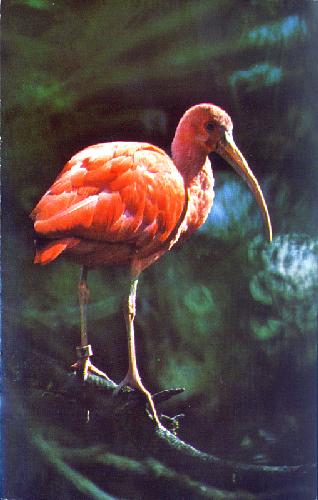 0111-2501 EXOTIC BIRDS ROAM DISCOVERY ISLAND, 0111-2502 BIRDS SANCTUARY ON DISCOVERY ISLAND, 0111-2503 ROYAL INHABITANT OF DISCOVERY ISLAND, 0111-2504 EXOTIC BIRDS ON DISCOVERY ISLAND, and 0111-2505 A TOUCAN CAN ON DISCOVERY ISLAND



Wetter
0111-2400 SPLASHY ENDING IN RIVER COUNTRY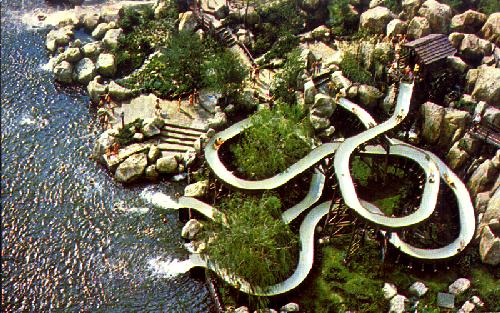 June 20, 1976 Walt Disney World opened its' first water park at the site of the Ft Wilderness Resort like everything else Disney does though they didn't just put up some slides. They gave a theme to the whole River Country Water park, that of an old fashioned swimming hole, this park can be a very nice respite on a hot day when you need a break from the heat or crowds of the parks. River Country has remained closed since the tourism slowdown at the end of 2001. Early in 2005 its permanant closure was made official by Disney. There are a couple of nice details about the park in the FAQ on the park on The AllEarsNet.com web site http://allearsnet.com/btp/faq_rc.htm You can get a more detailed description of the various areas within the park and a feel for the type of activities and entertainment that were provided there. I especially like the answers to the questions: What is the "All American Water Party"? and "Are there characters at RC?" That is where I learned that Goofy on water skis apparently appeared for many years after the watersking show ended.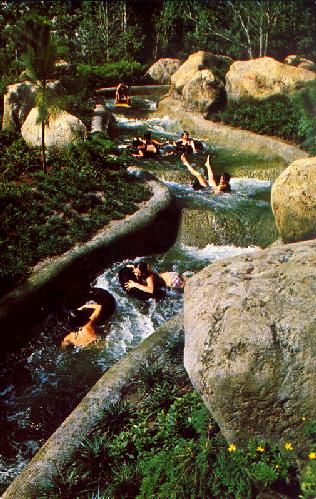 0111-2401 RIVER COUNTRY



0111-2403 PLUNGE INTO RIVER COUNTRY
0111-2404 SPLASHY ENDING IN RIVER COUNTRY, 0111-2405 RIVER COUNTRY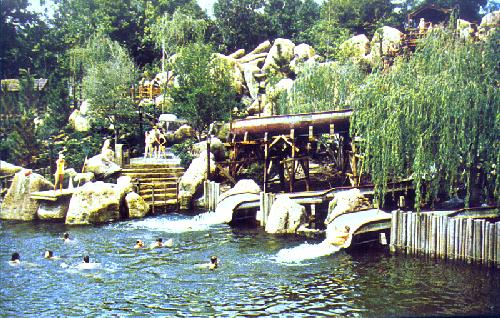 E-mail Me martsolf@mindspring.com
WDW in Post Cards Table of Contents
Onward to: Chapter 3: Page 8 Pirate Treasure!
Back to bigBrians Disney page
Last modified by Brian K Martsolf at 07-Mar-2006 02:36 PM