Walt Disney World
A History in Postcards
Chapter 3 The Vacation Kingdom of the World, Page 5: The Resorts

THE POLYNESIAN RESORT

For some reason the Polynesian resort has more aerial views of it than any other if you think back you will remember there was one in Chapter 2 01110261 THE POLYNESIAN VILLAGE well there were 3 or four more printed through the 70's and eighties (7530-628178 " THE POLYNESIAN VILLAGE RESORT " was printed both as a standard size and also as a continental size card. One note on the first view of the Polynesian resort below 0111-0363 ALOHA FROM THE SOUTH SEAS see all the people on the beach . . . and in the water, at some point Disney stopped allowing people to swim in its' lakes but it is clear that had not happened yet by the time of this first view.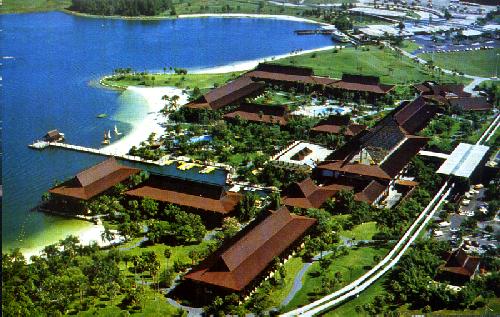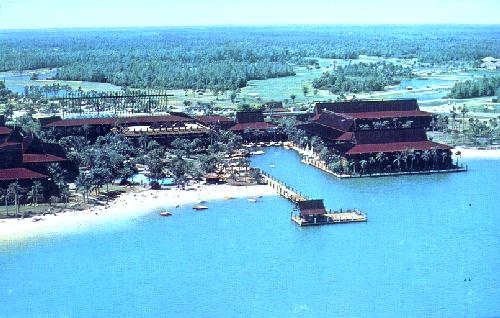 THE CONTEMPORARY RESORT HOTEL

7530-0278 THE GRAND CANYON CONCOURSE, 7530-0277 CONTEMPORARY RESORT -- A VACATION ADVENTURE, 7530-623310 A TOMORROW VACATION TODAY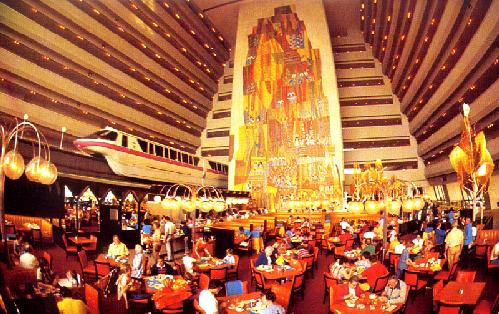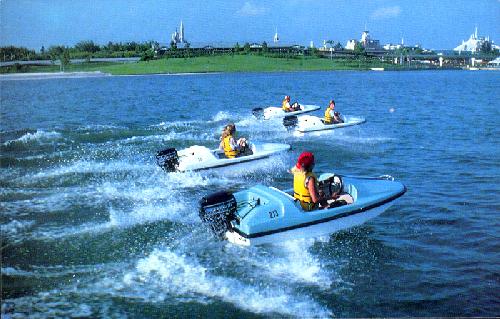 THE GOLF RESORT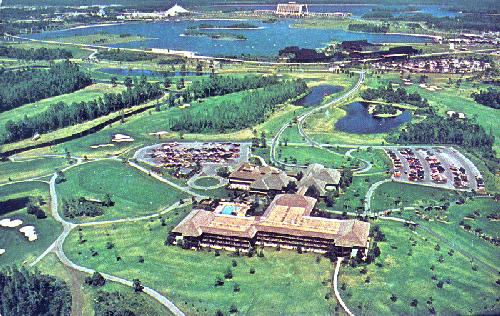 Opened 1973 re-named The Disney Inn in 1986 WDWs' original twin championship golf courses the Palm and the Magnolia are located here and have been since 1971, and in 1989 they were joined by Oak Trail a nine hole walking Golf course.
THE VILLAGE RESORTS
What little I know about this resort I mostly gleaned from the PDF supplements to the 2nd edition of Disney A to Z by Dave Smith of the Disney archives and his research team. The first units to open in this area opened in November of 1971 but mostly for lease to corporations and there were only 27 units at the start later, as the focus shifted from development of a potential "Town" to rentals to resort guest the number expanded to 133 and "by 1977" they were called Vacation Villas, in 1975 the striking Treehouse Villas went into service, and in 1978 the Fairway Villas came online, in 1980 a conference center was built with an additional 136 rooms called the Club Lake Villas.
The villas near the Walt Disney World Village (which opened in 1975) at first came in three varieties Fairway Villas, Treehouse Villas, and Vacation Villas. This resort had pretty much all the amenities the other resorts did, including a restaurant (named the Pompano Grill Source village resort brochure 1988) still, it must have seemed quite far from the action with so little else nearby other than the Shopping Village.

I think most folks find the Treehouse Villas the most striking and, even though not currently available for guests, I'm glad that they have been kept as the Disney Institute has been re-developed into the Saratoga Springs DVC resort. 7530-626149 GOLFERS PARADISE, 7530-626150 TREETOP HIDEAWAYS, 7530-626152 QUIET CORNER OF THE WORLD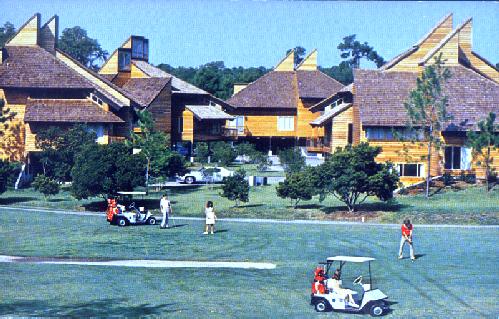 E-mail Me martsolf@mindspring.com


WDW in Post Cards Table of Contents


Onward to : Chapter 3 The Vacation Kingdom of the World, Page 6: The World Gets a Little Larger


Back to bigBrians Disney page



Last modified by Brian K Martsolf at 27-Jan-2008 02:27 AM