Big Brians Disney Podcast
Episode Episode 36 - Mousin' on Main Street
If you want to download the show manually (instead of using a podcast aggregater such as Itunes) then follow this... Link to the shows libsyn page OR right-click on this link: http://media.libsyn.com/media/bbdp/bbdp36.mp3 and choose SAVE TARGET AS to save the file to your hard drive.
This episode is a continuation of the audio from the morning of October 11, 2007, and features a bit more of the Dans, the Toontown Tuners, and the "political characters" of the Mayor, his assistant (and son-in-law), and the councilman, and the "Trolley show" as delivered from the Fire Engine, this audio picked up withing minutes of where the last episode ended.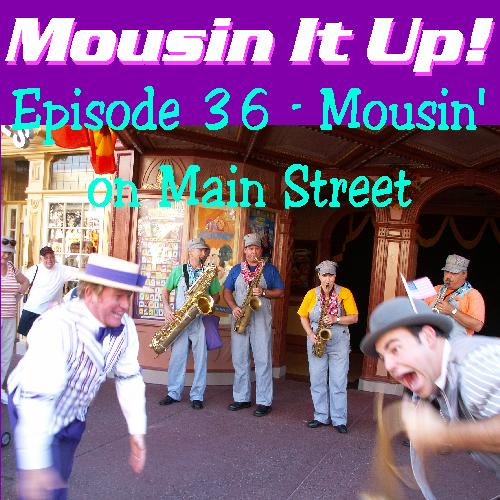 Above itunes and Libsyn image: A Dapper Dan (Ken on the left), and the assistant to the Mayor (Andy on the right) dance, while the Toontown Tuners play.
links




songs

Wild Irish Rose - Dans and Guest
I just Cant Wait to Be King - Toon town tuners
Zip-A Dee-Doo-Dah - citizens of main, Dans, tuners
Supercalafragilisticexpialidocious citizens of main, Dans, tuners
Happy Birthday citizens of main, Dans, tuners
When you're smilin' - citizens of main, tuners
Be our Guest - tuners
Happy Birthday

Selected photos

Above: I stopped into City hall with some questions, while I was in City Hall a "trolley show" came by though today it was being performed from the fire engine.

Above: The Town Councilman was on duty inspecting the guests this morning (and making humorous commentary)




more pictures taken during this episode can be found in the bottom half of this page:


2007tr/oct/radp12/11th-c.htm

...and the top few pictures on this page:

2007tr/oct/radp12/11th-d.htm



feedback? Questions? Please.... E-mail Me martsolf@mindspring.com





Back to Big Brians Disney Podcast main page (podcast index)





Back to bigBrians Disney page (main web site index)




Last modified by Brian K Martsolf at 11-Jun-2008 08:30 PM