Big Brians Disney Podcast
Episode 33 - Tim Devines Photo Tour of Pangani Forest Exploration Trail
If you want to download the show manually (instead of using a podcast aggregater such as Itunes) then follow this... Link to the shows libsyn page OR right-click on this link: http://media.libsyn.com/media/bbdp/bbdp33.mp3 and choose SAVE TARGET AS to save the file to your hard drive.
In this episode we head back to Disney's Animal Kingdom for the third time in four episodes, this time to fulfill a listener request by Lou of the WDW-Memories Site and Podcast, a request to hear the audio from Tim DeVines Pangani forest Exploration trail photo tour from Mousefest in 2007.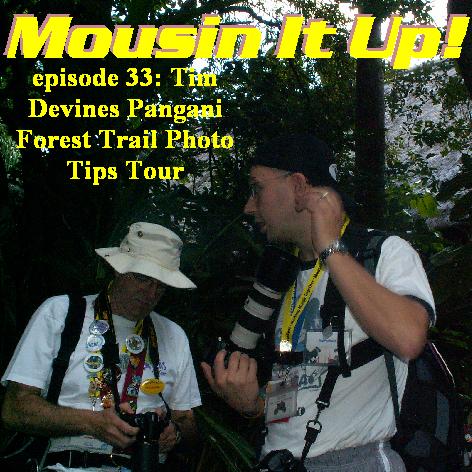 Above itunes and Libsyn image: Tims on the Right, my fellow Carolinian on the left.
links
Photos
The full selection of my photos for this tour can be found as a set on Flickr...
http://www.flickr.com/photos/bigbrian-nc/sets/72157604957322745/
Above: bunny in the gorilla habitat
Above: The Hidden Jafar
Above: This would be PERHAPS the most boring piture of a Gorilla ever taken EXCEPT for the fact that it reminds me of a bit of trivia about this area, the working title for this are during construction was the gorilla Falls trail, but they didn't want folks to assume they would for certain see Gorillas and then be dissapointed or complain if they did not so they went with Pangini forest trail instead. Which just goes to show you that you never know WHICH photo will come in as useful at some point.
Above: While everyone else was focusing on the Gorillas I was looking aroung the area for other details like these flowers.
Above:...and here you see the Wild photographers in their natural habitat.
feedback? Questions? Please.... E-mail Me martsolf@mindspring.com
Back to Big Brians Disney Podcast main page (podcast index)
Back to bigBrians Disney page (main web site index)
Last modified by Brian K Martsolf at 28-Apr-2008 10:22 PM