Big Brians Disney Podcast
Episode 32 - Slowing Down at Disney's Animal Kingdom
If you want to download the show manually (instead of using a podcast aggregater such as Itunes) then follow this... Link to the shows libsyn page OR right-click on this link: http://media.libsyn.com/media/bbdp/bbdp32.mp3 and choose SAVE TARGET AS to save the file to your hard drive.
In this episode we head back to Disney's Animal Kingdom to enjoy this park in the way in which it seems was intended all along, at least according to what Joe Rohde said at his presentation given on the 10th anniversary Thanks to Ricky of INSIDE the MAGIC for sharing that Joe Rohde Audio with all of us!.
Still, I think this audio is quite a bit different from the other great DAK audio I've been hearing the past month, see what you think.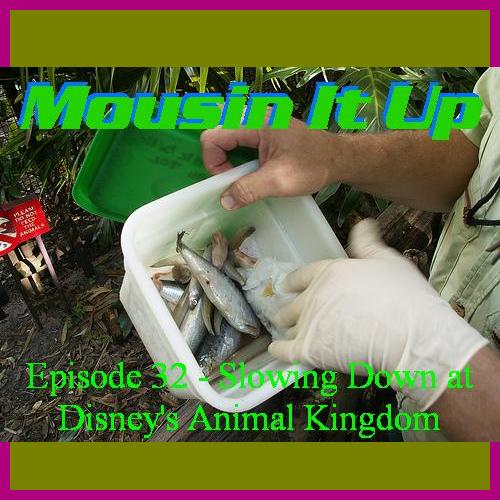 Above itunes image: YUM! (if you happen to be a saddle-billed stork).
Below libsyn blog image: A male Saddle Billed Stork.
links
The Let's Talk About Disney Forums:
http://www.letstalkaboutdisney.com/LTADForum/index.php
The Mousin it up! subsection of LTAD
http://www.letstalkaboutdisney.com/LTADForum/forumdisplay.php?f=64
The Yahoo group for the bigbrian-nc.com site and NC Disney news is at:
http://groups.yahoo.com/group/disneypodcast/
Steve Soares Live entertainment schedules site http://pages.prodigy.net/stevesoares/
Video
Photos
Photos from this recording session are all in one set on Flicker, the whole bottom half of the set pictured on the page at the link below (from image PICT3294 to PICT 3341):
http://www.flickr.com/photos/bigbrian-nc/sets/72157603504798324/


As I was waiting for the 10am set ofthe Safari people band I originally thought the fellow leading the band was Mor Thaiam but later learned that I was mistaken:
http://bigbrian-nc.livejournal.com/#entry_4790
a tour group was also gathering in this same corner of the patio in front of the Mombasa Marketplace.
I don't want to work, I just want to bang on the drum all day.
In this shot you can see the display for the scale, as this day they were actually trying to get the male to stand on the scale not just the square that represents the scale.
As I was standing by the storks my wife called, she had checked out and was ready to head home, since I was at the end of the trail closest ot Africa I decided to pop back across the bridge and get her a churro, there was one couple ahead of me in line and while they were being served I used my zoom across the way on the acrobats who were performing in the same place where I had watched the Tam Tams of Congo just a little bit earlier.
feedback? Questions? Please.... E-mail Me martsolf@mindspring.com
Back to Big Brians Disney Podcast main page (podcast index)
Back to bigBrians Disney page (main web site index)
Last modified by Brian K Martsolf at 28-Apr-2008 10:22 PM