Big Brians Disney Podcast
Episode 30 Harambe Tag
If you want to download the show manually (instead of using a podcast aggregater such as Itunes) then follow this... Link to the shows libsyn page OR right-click on this link: http://media.libsyn.com/media/bbdp/bbdp30.mp3 and choose SAVE TARGET AS to save the file to your hard drive.
In this episode we take in some of the "Safari people Band"
more on the band and my misunderstanding of who was who here:
http://bigbrian-nc.livejournal.com/#entry_4790
before heading over to Kilimanjaro Safaris for a two week expedition on the Harambe Wildlife reserve. Then we return to Harambe Village for a bit more music and a few words with the fellow who was leading the safari band on this day. Actually I had originally thought this guy was the main leader of the band and the show notes originally reflected that but for more about this you can check out a post on my blog where I corrected this.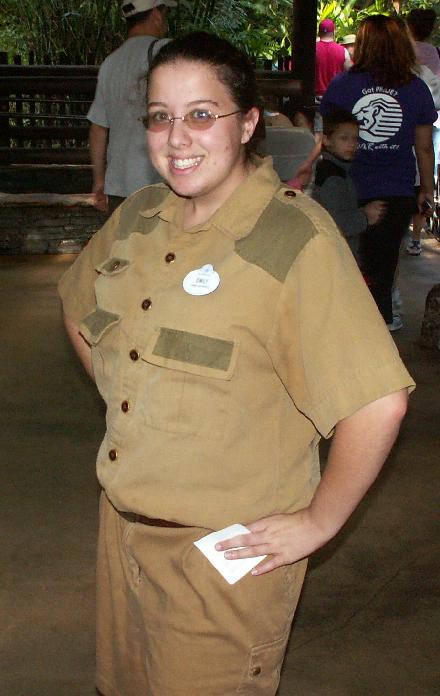 Above Libsyn image: Our Driver Emily.
Below itunes image: Driver Scoreboard
links
The Let's Talk About Disney Forums:
http://www.letstalkaboutdisney.com/LTADForum/index.php
The Mousin it up! subsection of LTAD
http://www.letstalkaboutdisney.com/LTADForum/forumdisplay.php?f=64
The Yahoo group for the bigbrian-nc.com site and NC Disney news is at:
http://groups.yahoo.com/group/disneypodcast/
Photos
Photos of the safari band people are with my pictures from December 11 2007 (the day on which I recorded the audio) which are currently only on flickr:
http://www.flickr.com/photos/bigbrian-nc/sets/72157603504798324/
Photos from the actual Safari trip on Dec. 7 are on this page:
http://www.flickr.com/photos/bigbrian-nc/sets/72157603511139048/

Some of the actual folks mentioned in the episode I'll show here
Ray and his ECV
Rays Rear End
Linda Eckwerth in the center, hypermommy (who made some funny comments) on the right
LTADs truck
Becki Mahnken (MEI travel), Linda Mack (allears net w/camera), and some tagrel taginators
feedback? Questions? Please.... E-mail Me martsolf@mindspring.com
Back to Big Brians Disney Podcast main page (podcast index)
Back to bigBrians Disney page (main web site index)
Last modified by Brian K Martsolf at 13-Mar-2008 11:09 PM