Big Brians Disney Podcast
Episode 24 Mariachi Cobre
If you want to download the show manually (instead of using a podcast aggregater such as Itunes) then follow this... Link to the shows libsyn page OR right-click on this link: http://media.libsyn.com/media/bbdp/bbdp2007-24.mp3 and choose SAVE TARGET AS to save the file to your hard drive.
In honor of Mexicos Independence Day, September 16, this Episode features TWO sets by the Mariachi Cobre from Epcots Mexico pavilion, this group is one of the largest groups of musicians left at WDW with nearly a dozen performers on stage at any given performance. This group was formed in Tuscon Arizona in 1971 so as a group they are older than Epcot center. The sets found in this episode were the last two sets of the day on Saturday June 16, 2007 and the first set was so long there were barely fifteen minutes from the end of that set until the beginning of the next set.
Above Libsyn image: Happy independence Day Mexico
Below itunes image: This image was also the CD cover to the disks I made of this material.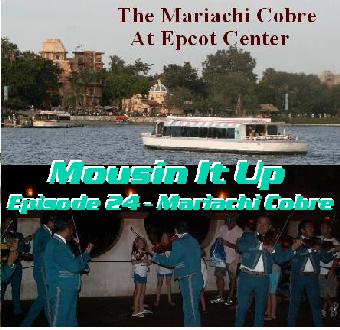 Notes
I found the following text on a cached version of the Cobres' old site (which seems to be down). I also used this text on the inside front cover of the CD booklet of the disc I made.
At the end of the last century, while the representative music of Mexico was emerging in the State of Jalisco, in the United States the Mexican American residents continued to cultivate their traditions. Among them, music was one of the most valued aspect of their heritage. In 1964, in modern Tucson, a Catholic priest organized the first young mariachi group in the country. Later, in 1971, after having collaborated almost from the birth of the group, Randy Carrillo, a student, organized the Mariachi Cobre with the participation of his younger brother Steve, his friend Mack Ruiz, and musical arranger, Frank Grijalva. And this the beginning...in Tucson, Arizona of the spread of the music of Mexico throughout the world. This phase covers a quarter of a century, during which this extremely professional group of young Mexican American men (nearly all from Tucson) have sung the music of Mexico, not only in this country - they have become ambassadors in other countries as well through international television.
Since 1982, Mariachi Cobre has delighted visitors to the internationally famous at EPCOT Center Disney World in Orlando, Fl. Before this, Mariachi Cobre was the creator in 1981, in its home town, of the International Mariachi Conference. This celebration is a concept that has spread to other cities in the United States where similar conferences are held. These have brought not only an exposure to the music of Mexico, but also the emergence of dozens of young groups of musicians and an increase in studies related to mariachi music.
Mariachi Cobre has cultivated very special relations with the Mariachi Vargas and Mariachi Los Camperos de Nati Cano, and have been accompanists for renowned artist such as: their compatriot Linda Ronstadt, Lucha Villa, Lola Beltran, Ana Gabriel, and Guadalupe Pineda, as well as Julio Iglesias, Jose Luis Rodriquez, Rocio Banquells, Vikki Carr, Beatriz Adriana, and other luminaries. The members of the Mariachi Cobre are distinguished representatives of their Mexican American families in Tucson and of the ancestral music of Mexico.
from an article by By Ernesto Portillo, T he Arizona Daily Star and Tucson Citizen 4/22/96
Photos
Epcot Centers Mariachi Cobre
There are quite a few pictures of this group on one page of my June 2007 trip on the following page:
http://www.bigbrian-nc.com/2007tr/june/16th-m.htm
None of the pictures are wide views of the whole group I was too close to them for that, additionally since both of these sets were played inside the pavilion next to the restaurant, so when i used the flash the backgrounds were faded out and when not using the flash it took very long exposure times.
links



Find A Maraiachi.com has a very good page on the Cobre:

http://www.findamariachi.com/cobre.html

The Mariachi cobre has a Myspace page as well:
http://profile.myspace.com/index.cfm?fuseaction=user.viewprofile&friendID=86313311



Steves Soares Live has a good page on the Cobre as well.
http://pages.prodigy.net/stevesoares/Mariachi.htm



Three of their albums are available at Amazon.com, all three of these albums were released in the 1990s their most recent album of those three was released in 1996, I'm not sure if they've released any since then:

http://www.amazon.com/Mariachi-Cobre/artist/B000ARC6K0/104-0065121-6491958

Wikipedias page on the Grito de Delores:
http://en.wikipedia.org/wiki/Grito_de_Dolores

Music
At present I'm not certain of any of the titles (though Somos Nobio sees likely the title of the one where I have it listed.)
Mariachi Cobre June 16, 2007 5:45 PM set
Mariachi Cobre June 16, 2007 6:20 PM set
Postcards
Below: Mexicos preopening postcard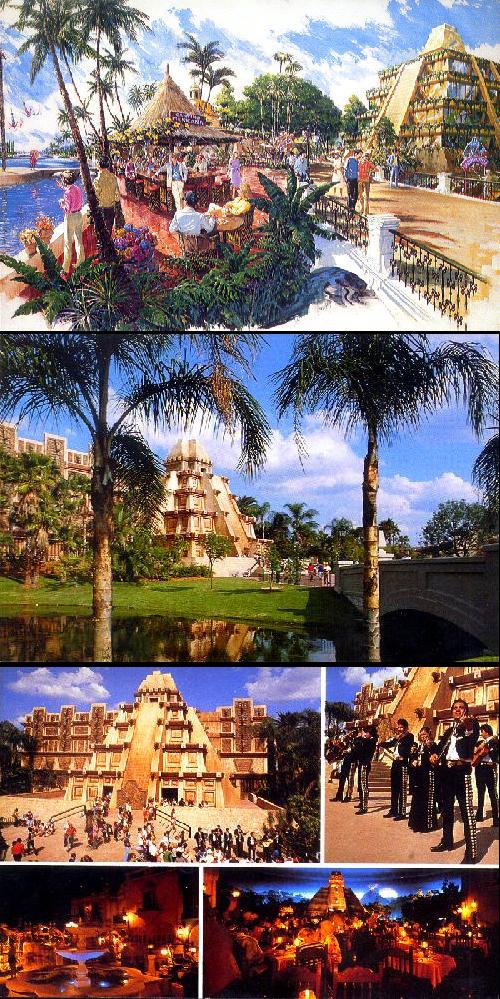 Above: Earliest Mexico Views 1982 to mid 1990s
Below: mid 90's Mickey Round the world 5 x 7 cards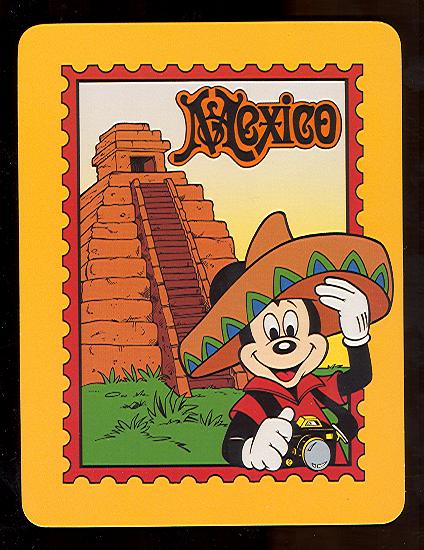 Below: This Three view card was one of a series, all the World Showcase pavilions got a three view in 1997, this was the last individual card sold for the Mexico pavilion all cards since then were either in accordion style booklets or folios of cards.
Below the top of these three cards was released in the late 1990's (1998 or 99) Epcot folio, the second card was released in a booklet just dedicated to the World showcase pavilions (around 2002 or 2003), and the last card was in an accordion booklet style postcard fold out in 2005.
Homemade CD
booklet cover (back on left front on right)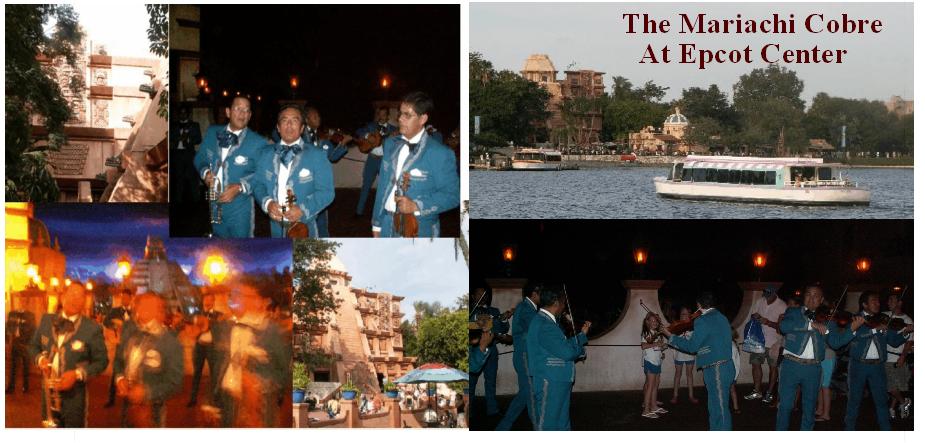 booklet pages 2-3 (page 2 is all text)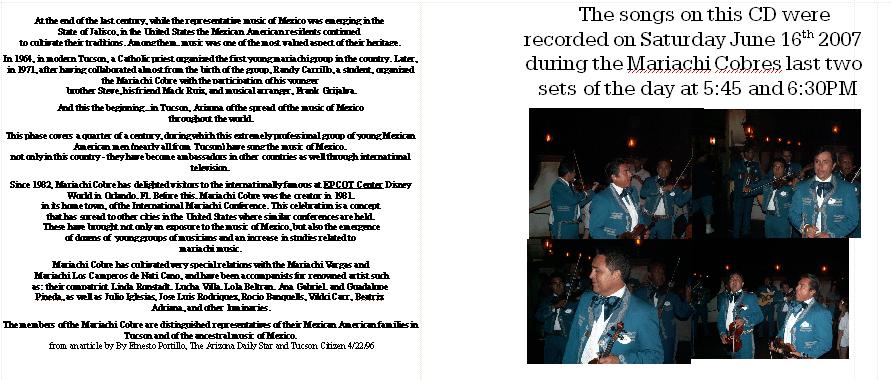 cd sticker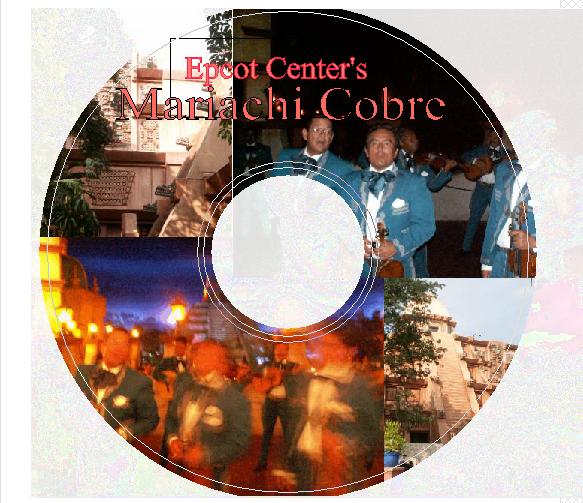 inlay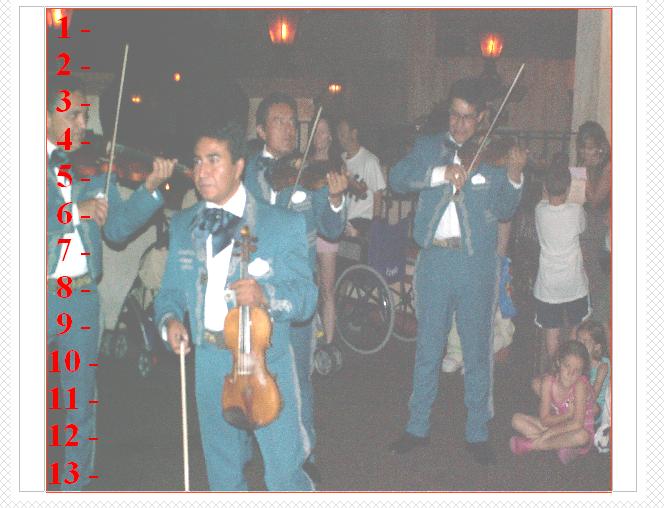 feedback? Questions? Please.... E-mail Me martsolf@mindspring.com
Back to Big Brians Disney Podcast main page (podcast index)
Back to bigBrians Disney page (main web site index)
Last modified by Brian K Martsolf at 13-Sep-2007 04:19 PM