Big Brians Disney Podcast
Episode 23 The Dapper Dans
If you want to download the show manually (instead of using a podcast aggregater such as Itunes) then follow this... Link to the shows libsyn page OR right-click on this link: http://media.libsyn.com/media/bbdp/bbdp2007-23.mp3 and choose SAVE TARGET AS to save the file to your hard drive.
This Episode features TWO sets by The Dapper Dans, the Barbershop quartet that performs on Main Street U.S.A. in both Disneyland and the Magic Kingdom at Walt Disney World, and for this show we have material from both groups The first set is from the Walt Disney World line up of the Dans and was recorded on Saturday, June 16, 2007, and the second set is from out in Disneyland and was recorded on my trip to Disneyland on the occasion of its' fiftieth anniversary back in 2005.

Above Libsyn image: The Magic Kingdom Dans as seen on three consecutive days in two different line-ups, the Friday-saturday line up is (L to R) Neel, Aaron, Ken, and Dan.
Below itunes image: The Disneyland Dans on July 18, 2005.
Photos
The Dapper Dans Magic Kingdom

I actually didn't take too many photos of the Dans on my June 2007 trip, On two of the occasions I saw them I got a movie but no photos (which is why two of the images in the Libsyn show notes image are grainy, they are frame captures from movies), still there are some photos on the following page:
http://www.bigbrian-nc.com/2007tr/june/15th-c.htm

and a few more on this page (including a picture of their stage manager, Jeff): http://www.bigbrian-nc.com/2007tr/june/16th-f.htm

and the story of the last time I ran into them this trip here:
http://www.bigbrian-nc.com/2007tr/june/17th-o.htm
The Cadaver Dans in one of my old trip reports (from 2002)
http://www.bigbrian-nc.com/moon/b8.htm
The Dapper Dans of Disneyland
http://www.bigbrian-nc.com/dl05/tr05p11g.htm
Video
These also appears on the trip report pages (linked to in the photos section above),

Sweet Roses of Morn (partial)
The Dans in the Post Flag retreat march off
Just a snippet of The Florida Dans on the Degan organ Chimes
Dapper Dans of Disneyland "When I see an Elephant Fly"
links

The Dapper Dans Tribute Site

The YouTube user who lists the names of the guys in the Lineup is DocSutalf his videos including those of the Dans are listed over two pages, page 1: http://www.youtube.com/profile_videos?user=DocSutalf&p=r http://www.youtube.com/profile_videos?search_query=&user=DocSutalf&page=2

The Big Brians Disney Podcast episode with the Cadaver Dans audio:
http://www.bigbrian-nc.com/sn2006-07.htm

The Dapper Dans "MySpace" page:
http://profile.myspace.com/index.cfm?fuseaction=user.viewprofile&friendid=85996967



Steves Soares Live entertainment schedules were a huge assistance especially in the Magic Kingdom.
http://pages.prodigy.net/stevesoares/


Music
Dapper Dans June 16, 2007 10 AM set
Cruella De Vil
Pirates
Happy Birthday
Now is the Time (this wasn't a rehearsed harmonized number, more like a quick reminiscence by one of the guys)
Song & Dance Man
Sweet Roses of Morn'
Dapper Dans of Disneyland July 18, 2005
Good Old Days (remember When?)
Watchin' all the girls go by
Mr Sandman
Pop! goes the Weasel
Happy Birthday
Darkness on the Delta
When I See an Elephant Fly
Goodbye My My Coney Island Baby
Sing Along/Whistle Along (partial)
Postcards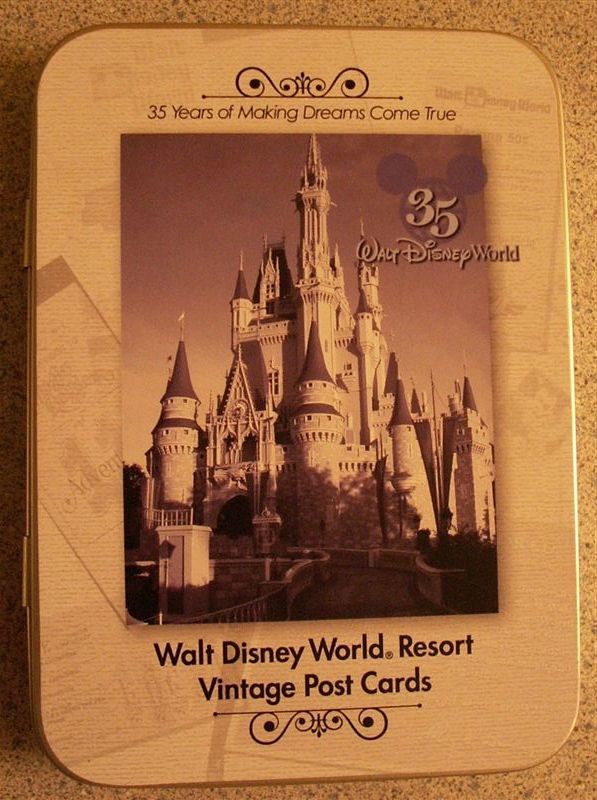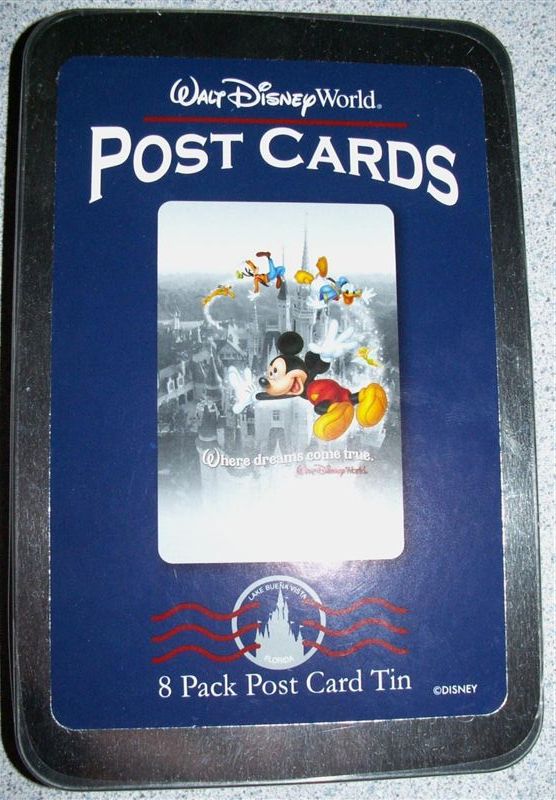 Here are the tins of postcards I mentioned in the episode, one thing I neglected to mention in the show was that I have long thought that the artwork found on tickets would make for great postcards, so the "Where Dreams Come True" set is really very cool. Still bot of these sets provide nifty and interesting cards to collect (or even to mail).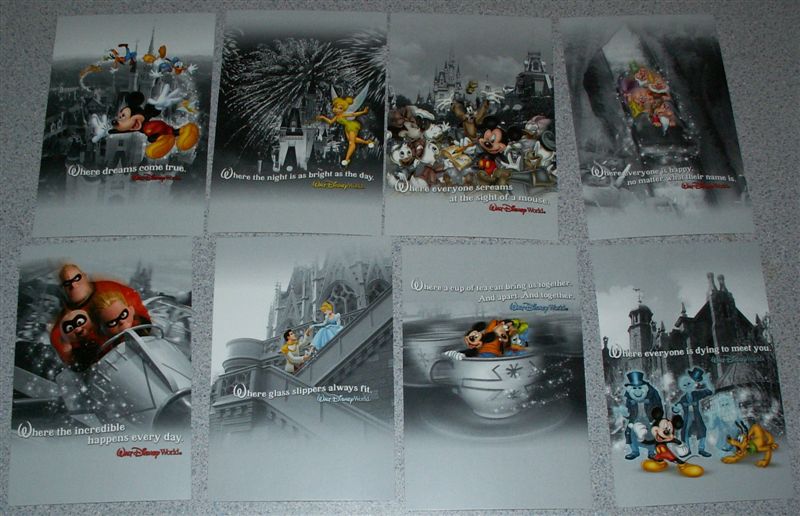 Above: Dreams come true card front these are 4x6 cards (or continental size, which is the most common size sold today)
Below: Card back from the "Dreams Come True" set very similar to normal cards sold in postcard racks except for the lack of bar code.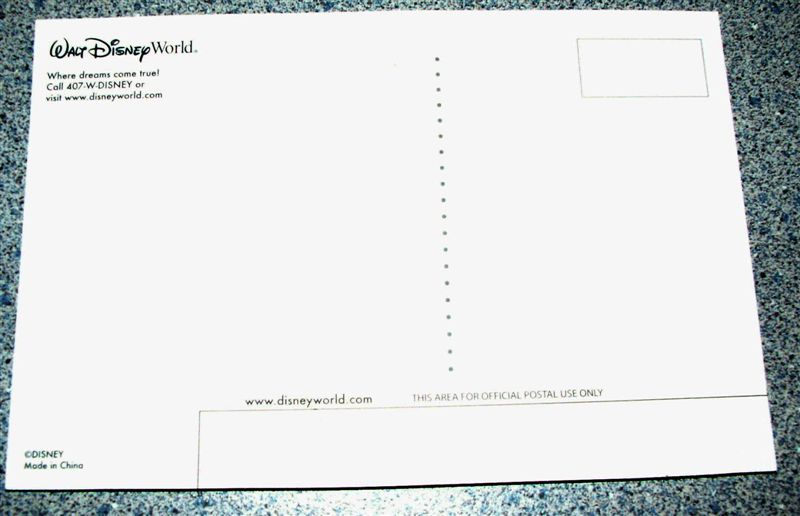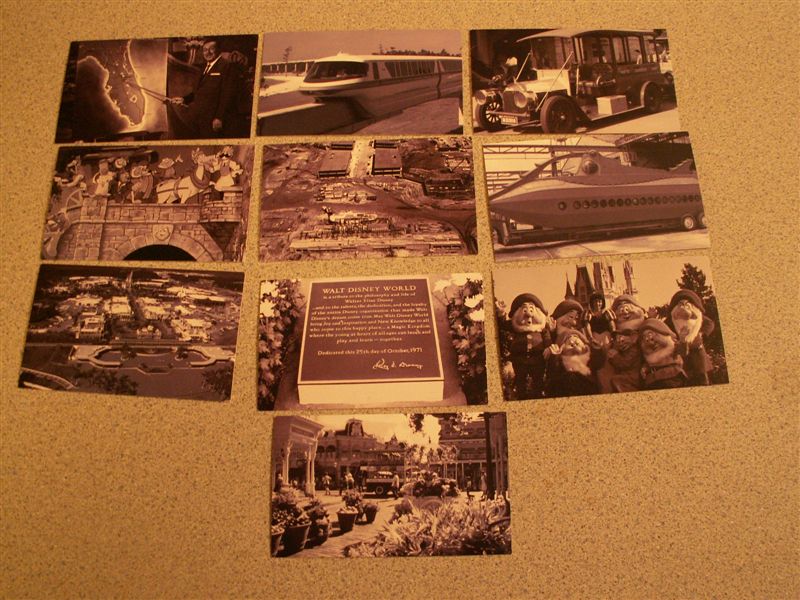 These 35th anniversary postcards are called "vintage postcards" on the front of the tin, ironically I think this may be the first time WDW has ever sold a set of Black and White post Cards, and they are in a really unusual size (3" x 4½",) not only that but almost certainly these are simply black and White versions of photos that were originally taken as color images, I understand what they are doing and that it may actually have appeal to some folks who might not have been as interested in a set of color photo cards, but I do have to say that a set of color cards is what I would have preferred, of course I would also have preferred that they were either continental size (the normal size of postcards today), or the OLD standard size (3½ x 5½) that most Magic Kingdom postcards were printed in from 1971 until the mid 1980's, to my way of thinking printing them in that old size would have done more to give it a vintage feel. That said one of the things I like most about these cards is the neat design they did on the card backs.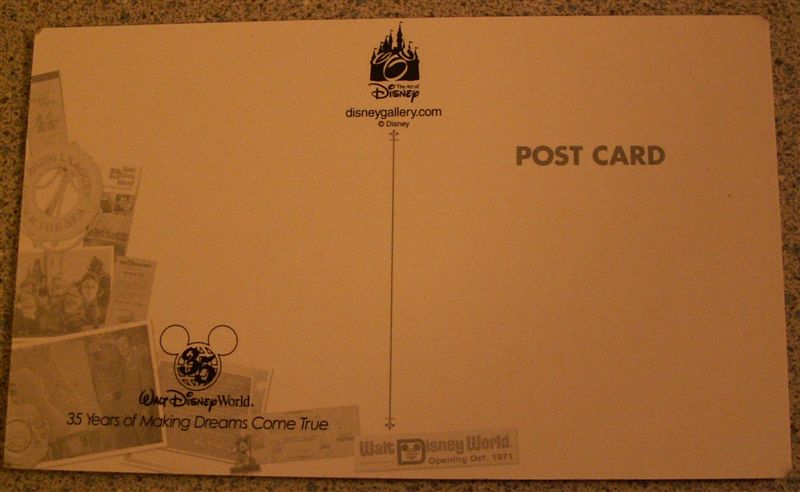 >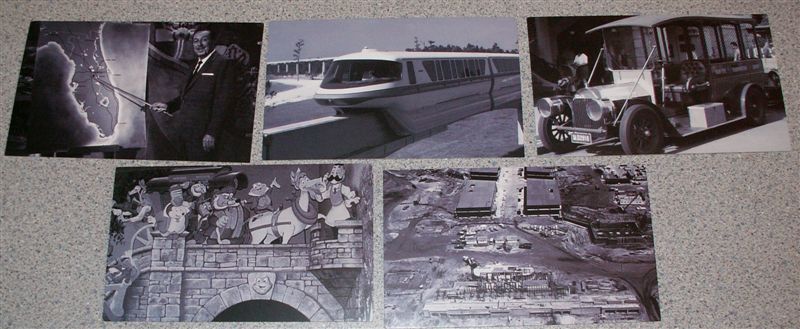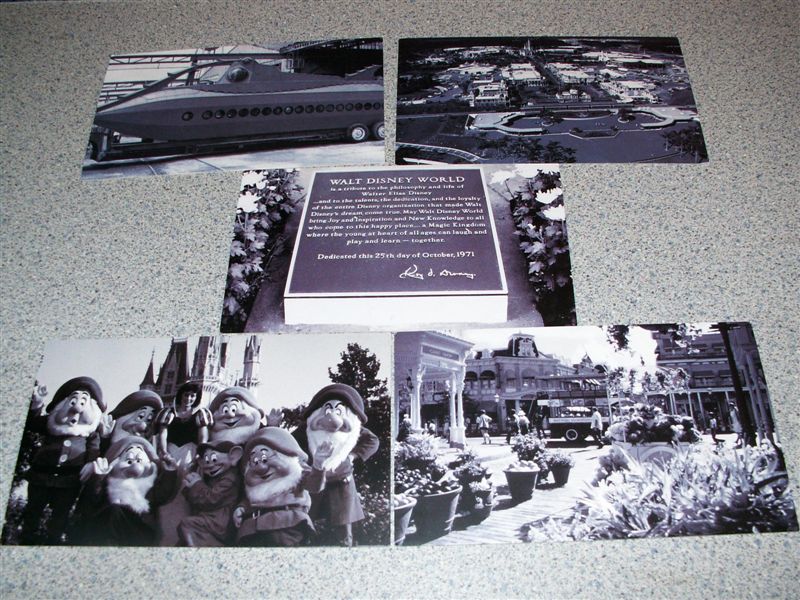 One of the cards above looked VERY familiar to me, it's the one of Snow White and the Seven Dwarfs, now compare it to the image below...
...The dwarves poses are all EXACTLY the same in both images, but, one of Snow Whites hands is raised and waving in the color version, looking at the trees and bushes in the midground it's clear that it was taken in the exact same location, and I'd bet the photos were taken moments apart as part of the same photo session, sometime in the early 1980's, if it was any earlier than that the Dwarves hats would look different as they do in the image below, and since that color card (above) was released in the 1980's it couldn't have been later.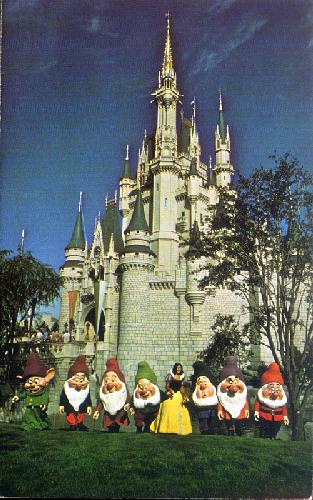 feedback? Questions? Please.... E-mail Me martsolf@mindspring.com
Back to Big Brians Disney Podcast main page (podcast index)
Back to bigBrians Disney page (main web site index)
Last modified by Brian K Martsolf at 12-Sep-2007 08:13 PM