Big Brians Disney Podcast
Episode 22 Mo-Rockin'
If you want to download the show manually (instead of using a podcast aggregater such as Itunes) then follow this... Link to the shows libsyn page OR right-click on this link: http://media.libsyn.com/media/bbdp/bbdp2007-22.mp3 and choose SAVE TARGET AS to save the file to your hard drive.
This Episode features TWO sets by Mo'rockin,the fantastic band from the Morocco pavilion at Epcot that combines new musical styles with more traditional Moroccan musical sounds to make thier music. Also in this episode, a story about a background music loop song (BGM) that I learned a bit about, a couple of plugs for a few Disney related sites you may enjoy, and an announcement about a new way to send feedback to the show. The sets by Mo-Rockin and the BGM music I mentioned were all recorded Saturday June 16, 2007.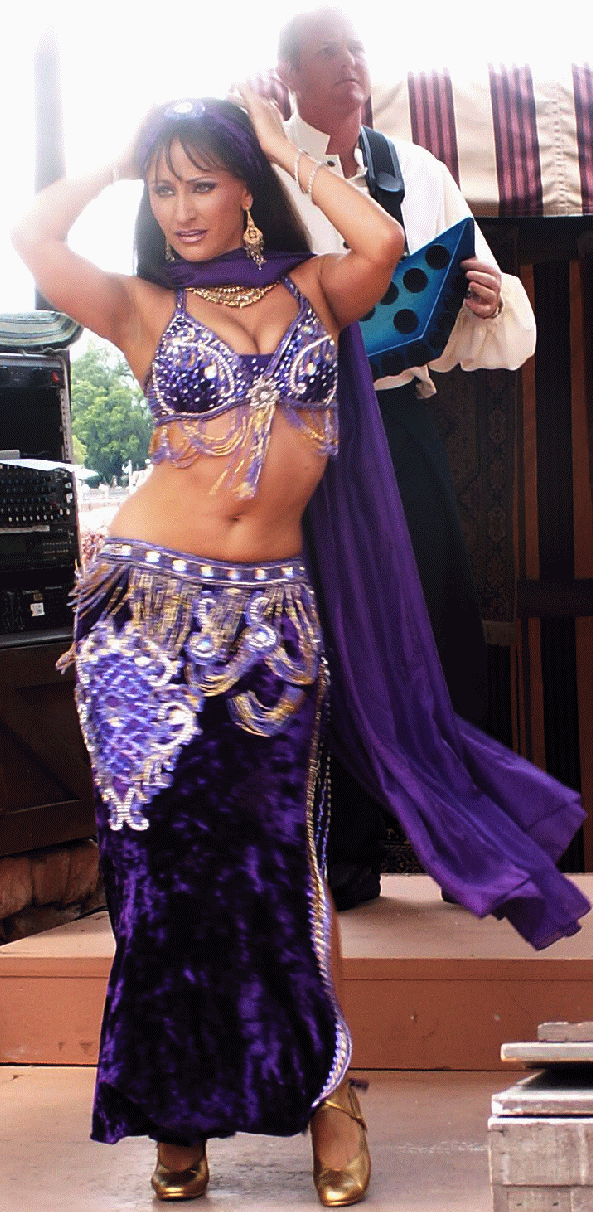 Above Libsyn image: Serena an alternate dancer when Ilham ( a regular member of Morockin) is not there.
Below itunes image: The Full group.
Photos
Mo Rockin

Lots of photos on two pages of the trip report, some on this page:
http://www.bigbrian-nc.com/2007tr/june/16th-j.htm
MANY on this page (a whole page of them):
http://www.bigbrian-nc.com/2007tr/june/16th-o.htm
Video
This also appears on the trip report page,
http://www.bigbrian-nc.com/2007tr/june/16th-o.htm
as well as here:

links
Mo-Rockins web site www.morockin.com
http://www.letstalkaboutdisney.com
Let's Talk about Disney- forums
The Disney Podcast Directory.net
Disney Music loops www.disneymusicloops.com
Steves Soares Live entertainment schedules were a huge assistance especially in the Magic Kingdom.
http://pages.prodigy.net/stevesoares/

In additon to the pages on Mo-Rockin listed in the photos above I need to list here the page where I wrote about the American Adventure BGM:
http://www.bigbrian-nc.com/2007tr/june/16th-k.htm


And here's a link to the site that told me all about Tramp, Tramp, Tramp:
http://www.nps.gov/archive/gett/gettkidz/gkmusic/cwsong3.htm
Music
Mo Rockin 3:10/6:30 PM sets
these two sets were Identical song line ups, the first song played in the show is from the 6:30 set, the rest of the recording is taken from the 3:10 PM set.
A. Je Pa (partial recording - came in during)
B. Overture
C.(Habibi, Habibi, Habibi) Nour El Ein
American Adventure outdoor BGM
Tramp, Tramp, Tramp
I Dream of Jeanie with the Light Brown hair
Battle Cry of Freedom
Mo Rockin 7:30 PM
A. Je Pa
B. Harim
C. Nari Nareen (Habibi Da)
D. Didi
feedback? Questions? Please.... E-mail Me martsolf@mindspring.com
Back to Big Brians Disney Podcast main page (podcast index)
Back to bigBrians Disney page (main web site index)
Last modified by Brian K Martsolf at 08-Aug-2007 02:52 PM