Big Brians Disney Podcast
Season 2007 Episode 15 Show Notes
The Jungle Cruise/ Woody's Roundup/ Cinderellas Royal Saxaphonists/ NC RADP
If you want to download the show manually (instead of using a podcast aggregater such as Itunes) then follow this... Link to the shows libsyn page OR right-click on this link: http://media.libsyn.com/media/bbdp/bbdp2007-15.mp3 and choose SAVE TARGET AS to save the file to your hard drive.
In this Episode we have several audio bits recorded in the Magic Kingdom, Thursday Dec. 7, 2006, A ride on the Jungle Cruise, A bit of Woody's roundup, a conversation with some Disney fans, Most of a set of Cinderella's Royal Saxaphonists, an update on the contest I'm running, and an update to the Walt Disney World a History in Postcards page on the Kids of the Kingdom.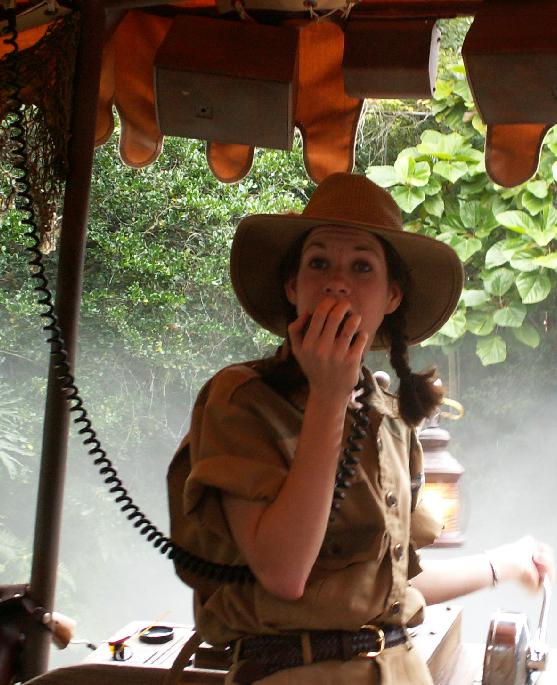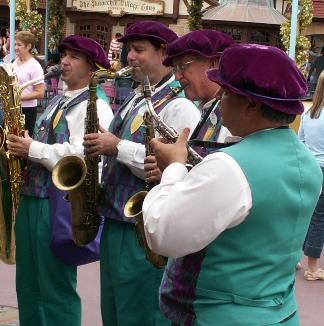 Above left: Libsyn image Jungle Jessica
Above right: itunes image Cinderellas Royal saxaphonists.
Contest
The Challenge
There was something I referred to as an "audio pun, or a play on words" in the previous episode, Episode number 13 http://media.libsyn.com/media/bbdp/bbdp2007-13.mp3 If you think you know what I am referring to simply E-mail Me martsolf@mindspring.com with the answer. If you are the first person with the correct answer, or the one I draw from multiple submissions (assuming I get multiple submissions). You will get to choose your prize. Additionally if no one sends me the correct answer you can win simply by dropping me an email and telling me you want to enter.
The Prizes
you can choose between:
Prize A: Pick your favorite two Episodes of my show and I'll make audio CD disks for those two episodes (some episodes are long enough that I would need to break them into two parts and so consequently would have more disks), included in this will be the show notes printed as a liner notes type CD booklet and a CD case.
Prize B: A CD Rom (or if necessary multiple CD Roms, of all my shows up to the time when the prize is awarded, AND a print out of the show notes for those shows (just on regular paper though (not in tiny booklets!)
Prize C: the Voices of Liberty CD are in the episode 14 show notes:
http://www.bigbrian-nc.com/sn2007-14.htm
Prize d: The pictures of the Dixie Kings Cd booklet are in the episode 9 show notes:
http://www.bigbrian-nc.com/sn2006-09.htm
links
Music
Cinderellas Royal Carousel was playing in the Background for much of the Fantasyland section, here's the track list for that You can Fly played before I went into the pooh shop where Poohs Exercise song was playing after I finally get settled in near the Carousel these songs played in the Carousels loop
A Dream is a wish Your Heart makes
Prince Ali
Gaston
Someday My prince will come
(here there is a break where the BGM is inaudible)
Feed the Birds
Postcard Segment
Steph Truitt's nice informative emails on the kids of the Kingdom , are now included below the nice email I had from Jan Crews, which is what drew Stephs attention to my site to begin with. http://www.bigbrian-nc.com/wdw-pc63.htm#kids






feedback? Questions? Please.... E-mail Me martsolf@mindspring.com





Back to Big Brians Disney Podcast main page (podcast index)





Back to bigBrians Disney page (main web site index)




Last modified by Brian K Martsolf at 20-Feb-2007 08:25 AM