Big Brians Disney Podcast
Episode 2006-10 Show Notes
If you want to download the show manually (instead of using a podcast aggregater such as Itunes) then follow this... Link to the shows libsyn page OR right-click on this link and choose SAVE TARGET AS to save the file to your hard drive.
This episode has audio in it taken during our Honeymoon in 2002, http://www.bigbrian-nc.com/trindex.htm#moon. This episode we have sound recorded on the morning of October 31, 2002 on the "Magic Behind Our Steam Trains" tour at the Magic Kingdom, Also a "flood" of 2006 postcards, that's actually a bit of a pun, although there are quite a few postcard images on the two pages, the pun comes from the fact that the intro and exit music to the show are performed by a group called the 1937 Flood, not a Disney group, but they do a song about a train that was perfect for the intro (well anyhow I really like it), and besides that, my sister sings with them sometimes.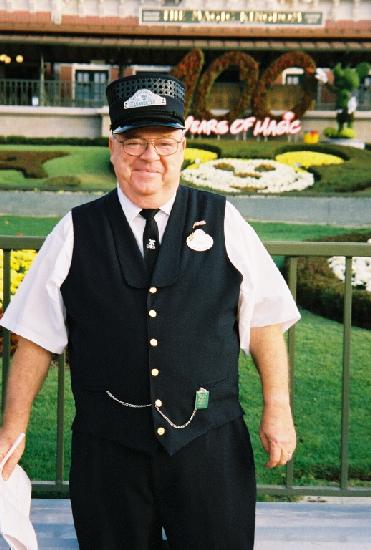 Above right: I tunes episode image (engineer Mike) Above left: Libsyn blog image (tour guide conductor Jack)
Below: links to some cropped in images of the Lilly Belle
podcast/2006/ep10/belle01.jpg
podcast/2006/ep10/belle02.jpg
podcast/2006/ep10/belle03.jpg
links
Train Tour pictures are spread out over three pages:
Steve Burns Excellent Disney fan rail site is at Burnsland http://www.burnsland.com/index.shtml
The 37 Flood http://www.1937flood.com
Just to give you an idea of how eclectic they are heres their song list http://www.1937flood.com/pages/tunes.htm
Music
As I mentioned in the episode, the introductory and ending songs, were from a couple members of the 1937 Flood
While we were out in front of the Train Station and entrance gates gathering for the tour you could hear the entrance area Back Ground Music loop. The full contents of this loop can be found on Kirsten Wahlquist's Disney Music Loops site:
http://www.whaleweb.net/kirsten/dml/ then follow Walt Disney World--->misc.--->Main Entrance Area Music 1992-2005
Davy Crockett
Now is the Time
March of the Cards
Timekeeper Theme
When You Wish Upon A Star
Beautiful Beulah
Minnie's Yoo Hoo
Zip-A-Dee-Doo-Dah
Droid Rooms
Bella Notte
Once we start heading into the Station you begin to hear the strains of the Main Street Music Loop, just one song though Gary, Indiana, before it finishes the Train is pulling into the station. Out at the Toontown Fair Station you can make out just a few seconds of Swanee River.
WDW postcards
I talked about about the 2006 postcard issues, here are links to all three pages.
2006 WDW Postcards issued
feedback? Questions? Please.... E-mail Me martsolf@mindspring.com
Back to Big Brians Disney Podcast main page (podcast index)
Back to bigBrians Disney page (main web site index)
Last modified by Brian K Martsolf at 03-Dec-2006 01:26 PM