Big Brians Disney Podcast
Episode 2006-06 Show Notes
If you want to download the show manually (instead of using a podcast aggregater such as Itunes) then follow this... Link to the shows libsyn page OR right-click on this link and choose SAVE TARGET AS to save the file to your hard drive.
This episode I share my recording of the Tomorrowland Music Loop from Disneyland last summer, also a bit of meandering from that same night the last night of my trip, in the postcard segnent Tomorrowland Postcards of Walt Disney Worlds Magic Kingdom, and a bit on some of the other music loops in the Space Mountain area at the Magic Kingdom.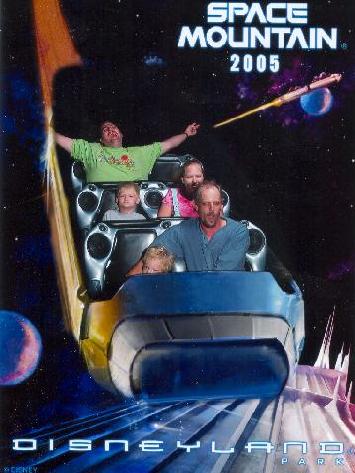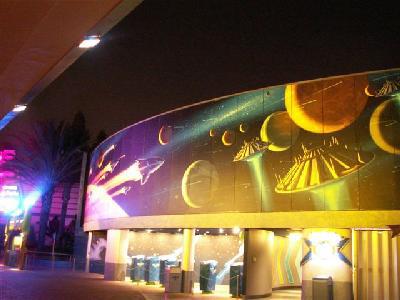 Above left: Libsyn blog image
Above right: I tunes image

links
Kirsten Whalquist's Disney Music Loops web site:
The Disneyland Trip Report pages... http://www.bigbrian-nc.com/mtindex.htm#dl05
The specific trip report page that corresponds to when this was recorded
The Disney podcast Network is located at http://www.disneypodcastnet.com
WDW Today is located at www.wdwtoday.com
Tomorrowland track list for this episode
1 (played under intro) unknown title - partial
2 (played under intro) There's a Great Big Beautiful Tomorrow 2:36
3 (played under intro) unknown title - 2:34
4 Now is the Time 2:07
5 Monorail Song 2:44
6 unknown title (but this is the one I whistled at the beggining of the show!) - 3:26
7 If You Had Wings 2:24
8 unknown title - 2:30
9 unknown title - 2:35
10 Miracles Through Molecules 3:00
11 unknown title - 4:03
12 Strange Things (2:45?) broken off by closing annoucement
13 unknown title - (2:12?)
14 unknown title - 3:01
15 unknown title - 3:01 (repeat of song 01)
16 There's a Great Big Beautiful Tomorrow 2:36 (repeat of song 02)
17 unknown title - 2:34 (repeat of song 03)
18 Now is the Time - 2:07 (repeat of song 04)
19 Monorail Song - 2:44 (repeat of song 05)
20 unknown title - the one I whistled at the beggining of the show - 3:26(repeat of song 06)
20 If you had Wings (repeat of song 07 - partial)
Notes on the audio after the Tomorrowland loop
as Carlene and I begin to talk about the entrance to Tomorrowland she mentions a movie about some scientists that get shrunk down and inserted into a human body, I call it Fantastic Journey, but I belive the title was actually Fantastic Voyage
as we wander several songs from the Main Street music loop play
Beautiful Beulah
I could Love A Million girls
Yankee Doodle Dandy
Winter Garden Rag
and after the bathroom break Wells Fargo Wagon
also when we are at the windows to the Emporium you can hear a little bit of When You wish Upon a Star
Shortly after that Carlene asks if the CM she sent to give me information was helpful, what she is refering to is from when I was recording the Tomorrowland loop she went to ask a CM if there was a better place to record than where I was, he did let me know that the upper queue area for Space Mountain also had speakers but with all the folks in line up there I doubt that there was any less crowd noise. I was actually in the Cosmic Waves fountain area.
When we reach the Esplanade several songs from that loop play
the last few notes of the Fantasmic Finale
Soarin'
Be Our Guest (carousel version)
Davy Crockett
WDW Tomorrowland postcards
About half of the following is simply taken from the postcard side of my web site, but it does condense all the Tomorrowland information onto one page.


Probably the most eagerly awaited attraction that opened was Space Mountain and this is reflected in the early postcards. It was Walt Disney Worlds first roller coaster and when hurtling around its' unseen curves through the dark ( not counting those points of starlight and asteroids) it seems to be going much faster than its actual top speed of 27 miles per hour.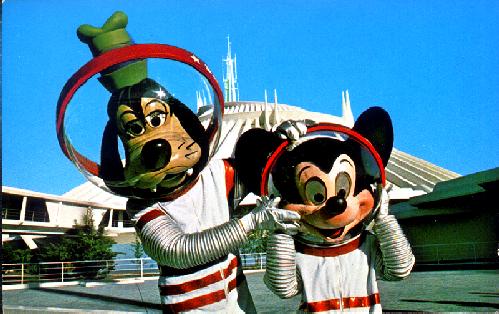 If you look at the background behind the characters closely in both versions of this card you can see that these photos were taken in the same location, but in the shot with just Mickey and Goofy there are no benches along the planters behind them, My guess is, that in order to have some post cards ready in time for opening, this shot was taken before Tomorrowlands construction walls were removed and the land really opened up. These two cards look to me as if they were taken on the site of what is now the Starcade. On the card featuring an aerial view of Tomorrowland a bit further down the page you can see an orange looking wall in front of the building that houses the loading platform for the WEDway Peoplemover and the Rocket Jets perhaps that photo was taken before the walls came down too.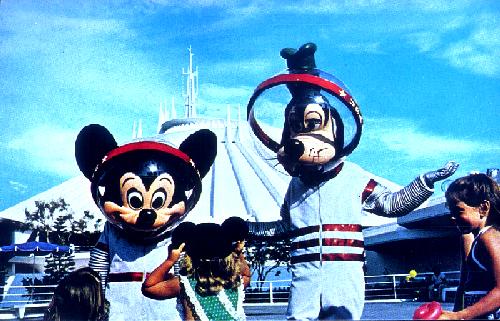 Above:0111-0361 WELCOME TO THE FUTURE Below:0111-0362 MAGIC KINGDOM MANY WORLDS IN ONE, 0111-0369 OUTER SPACE RIGHT HERE IN FLORIDA

The four cards above are the only strictly Tomorrowland views issued in standard size, and the last one was also later re-issued in Continental size, in fact that image was sold on postcards for over 20 years. one of the earliest 5 x 7 cartoon cards was also issued with a Tomorrowland view (below).
0100-11908 MOTOR MANIA
When the change over to continental sized postcards was made there were only four views that included Tomorrowland, two of those were repeated from the group above, the cartoon card (Motor Mania), and the interior shot of the Space Mountain rockets (OUTER SPACE RIGHT HERE IN FLORIDA), and both of the other two shared the same image, an identical view of the rocket jets, used on one card as a stand-alone image and on another card as part of a four-view.
0100-11201 TOMORROWLAND
0100-11801 MAGIC MOMENTS IN THE MAGIC KINGDOM
In 1994 Tomorrowland at the Magic Kingdom recieved a major makeover, and in response to that it got it's first new postcard in a long time.
It's actualy a beautiful card and "The Future that Never Was is Here" slogan really fit the new theme of the land. In 1997 a whole new series of postcards was issued, one of the cards was of Tomorrowland
The next card is one of the most beautiful of the Tomorrowland cards, but it could have been sort of unappreciated because it was tucked away in one of the postcard Folio sets sold from 1999 and on into the first few years of the 2000's.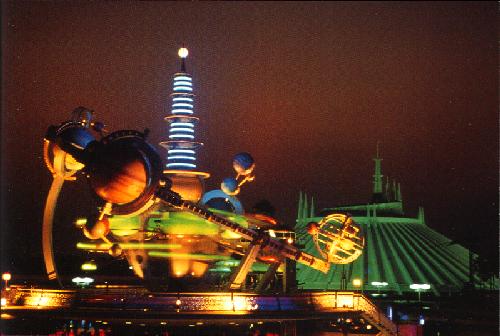 I'm not sure of the exact release date of this next card but I suspect it was around 2002-03.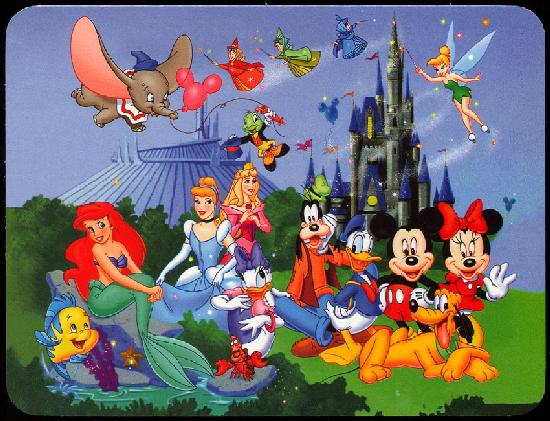 After stitches Great Escape opened a few new cards featuring that attraction opened the first being the foil with the " Alien Writing " and the phrase I'LL GIVE YOU A STITCH OR TWO on the front, the more recent card has Stich biting into a big Green and Blue fold of something.
In 2006 a new set of accordian folders came out including one for the Magic Kingdom, the folder had two views of tomorrowland, but ironically both were taken from outside the park.
The contemporary Connection
Of course aerial views of the Magic Kingdom tend to show Tomorrowland as well, but other than that one view in the earlist Tomorrowland cards above it's not really focused on Tomorrowland, but on several views of the Contemporary resort Hotel over the years the proximity of Space Mountain to that hotel was played up nicely
for a time the card above probably served as a room card given to guests of the Contemporary, while all three cards below are from an acordian style perforated strip of poscards sold starting in 1989.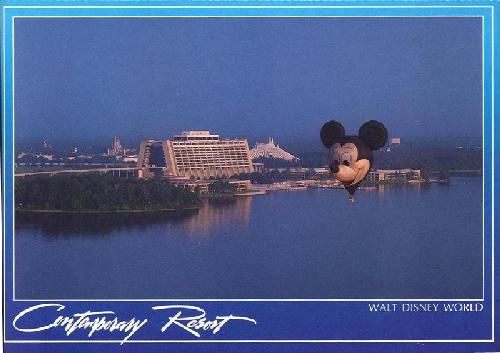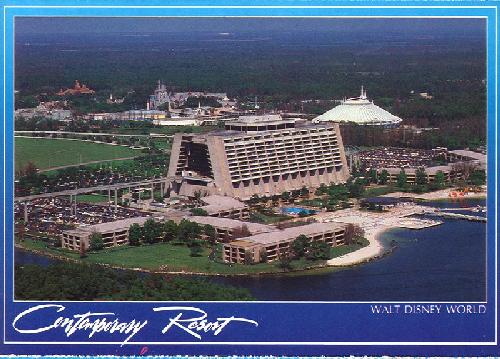 Later in the 1990s this newer room card was issued
Ok so there were more Tomorrowland postcards than I thought but, if you don't count cards of the Contemporary Resort Hotel then it did take them over 25 years to get to ten different Tomorrowland views.
feedback? Questions? Please.... E-mail Me martsolf@mindspring.com
Back to Big Brians Disney Podcast main page (podcast index)
Back to bigBrians Disney page (main web site index)
Last modified by Brian K Martsolf at 13-Oct-2006 12:47 AM