Walt Disney World
A History in Postcards
Appendix 2006: WDW postcards issued in 2006
Kilimanjaro Safaris
One interesting thing about this die cut is that it is a good bit smaller than some previous Die Cut postcards, being just 6 inches across on the bottom it easily fits into the slots provided for Continental sized postcards on the regular post card racks.
Art of Disney -- Photo Series
Vision 00156 15303
Spirit 00156 15306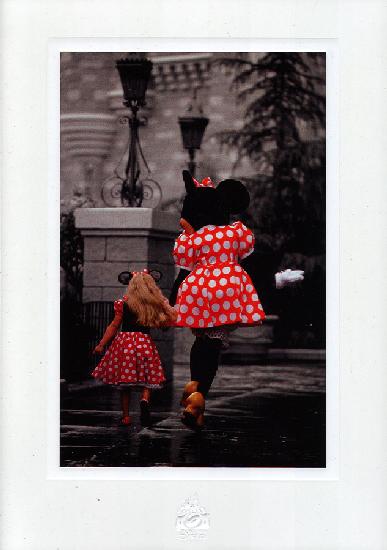 Heritage 00156 15309
Art of Disney Logo
The Art of Disney Cards are quite beautiful, but they can be quite hard to get good images of, one aspect of them which is definitely tough to do any justice to are the embossed elements on these cards, they have both an embossed border and an embossed Art of Disney logo at the bottom of each card. Below I have played with the color on one of the cards to make the embossed portion "jump out" In the first image you can see just how far I had to distort the color of the card to get the logo where it could be easily seen the other two shots are close ups of the logo.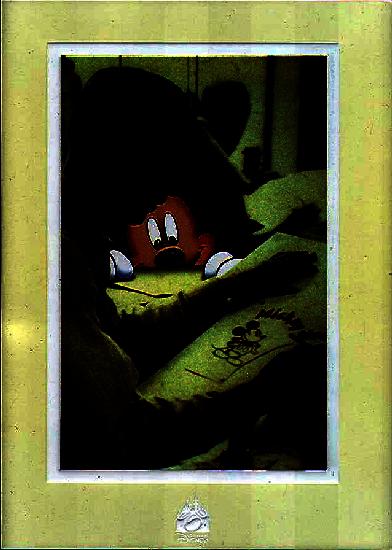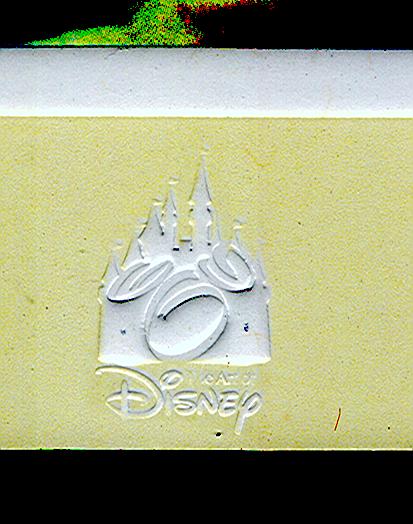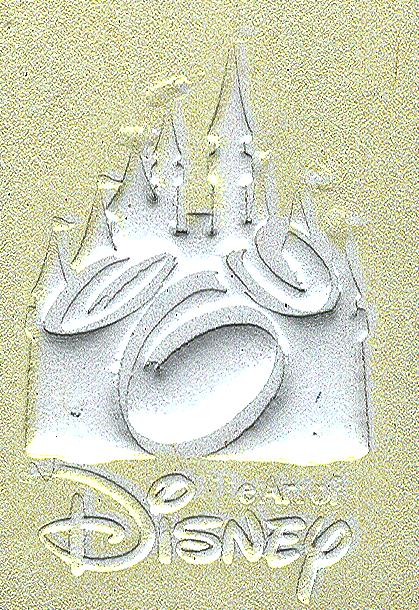 2006 Resort Views
00161 85858 Disney's Yacht Club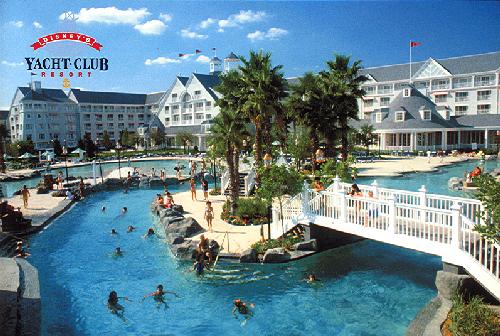 00161 80063 Disney's Coronado Springs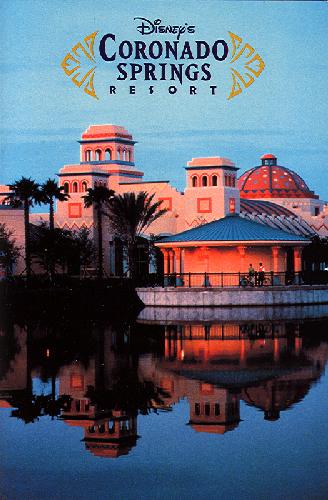 Magnet Postcards
These cards all have two special characteristics, and the lenticular ones all scanned in such a way that showed off both views, though I can't say these are necessarily some of the better lenticular cards that have been done, the Stitch one is kind of cute, the "Where Magic lives one it's hard to get the background images to all show solidly, all at once, and clearly (it seems no matter how I hold it they some of them come out a bit "ghostly") The Fantasmic one has very little movement, though it had nice "depth" on the flames, still it might have been better executed as a non lenticular foil card, as looking at the motion there's a bit of a "what's the point" effect for me anyhow. The Foil fab 6 (or 5) card doesn't scan very well but it's quite pretty in person, and it must be neat to have someone mail you one of these and then just pop it up on your refrigerator, or a file cabinet if they mail it to you at work.
Where Magic Lives - Lenticular 00174 31034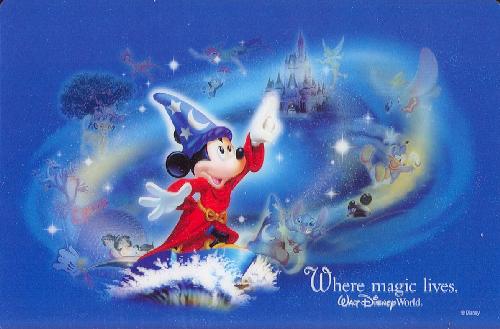 Fab 6 foil
Actually the title over the UPC code on the back of this card read MAGNET PC-FAB5, which begs the question who's the un-fabulous one?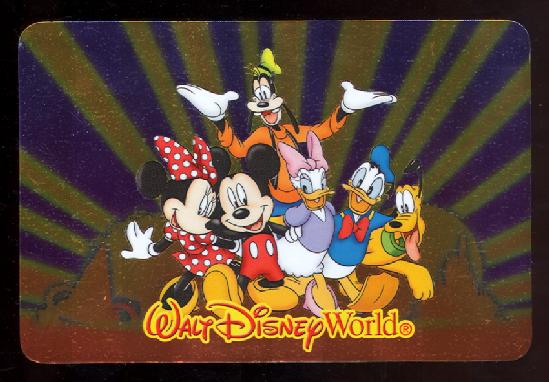 Stitch Crashes the castle 00174 44321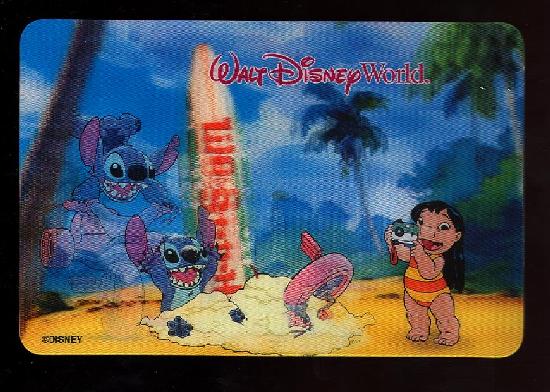 Epcot Foils
here are a couple of great Epcot foils both of which look OK when scanned, but which are really beautiful when you see them in person, the other thing I like about BOTH of these cards is that they are both cards that really PULL things together....
Future World Foil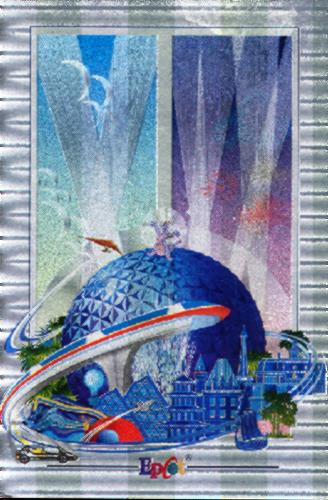 This card pulls together pavilions from all over Epcot of course Epcot's Central icon Spaceship earth is represented, but most of the other Future World Pavilions are too, Imagination, The Seas, Test Track, Mission: Space, as well as several of the countries of World Showcase France, Canada, America, Japan and Mexico.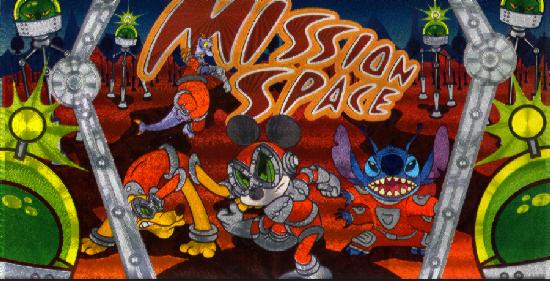 This Mission: Space postcard also does a good job of pulling together disparate elements, who've thought of teaming up Mickey and his pal Pluto with Figment and Stitch? Someone very clever I think! I also think I recall seeing those stilt creatures in a 1950's cartoon made for the Disneyland TV show that was on the Walt Disney Treasures Tomorrowland DVD set what a great way to bring all these things together for this attraction!
Magic Kingdom die Cut number unknown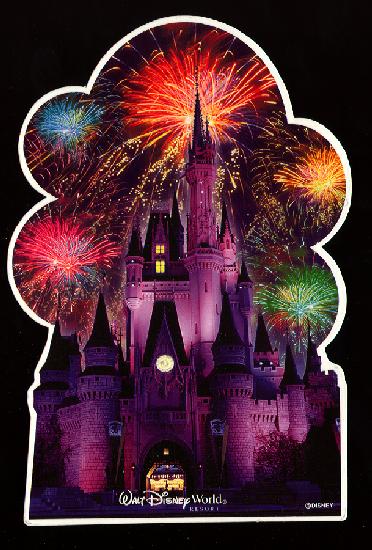 Much like the Kilimanjaro Safaris card at the beginning of this page this is a new die cut designed to fit in the same amount of space that a continental sized postcard (4 x 6) takes up in a postcard rack. I don't yet have a card number for this as this is a used example mailed to me by a friend from WDW while he was on vacation.
E-mail Me martsolf@mindspring.com
WDW in Post Cards Table of Contents
Back to bigBrians Disney page
Last modified by Brian K Martsolf at 12-Apr-2006 05:55 PM