Walt Disney World
A History in Postcards
Appendix 2005: WDW postcards issued in 2005
This page is part of a new series of pages for this site, pages featuring cards that have not made it into the regular chapters as of yet. It will help me keep my collection straight as new cards come in until I can get these cards into new chapters.
2005 was quite a good year for postcards, while many of the new releases followed the pattern of the past few years being tied to new attractions and events in the parks, there were also some places where new releases broke the pattern. A whole new series of Art of Disney postcards was released, and while they are no longer the great bargain they were in comparison to other WDW postcards they are beautiful cards. One thing that followed the pattern of the last few years many of the new cards tended to be foils, die cut, or other special cards, and so have a higher price point, but once again when they are such nice cards (and postcards are still one of the lowest cost items you can get at WDW) it's hard to complain. One other continuing trend this year was the continued release of new postcards (even the lower priced photo chromes) with the "new backs" first seen on Animal Kingdom postcards these backs have a rectangular block marked this area for postal use only on the bottom right of the address side, this space is left for the postal bar coding equipment to do its thing. So many of the cards being sold now have these "new backs" that it seems like a sort of "creeping" series replacement as eventually I suspect there is some sort of date by which the postal service wants this type of back on all postcards sold. Another thing the layout of the backs of these cards has in common is that the name of the park pictured on the front tends to be in the upper left hand corner, even the Magic Kingdom got cards with it's own logo on the back (at least some of its cards anyhow), in the past it's cards always just said Walt Disney World on the back.
I Want to give a special thanks here to Ted Michaud who was invaluable in getting this page together THANKS TEDDY!
Year 2005 Logo issues
Generally these are the first new cards for any year. I actually got the first of these cards, before the new year had actually began on my trip to Mousefest in December 2004. Since it is so hard to get a good photo that shows all the texture and pattern of a foil card here are a couple of photos of this one.
Mickey and Friends Foil 2005 (UPC 00174 23180)
Pooh and Friends 2005 (UPC 00174 52103)
I'm not certain how late in the year the other cards with 2005 as part of the logo were issued, but it would make sense that it might be fairly early in the year. The logo on this Pooh and friends card is very similar to the one from 2004, but it's a totally different type of card the 2004 Pooh and friends card was a foil, but in 2005 they went with a standard postcard which presumably was sold for the price of regular cards (60¢) rather than that of foils ($1.50 -$2.00).
Disney's Animal Kingdom 2005 (UPC 00113 70295)
Animal Kingdoms 2005 logo card kept in up a sort of tradition for this park of using the same die cut design with just the new year changing each year. I actually like it, it's a nice die cut design and if they changed it just for the sake of changing it each year they might not get such a consistently nice design. I like having different variants of this in my collection. I can't be certain exactly when this card started, or if there are any years that have been skipped I only have 4 or so different (and not totally consecutive) years worth of these in my collection.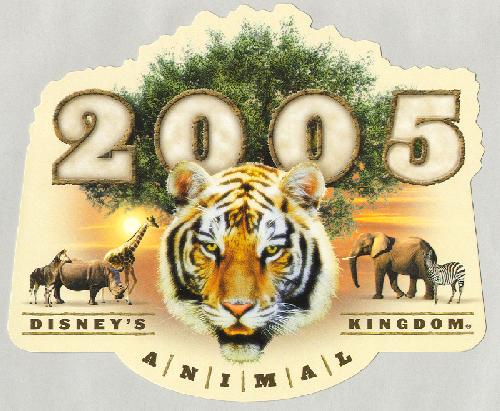 Magic Kingdom 2005 foil (UPC 00103 42365)
In contrast to the tradition of having an annual park card at Disney's Animal Kingdom 2005 was the first time a card had been produced with the year and a Magic Kingdom logo. In fact the only cards with writing on the front that I remember being sold at the Magic Kingdom before this said Walt Disney World on the front. In fact a few years ago there was a foil series in which each of the parks Main Icons was represented on a foil card with Mickey standing in front of the icon and the name of the park below, Epcot, Disney - MGM - Studios, and Disney's Animal Kingdom , all except the Magic Kingdom , since on the foil of the castle with Mickey in front was the name Walt Disney World.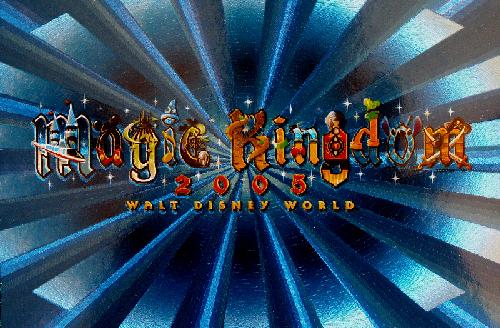 M Castle and monorail
A Mickey
G Space Mountain
I Mickey's Philharmagic
C Haunted Mansion
K Splash Mountain
I Pluto
N Donald
G WDW RR Steam Train
D Goofy
O Stitch
M Pirates of the Caribbean
2005 Annual Events
Many events are held at WDW annually, so far only one of them (that I know of) has a postcard every year, that would be the Walt Disney World Marathon.
2005 Walt Disney World Marathon (UPC00128 4470 and 00128 44771)
link to a much larger version of this card
Other First Quarter 2005 issues
A fair number of new Walt Disney World cards came out in 2005, but rather than coming out as one long series they tended to come out as individual issues, sometimes tied to the opening of a new attraction (or the re-hab of an older one), but there were also a large number of cards released for existing attractions. The first few new issues I became aware of in 2005 were of this type.
Space Mountain Die Cut (UPC 00102 80059)
This beautiful die cut card is a bit smaller than many previous die cut cards. It's 6" wide, and, less than 4" high so will fit into the slots on the postcard racks made for continental size cards. It's also intricately cut and beautifully drawn and made. I also think it's note worthy that they used the Magic Kingdom logo on the card, front and back, part of an increasing trend to help identify the Magic Kingdom by it's proper name rather than just having the Walt Disney World logo on everything Magic Kingdom related.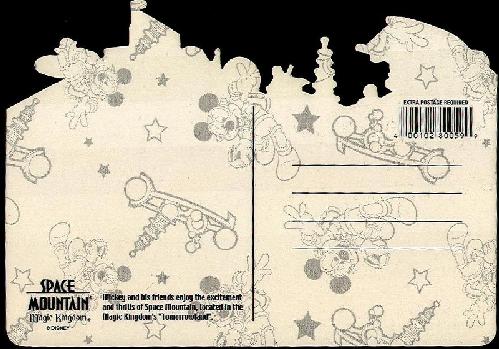 Pirates of The Caribbean Foil Card (UPC 00103 56230)
A perennial favorite of many of Walt Disney World's guests the Pirates of the Caribbean got this card early on in 2005, by the end of the year it was gone from the shelves of the Pirates Bazaar, the remainder of it's stock being sold at Character Premiere. I'm not sure why.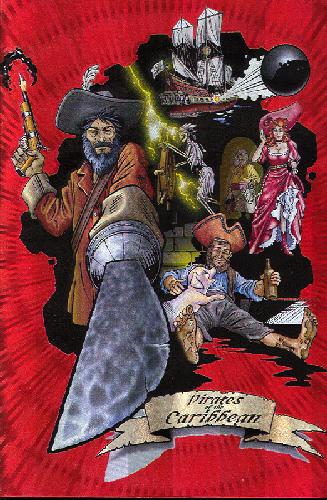 Animal Kingdom Foil Card: Being Green (UPC 00113 41442)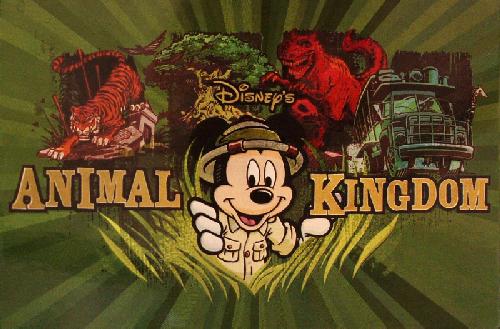 Figment! (UPC 00105 09211)
Ever since the Imagination Pavilions Journey had Figment added back into the story of the imagination labs there has been a Figment postcard available, the 5 x 7 art card is no longer being sold but this new continental size (4 x 6) view is a good replacement.
The Living Seas (UPC 00105 09210)
The Living Seas completed the first stages of it's re-hab in 2005 and fittingly received a new postcard with an image reflecting effect of the make over on the pavilion.
Disney's Typhoon Lagoon (UPC 00102 11100)
This card and the ones for Blizzard beach also follow the pattern of having the new type of back and the parks logo in the upper left corner.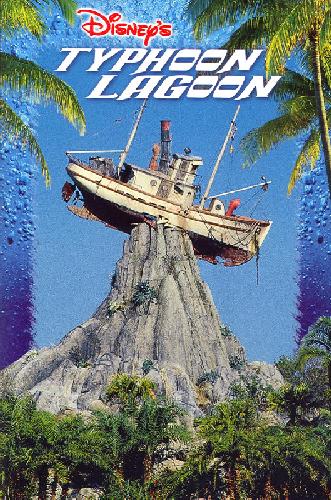 Disney's Blizzard Beach (UPC 00152 11102 and 00152 11103)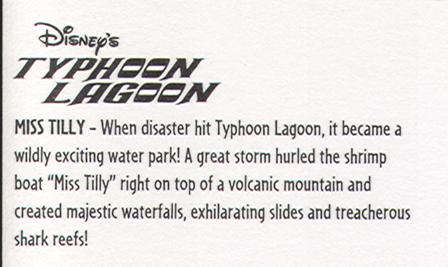 Splash Mountain Magnetic Postcard (UPC 00102 34250)
This special card wasn't the first cards featuring characters riding down the "big drop" at Splash Mountain but it's the first one printed on a magnet that can be mailed, can't you imagine one of these getting stuck in one of those postal sorting machines when actually mailed? It's sold in a bag and so I'm providing pictures not only of the cards front and back (above) but the packaging too(below). The card that runs all the way down the back behind the bag is only stapled to the bag at the top so I was able to simply fold the card back and scan the card back with the bag still on it.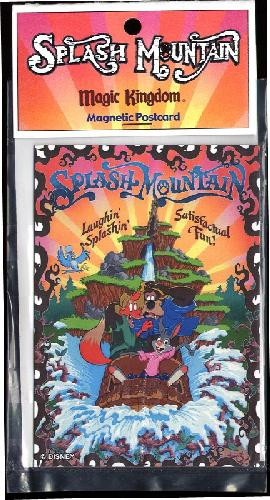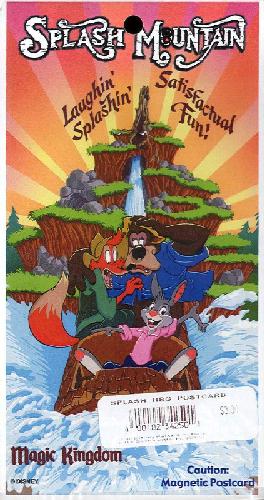 Happiest Celebration on Earth Issues
These next three cards although issued in honor on the Happiest Celebration on Earth (in honor of Disney lands 50th anniversary) which kicked off on 05/05/05, actually were available by early April. All three of these are special cards, the foil effects in the two 4 x 6 cards don't show well in the photo but in person it's quite clear that they are foil cards. All three of these cards have a very high gloss, the Princess card in particular could be described as having a "prismatic" finish to it. There was at least one more HCOE (Happiest Celebration On Earth) released towards the end of the year, as an end of the year release it will be covered later.
Other Second Quarter 2005 issues
Stitch's Great Escape (UPC 00102 80068)
Stitches Great Escape opened in 2004 and it had a new foil postcard when it opened, in summer of 2005 this art card was released.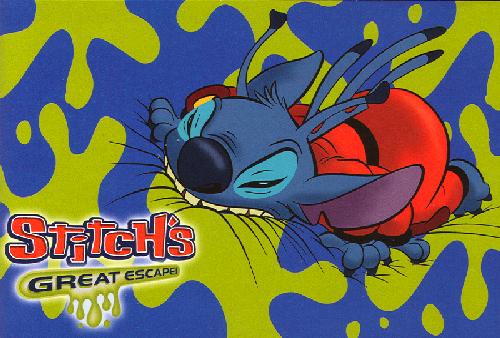 Glimpses of a Distant peak
In summer 2005 two new cards were released for Animal Kingdom that had some distant views, they were looking into the future of the park and looming over that future in both of these park-wide views is a Mountain "Forbidden Mountain "
"CHARACTER MAP" (UPC 00113 42110)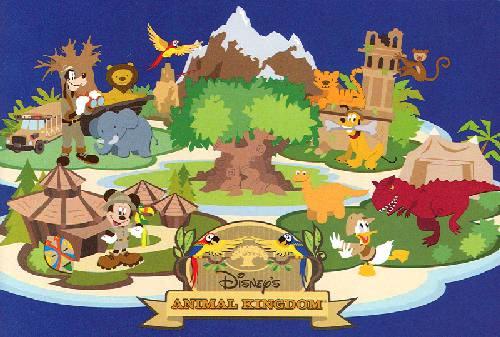 Take another Peak at our Animals (UPC 00113 42109)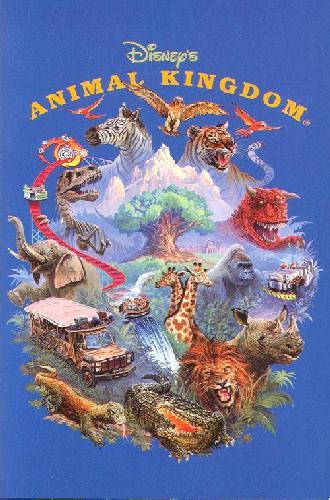 Disney's Animal Kingdom Lodge (UPC 00158 78192)
Disney's Animal Kingdom Lodge is a beautiful resort, and this is a very pretty night time image of the resorts lobby is taken from the Savannah end looking back at the large windows which, in the daytime, allow the guest to look out at the animals in this area. But, if you are saying to yourself "I saw this postcard before 2005" well, you are half right. This image was used on a postcard of the resort (around 2001-2002 I think), but, in that printing it did not have the logo and decorative border that runs across the bottom of the card here. In 2004 some of the other Deluxe level resorts (The Grand Floridian, and Disney's Wilderness Lodge) received new views that included their logos, so it made sense to add the logo to the card for this Deluxe resort as well.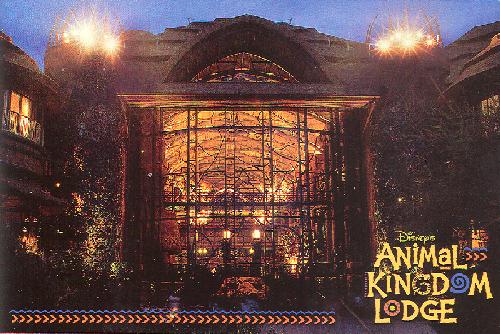 A Very Special Happiest Celebration on Earth Postcard
For me, this is probably the niftiest of the HCOE cards. I attended Disneyland on July 17th 2005, so this golden mouse ears postcard really sparks special memories for me.
Other 2005 issues unsure of dates
Disney MGM Studios (UPC 00101 11420 and 00101 11421)
MORE CARDS TO COME ON THIS PAGE
I know that there are more 2005 issues to add to this page. not only in the Regular issues like the ones that I have been listing so far but also:
A Complete New series of Art of Disney Cards
A number of cards sold by Disney not produced specifically for them and lacking the WDW logo (Indians Jones and Star Wars)

Still if you have any corrections (for instance, cards on this page that you know were out in 2004), or just want to make sure I know about a card you like that came out in 05 feel free to
E-mail Me martsolf@mindspring.com
WDW in Post Cards Table of Contents
Back to bigBrians Disney page
Last modified by Brian K Martsolf: 22-Mar-2006 10:03 AM