°o° MOUSEFESTIVE °o°
We arrived at the meet "fashionably late", unusual for me, but still relaxed, after all these get-togethers are mostly about standing around talking, catching up with some of your Disney friends you haven't seen in a while, and perhaps getting to know a few more, and this meet fit that bill just fine. A good time was had by all and I'm thinking this event was probably a nice blueprint for future RADP meets it was smaller than the last meet I had been to (in 1998) but that was before Mousefest was set up as a separate event. I got reacquaint myself with RADPers I hadn't seen in a while and put faces to many whom I had not met in person before, I even got to talk postcards for a while. I found out during the meet that the property control sale was going on that day, and so I thought I'd head over after the meets. I was under the impression that the general public could get into these sales, I found out later I was miss-informed. After the pictures had been taken, certificates handed out and so on, it began to approach 1PM the group started breaking up and we headed back, on foot this time, to the Swan. Where things were just starting when we got there. It actually didn't take all that long to get around to the various tables, introduce myself to people and make a few contacts, Jim Hill, the Unofficial guide folks, and the NFFC all made particularly good impressions on me, I found out that the NFFC was having a meeting that night, and considered going. It didn't seem like there was much beyond that in the way of events, still I think I would likely stay a little longer next time around, half of going to these things are how they meet or differ from your expectations, and I wasn't sure what to expect, hadn't even really had time to think about it since it was such a whirl of a week from the time of figuring out I was going until the meet, and since the tables I knew the most folks at (All Ears and Disney World Trivia) were swamped I couldn't see much for me to do where I would not be in the way of other folks trying to get to those tables. So after a bit I decided to check out that property control sale I was so curious about. I had been told the parking for the event was at the stolport, when we got there I noticed the sign by the shuttle bus to the sale said "cast sale today" or something similar, and began to worry that perhaps it was not open to the public after all, still we did not ask and rode the bus back to the event before finding out that was indeed the case. That was a bit of a disappointment, but since we were near the Magic Kingdoms resort area I figured this was a good time to start visiting those resorts, we drove to the Wilderness Lodge, looked around there and visited the gift shop where I found a new postcard of that hotel for my collection, at this gift shop however the card of the Wilderness Lodge is not in the regular postcard rack it is in the section where the resort specific merchandise is, That is always a good second location to check when hitting resort gift shops, it can take a while to find it sometimes. From here we decided to take to boat over to the Contemporary when we got on though it took us to Fort Wilderness first, I was taking pictures of the ships pulling up to the dock at Wilderness Lodge and when I ran out of film I realized I had left the extra rolls in the car ack! no pictures from this part of the trip.
One of the ferries was out on Bay Lake (I think it was the General Joe Potter) apparently they were doing training, the first launch we caught was in training as well, there were two Cast Members manning her (the Explorer) and they took us to the Fort Wilderness Campground, later after a stop at the Settlement Trading Post we boarded another launch (the Seafarer) which took us back to The Wilderness Lodge before heading to the Contemporary, it's skipper explained that when they are doing training they often do things in a different order. At the Contemporary I turned up no new cards, so we boarded a monorail, I had a little better luck at the Polynesian where there was at least a postcard I already had we walked over to the Grand Floridian, there was Cinderella's Coach getting ready to take a bride to the wedding pavilion! Too bad I was out of film. Well at the gift shop here there were two new postcards one a 5 X 7 looked to be a postcard for the wedding pavilion as it showed Mickey and Minnie as Bride and Groom, the Grand Floridian also had its own new Continental size postcard, not surprising since the Wilderness Lodge had a new card two, and previously both these resorts had shared the same style of card (5 x 7 pen and ink style art) as well in an earlier set of cards now discontinued. We took a little break here as the band was just setting up to do a set, and relaxed for a bit before heading to the monorail which we took to the Magic Kingdom, we left the monorail there and went to the Cruiser dock where we caught a ship back to the Wilderness lodge. On the way back to the Lodge we saw the Grand I the Walt Disney World Yacht out on Bay lake, a wedding party was on board presumably the one we saw the coach for a while earlier.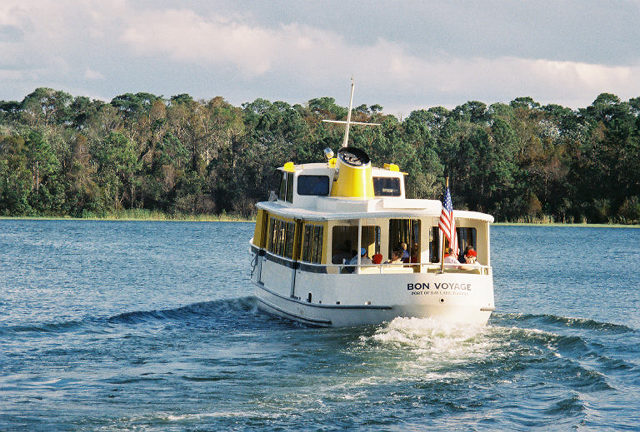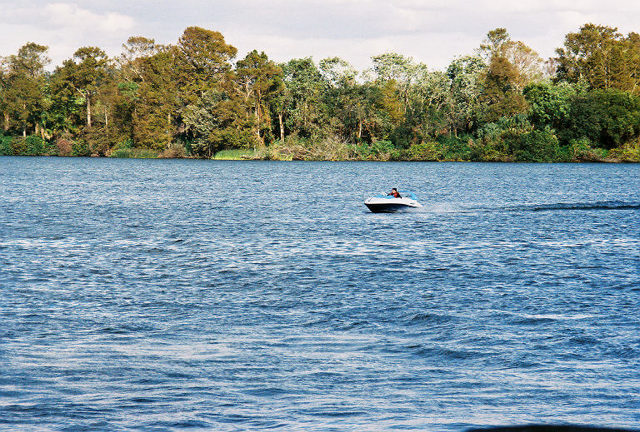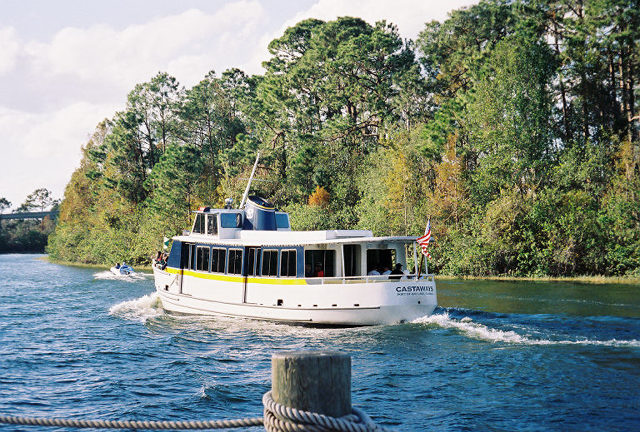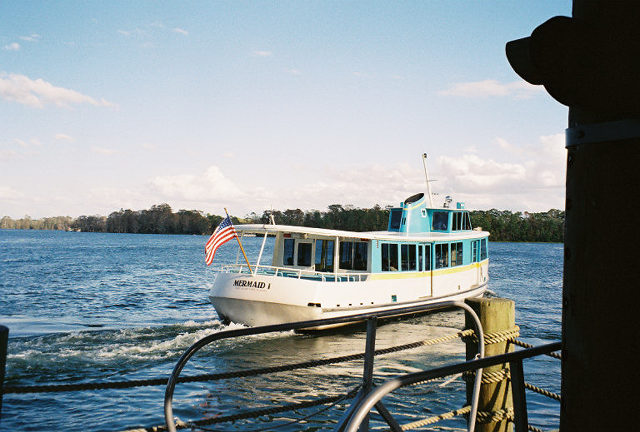 As I look back now, I think that upon arriving back at the Wilderness Lodge would have been a good time to head to that NFFC meeting over on 192, especially since I found out that it was held near a BBQ restaurant that I had enjoyed immensely when I dined there with my cousin, who lives in Davidson FL, back in 2000. I enjoyed our shopping and dining, but getting to hang out with other Disney fans, and perhaps make a few contacts who know more about many aspects of WDW's history than I do, would have been more to the point of this trip, chalk this one up to lack of planning, and poor decision making on short notice, if next years events are scheduled anything like this years were I'll definitely plan to attend this event next year. We went to our hotel to check into our room for the second night the Travelodge Hotel Main Gate East (between markers 9 and 10 on US 192 Irlo Bronson memorial parkway). By that time we were getting hungry, so, we decided to go to downtown Disney for a little more shopping and dinner, So I headed over to Capn Jacks and they gave us a time at which to return. The best postcard finds at the Downtown Disney Marketplace were at the Art of Disney store, in fact this was probably the store where I found the most Disney cards in one location this trip. There was a sign here mentioning that cards sent here could get a special cancel so I reached into the bag and mailed the three cards I had to send. There was one store we were in, briefly, that I now realize I should have looked for a postcard related item in this was the "Disney's Days Of Christmas" store. I have three different designs of postcard ornaments, hanging on our "Christmas Tree", (actually an Australian Umbrella Tree) as I write this, another thing to add to my plan for future trips. I also checked out the Rainforest cafe gift shop while we were there, and found that they no longer have post cards, at least if they do I was unable to find them. We caught a group of acappella carolers in Victorian clothing near the Once Upon a Toy store, and soon it was time to return to the restaurant. When we returned to Capn Jacks we probably had another 20-30 minute wait, they had informed up we might have to wait when they gave us our return time, and this was no problem. Our dinner this night was the biggest splurge of the trip, we ate at Capn Jacks, I wanted to eat there because it is the only location from the original incarnation of the Lake Buena Vista Shopping Village that continues under the same name form that time until now. It was a nice meal, and it was nice to have a nice meal as part of our trip. After the meal we headed back to the hotel, I think I was out pretty quick after we hit the room.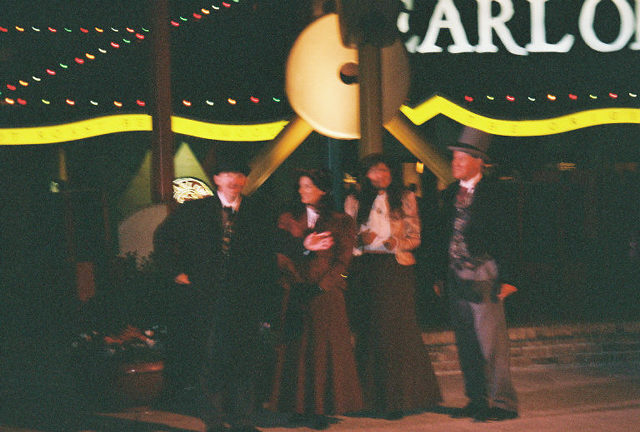 I awoke ready to go about 6 to 7 AM and knowing Carlene would probably like to go back to sleep a bit more, figured this would be a good time to go postcard hunting. I headed over to the Hotels of the Walt Disney World Village near Downtown Disney on Hotel Plaza Boulevard, these hotels are on property they lease from Disney and have a special relationship with Disney making their guests eligible for many of the same benefits as guests at Disney Hotels. The Hilton still offers cards but were out at the moment. The Holiday Inn (formerly Courtyard by Marriott, before that Howard Johnson's) was closed for renovations (the lobby even had plywood over the doors. The Hotel Royal Plaza was a bit further along in their renovations and their lobby was open, the renovations looked nice, and the fellow at the desk even gave me a few post cards, the Double Tree (formerly the Guest Quarters Suite Hotel, before that Pickett Suite Hotel) didn't have post cards. Having worked my way down one side of Hotel Plaza Boulevard I crossed over and started working my way up the other side, the Best Western (formerly TraveLodge, then Viscount) had no cards, nor did the Grosvenor (formerly Dutch Inn), Wyndham Palace Resort Hotel (formerly Buena Vista Palace) or for that matter the Wyndham Palace (formerly Lake Buena Vista Palace). I had managed to visit all of these hotels in a fairly short period of time as it was so early in the morning that there were no guests in their respective lobbies, and so I continued on back to the Disney resorts, first I hit Saratoga Springs with a detour to the pro-shop at the Lake Buena Vista golf Course to see if they had any postcards they did not. The cast member at desk Saratoga Springs was nice and handed me two cards, which I soon realized were some of the pre-opening artists renderings of the resort (the first version oddly enough). I also looked through the postcard rack in their gift shop, nothing new there however. I moved on next to Disney's Old Key West, first into their gift shop, they had a card but it was one I already have, the desk there no longer keeps guest cards, they have discontinued them as well. Next I went to Port Orleans Riverside, the CM at the desk went in the back to check to see if they still had any, returned and let me know that she had just found out that they discontinued them because they now sell a cards of the resort in the gift shop, Port Orleans French Quarters gift shop Jackson square gifts had about ten more minutes until opening, so I walked over to Port Orleans Riverside's gift shop ( Fulton's General Store) had the same card I already had I picked up a few extras to sell or trade (as I had with several cards this trip). I walked back over to Jackson Square Gifts & Desires (POFQ's gift shop), and looked in vain both in the postcard rack and the resort specific merchandise for a POFQ postcard, a CM in the shop let me know that she knew there was one for riverside but had not seen one for French Quarter. I think she even suggested I try guest services, but at this point I was pretty sure none of the Disney Resorts had cards t the desk any longer, I certainly knew this one did not, I thanked her and once again was on my way. I returned to the Swan parking lot almost in the same spot as I had parked for Saturdays meet and went to first their gift Shop, where I got a few more copies of a card I already have , then to the Dolphin where the first shop I stopped in didn't have cards but suggested guest services, who started to point me back to that same shop, then when I told them that shop had sent me there sent me to concierge services, who looked to see if they had any, found out that they were out at the moment (since they are not Disney owned perhaps they actually are only temporarily out). They also directed me to a second gift shop and at that one, like the one at the Swan, I got a few more copies of a card I already have. I walked from there over to the Yacht Club, by this time the lobbies of the hotels were starting to fill up, and at this point I'm pretty sure that all the resorts have discontinued the hand out cards, So I just hit the gift shops. When I realized that the Yacht and Beach Clubs both had the same card in their gift shops ,a three-view card of the yacht club, suddenly I realized why POFQ probably had no card, they are trying to save money by only having one card for the "paired" resorts, I hope that when they get to the next fiscal year they alternate resorts so they print them for one of the pair one year and for the other the next year, that wouldn't be too bad. I continued working my way around Crescent lake and went into the lobby to look for their gift shop, actually when I was halfway there I paused as I realized I had not visited the Beach Club Villas, but then I thought about how the Wilderness lodge Villas were set up and realized that they probably "share" their restaurants and shops of the home resort (the Beach Club). There was a nice model train layout in the lobby of the Boardwalk, I picked up a few more copies of the Board Walk postcard that I already have, and headed back towards my car. This had been a pretty good trip postcard collecting wise, and visiting with old friends wise, since it was planned on such short notice it's not surprising that there are things I would have done different if I had it to do over, but all in all, it was good to get away on vacation, and spend time with my wife in the place I enjoy most in all of the world. It felt like a good place to end the trip, plus leaving then gave us a chance to get home and in bed at a decent hour that night. I picked up breakfast and headed back to the hotel.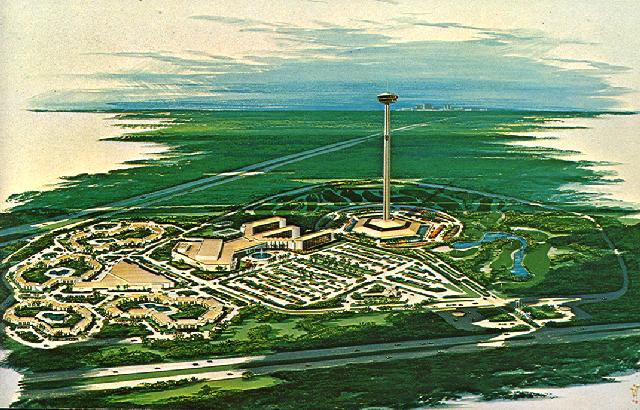 As we headed back to the interstate I realized where I had probably heard of the older closed hotel next to the Radisson that is at the intersection of 192 and I-4 I had read about it in the book Walt Disney World: Promises and Problems by Leonard Zehender , it was originally built by the Carolando corporation and was one of the first hotels to go bankrupt after WDW opened (the developers built so many rooms when WDW was announced that the market was glutted for a while in the mid 1970s). Here are excerpts from that book that mention this hotel.
page 206 originally from Business Week in 1971: [BIG DEALS] Having acquired all this land, motel companies plan to build 6,000 rooms, at a cost of more than $125-million, over the next two years. Licensees of Sheraton Corp. of America, including football hero Johnny Unitas, have broken ground or firmed up deals to build 2,200 rooms at nine different sites near Disney World. Howard Johnson Co. franchises will build 1,000 rooms at various sites near the amusement-resort complex. And Holiday Inns, Hilton Hotels Corp., Quality Courts, Best Western, and Ramada Inns all will have facilities near Disney World. The list does not include four motel chains-Travelodge International, Royal Inns of America, Dutch Inns of America, and Howard Johnson-that have started to build 1,900 rooms at Motor Inn Plaza, an area owned by Disney Productions, Inc., just outside Disney World proper. Parent companies and not licensees will operate these facilities. Nor does it include such huge resort and convention projects as that announced just this week by Carolando Corp., a com­pany headed by former North Carolina Congressman James Gardner, which plans to build 960 motel rooms, a 540 room high-rise hotel, and a 500-ft-high Space Needle Tower in the next four years on Interstate Highway 4, just outside Disney World, at a cost of $46-million.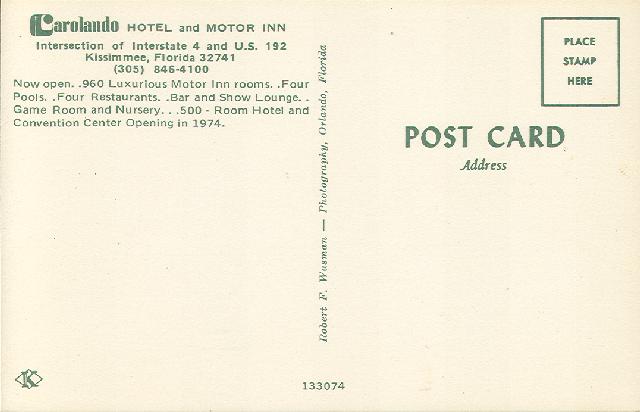 page 309 from an article by Dick Marlowe that originally appeared in The Sentinel Star in 1973.


CAROLANDO COMPLEX IN $$ STRAITS


Carolando Corp., developer of a 960-room motel complex near Disney World, said Monday it lost more than $2.2 million in fiscal 1973 and has defaulted on loan payments. The company also said it has "no promising source" to cure its financial ills and that current and expected revenues will not be sufficient to meet current and future operating expenses and debt services. According to its year-end report, Carolando said it had a net operating loss of $2,177,031, or 79 cents per share for the year ended June 30. It also reported losses of $148,038 in July and $141,760 in August-the first two months of fiscal 1974. Shortly after the announcement that the Carolando was un­able to meet its mortgage payments the property was sold to Hyatt Corporation, a national hotel chain. Hyatt has kept the hotel from closing, although apparently experiencing low occupancy during the early months of its ownership. During the peak months of the energy crisis the Orlando area hotel/motel occupancy figures ,periodically plunged below 30 per cent.

I even have an "art card" that seems to show this hotel though it looks like some of the buildings in the art card have been removed since then, which would explain why the giant concrete parking slab that sits between the Radisson and the closed hotel seems awfully far from the buildings it would serve.

Using my zoom lens from the side of the Radisson's lot closest to the older hotel I could see that a fountain is still running in a courtyard of that hotel, I presume this may be because if they turn it off for an extended period of time it is more likely to have parts rust in place and become non-operational, so whatever creditor hold this property today is better served by keeping it running to maintain the value of that asset. The Raddison that currently sits on this site is centered approximately between where the spire and the large low building with the fountain in front would have been though it may cover part of both of those buildings footprints. The buildings in the circle in the image below are approximately in the same location as the ones still standing inside the chain link fence on the site, at least they seem to be in the same places in relation to I-4 and U.S.192.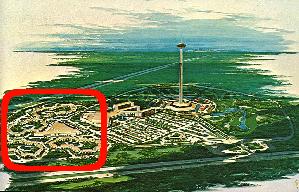 The Gate above is in about the location shown in the image below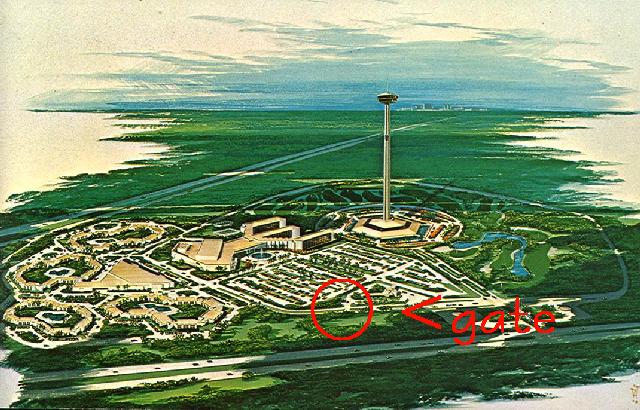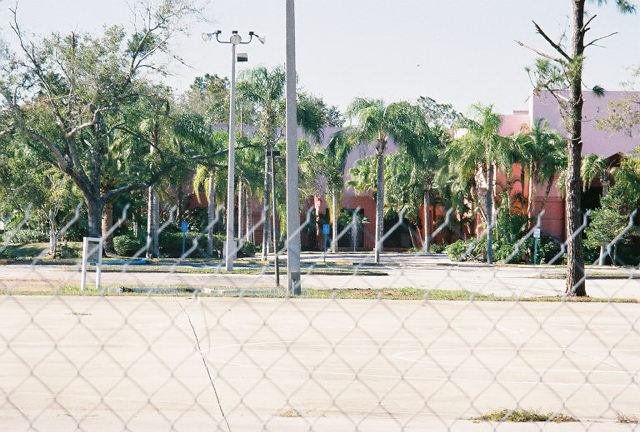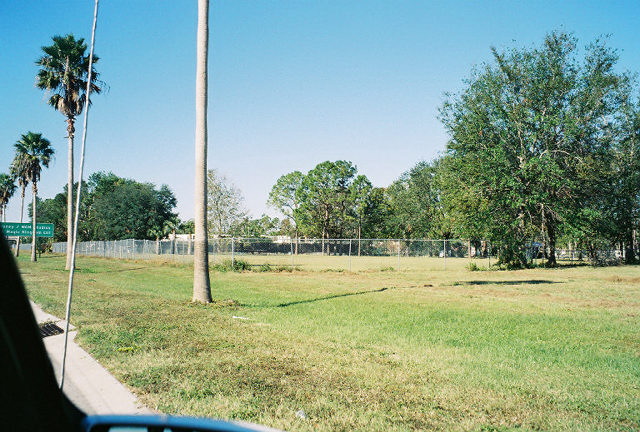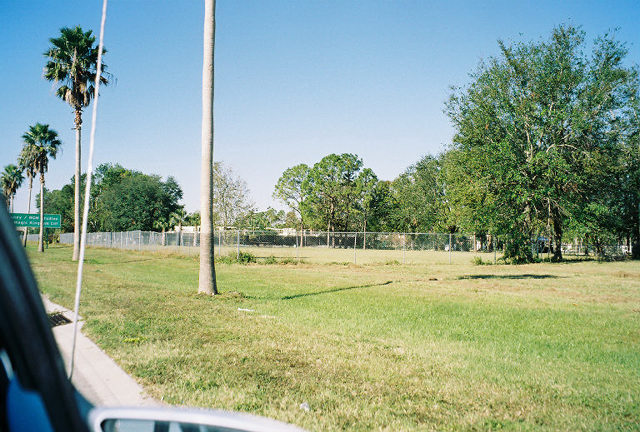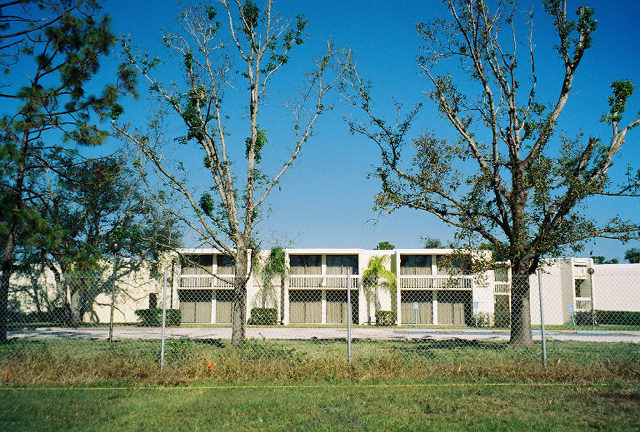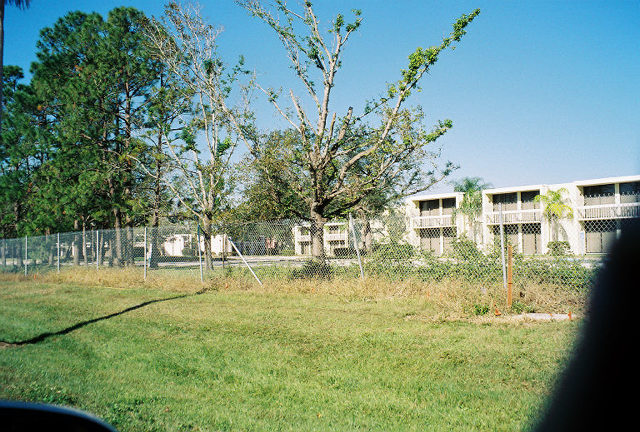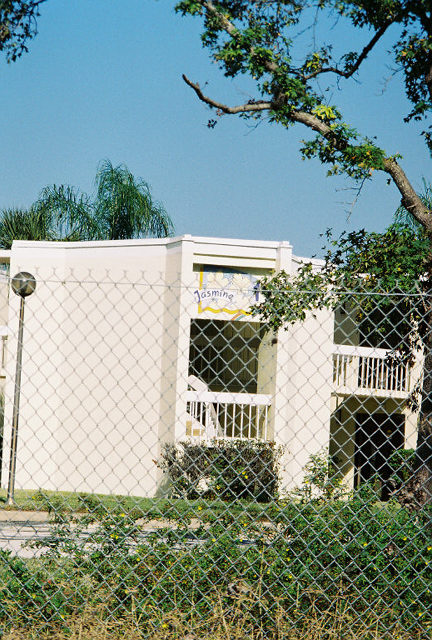 On the way back home we stopped in St Augustine visiting the Character premier store there and getting most of the rest of our Christmas shopping done a productive day, and an enjoyable drive home.







21-Aug-2006 07:23 AM