Calling All CARS
A movie premiere report
what happens When DISNEY comes to YOU?

Sound from this page is in an episode of BBDP's podcast
Episode 2006-01 right click and save target as---> on this link

SHOW NOTES Episode 01- BBDP-001 the "Double Premiere" episode (first episode of the show and premiere of Disney's Cars).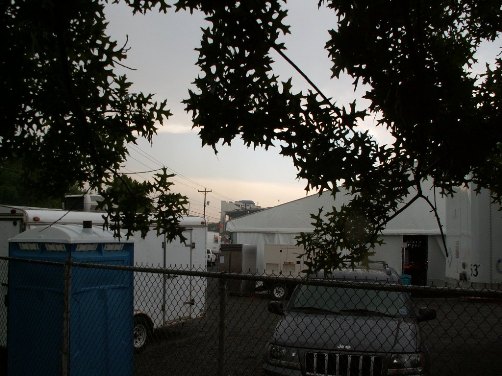 For a while it looked as if the thunderstorms might pass to the north without affecting us but eventually it became clear that we would get hit, with over an hour left until the gates opened I decided to try to get back to my car, but before I could get halfway there it started to really rain, so I stopped under a tree and waited while the storm passed, the charity event tent was behind me and Morehead road in front of me.
After the rain I went back to take a few more photos.By this time more track employees were taking their places and they began handing out ponchos (free). There were also some guests lined up here and there wearing their Disney Ponchos, neat to see.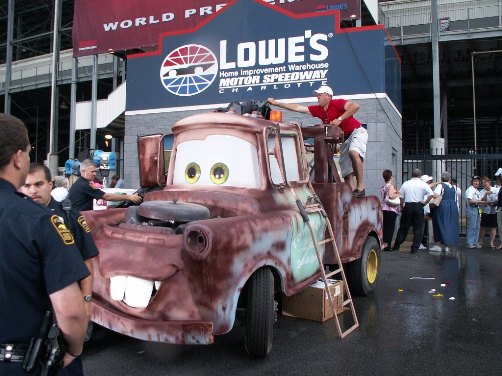 As they started letting folks in I headed back to my car while the throngs lined up. Since I had learned that parking was free after all I took this opportunity to move my car in (much!) closer.
Entertainment had been scheduled to begin at 6:30 PM, but due to the rain things got off to a slow start. In between the giant Movie screen frames there were huge TV screen trucks you can see them in the picture that I had taken earlier in the day of the grandstand. Those were showing the Cars logo when I came in and after a while they started showing off the celebrities that were walking the red carpet, all this time the very loud jet driers that race fans are used to seeing following a rain delay were out circling the track, very slowly at first but as the drizzle finally began to really die down they picked up the pace eventually (8 something?). I had been recording most of the day using my mini disk recorder, and although I was pretty certain it was ok since there were very clear mentions of what was not permitted (cameras and camera phones) all over the place, I still did not feel 100 percent comfortable pulling it out to check on, I was afraid that a lower level track employee might assume that audio recording was not allowed and just didn't want to have to defend my use of it so I kept it put turned on but put away out of sight, at some point I must have hit the power switch on the microphone (I've really got to glue that in place or something!) so by the time the interesting festivities started I've got nothing, well not exactly nothing the event was played at such a loud amplification that if I turn it up all the way I can hear a little bit , under the horrible electric hum. Then again if that hadn't happened the sounds probably would have ended up being clipped since I still had my input turned all the way up from the little bit of recording I had done testing it earlier in the day, oh well looks like the Diamond Horseshoe Audio I have will have to do for the "Disney sounds segment" of my first podcast, perhaps if there is other audio of this event out there I'll get to at least listen to it. Once things got underway it really was a wonderful evening:
A U.S. Army band came out and played God Bless America with a three F-16 fly over at the end! (low and fast!)
Diamond Rio sang the Star Spangled Banner complete with fireworks on the "rockets red glare" and more booming fireworks at the "bombs bursting in air "
An Army Drill team performed a segment
An exhibition race was ran by instructors from the Richard Petty driving school and Darrell Waltrip (won by Darrell driving the vehicle bearing the Cars logo of course). Dick Cook, head of the Disney studios division drove the pace car
A cover band from Atlanta called Party on the Moon performed some old Disco Songs
Larry the Cable Guy (voice of Tow Mater the tow truck in the movie) came out and emceed from this point on, he made some opening jokes and introduced short film on the charities that had been contributed to the Hole in the Wall Childrens Camps (founded by Paul Newman) and The Speedway Childrens Charities (founded by Bruton Smith owner of Charlotte motor Speedway). $500,000 was given to each of these charities one million dollars total. He then introduced Bob Iger, John Lassiter, Bruton Smith, Richard Petty, and Paul Newman for the actual handing over of the (oversized) checks from Disney to the charities.
He then introduced the voice talent from the movie in attendance, himself, John Ratzenbug, Cheech Marin, Jennifer Lewis, Michael Wallis (author of a book on Route 66), Edie McClurg, Paul Dooley, Katherine Helmond, Tony Shaloub, Bonnie Hunt, and Owen Wilson
He then introduced some of the racing voice talent such as Darrell Waltrip, Richard Petty, and Dale Earnhardt Junior
He introduce Brad Paisley Who then played, The World, I'm gonna Miss Her, and Mud on the tires Although I'm not a big fan of country music these were all pretty good songs, I enjoyed this segment.
At this point I have to break out of the "list" format, as special and important as all these other things (like the large donations to charity) were, there was one guest whose appearance here really took me off guard and DELIGHTED me, when they introduced him the first thought through my mind was "he's still alive?"...Chuck Berry is his name, and sitting here writing this four days later, I can still hardly believe I got the opportunity to see Chuck Berry! There were technical difficulties, initially his sound was only coming through his monitors, when his sound did come on it was still only partial, for instance when he went to the piano solo break in the first of his two numbers, Roll over Beethoven, there was clearly no keyboard, it made him sound, well... bad, and he doesn't sing all the words the same as he used to, he's simplified them a bit.. and even threw a line of lyrics from Roll over Beethoven into the next song...but in the end it doesn't matter...I got to see Chuck Berry and that in itself was worth far more than the $10 I paid for the ticket to this nights special and unique event WOW! The other number Mr. Berry played was one closely related to the Movie " get your kicks on Route 66". He giggled when the sound difficulties first arose and soldiered on, he made it clear that he loved being up on that stage, and I hope we made it clear that we loved him despite the audio problems. He horsed around a bit with Larry the cable guy when he came back on stage, and then it was finally time for the movie.

Well I know that having an experience such as this can bias you in favor of a movie, but mostly I think this is just really going to be a great one, I know everyone keeps saying that eventually Pixars streak has to break but this isn't that break GO SEE THIS MOVIE, it has good story telling, it has interesting characters (and plenty of them), although it takes place in a made-up world it's so much about the America we live in, in fact if there is one week point perhaps it will have less appeal with foreign audiences, but it's other strengths may still carry it. I'm not a race fan but if you know the tiniest bit about racing this is going to appeal to you too.
That was it, I hope you enjoyed it!
E-mail Me martsolf@mindspring.com
Podcast Show notes page
Cars Home Index - Special Reports and meets
Back to bigBrians Disney page
Last modified by Brian K Martsolf at 03-Dec-2006 11:21 PM